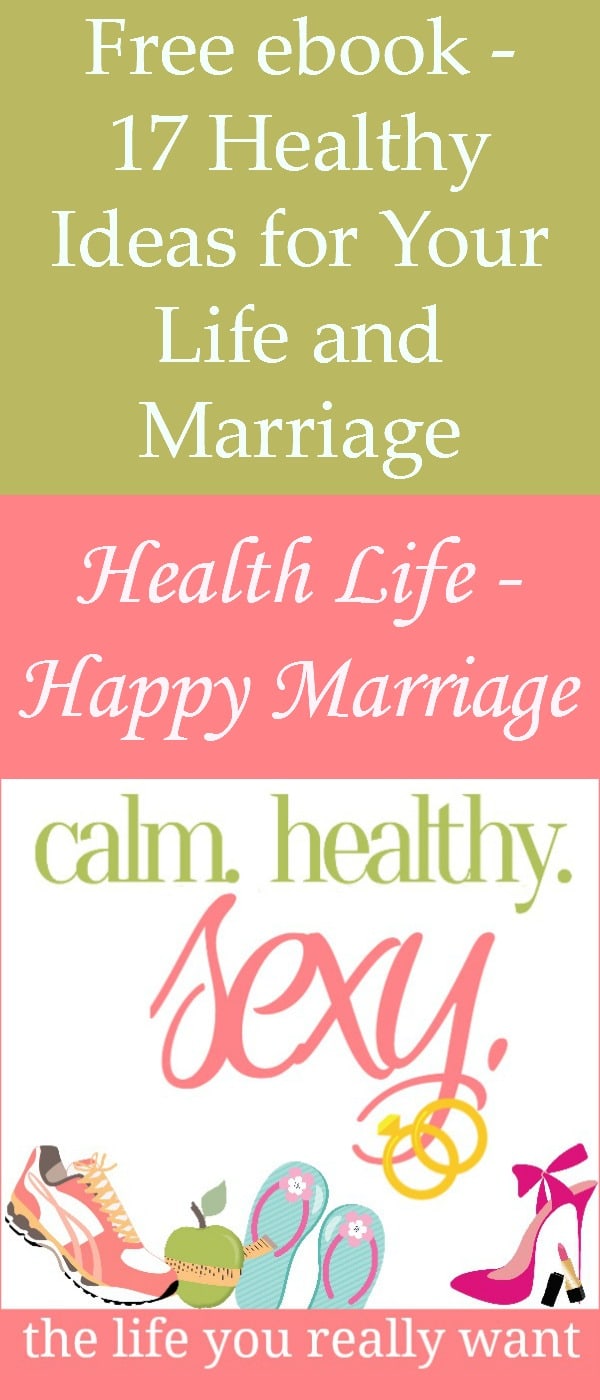 So, I'm both excited and nervous to let you know that I've written an ebook – Healthy Life – Happy Marriage: 17 Healthy Ideas for Your Life and Marriage.  I'm excited because I've been thinking about and working on this project for months, trying to pull together ideas that can help married women slow down, live well and enjoy their lives, and then putting those ideas together in  a practical, easy-to-read format. I'm nervous because, well, it's just sort of nerve wracking to say, "Hey, I've written an ebook. I hope you'll read it and like it!" Because, you know, it may turn out that nobody reads it or likes it!
The goal of the book is, in many ways, the same as the goal of this blog – to encourage married women to make small, practical changes that can, over time, help them live calmer, healthier and sexier lives. It includes information on eating well, exercising, getting organized, making time for yourself, feeling sexy, creating a happy marriage, enjoying sex and intimacy, and about a dozen other topics. I think the book is realistic – it doesn't sugarcoat the fact that many women are living very busy, very demanding lives, and it doesn't pretend that making changes will be easy. It does, however, make the case that change is possible, that women can choose new ways of doing things that will allow them to make changes over time, and to enjoy the kind of lives they really want.
This ebook is my gift to everyone who subscribes by email to Calm.Healthy.Sexy.  You can sign up using the pink pop-up box or the "Don't Miss a Post" box on the right-hand side. As soon as you confirm your subscription, you'll receive instructions on how to download the book. And while I'd love for you to subscribe and follow CalmHealthySexy, you can download the book even if you don't subscribe – download the ebook here.
I hope you enjoy the book. And I especially hope it encourages and inspires you to make small, gradual changes that will help you move toward a healthy life and happy marriage.