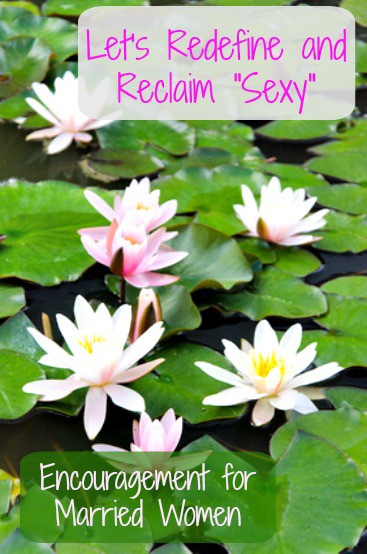 If you're a married woman who's struggling to appreciate and enjoy her sexuality, you face obstacles almost everywhere you turn. Even if you're a woman who's embraced her sexuality, you probably know those obstacles and feel them trying to derail you. I certainly do. Our culture places obstacle after obstacle in the paths of women who want to enjoy sex and intimacy in their marriages – obstacles like pornography, bad teaching, false guilt, and a pervasive message that the best sex occurs before marriage. All of those things can wreak havoc with a woman's feelings about her body and her sexuality.
Today, though, let's talk about a different obstacle – our culture's definition of "sexy." According to television, movies, magazines and the internet (in other words, all the things that shape our cultural messages and beliefs), a woman who is sexy is very young, very thin and very beautiful. She's provocative. She knows a lot about sex and she's "hot." In other words, she's not any of us and, most likely, no one we actually know.
When you and I really stop and think about that definition, our minds realize that it's absurd. We know that you don't have to be 20 years old, thin, blonde and beautiful to be sexy. But our hearts don't seem to understand – they often struggle to hear that message.
So let's help our hearts and encourage them to believe what's true – that every woman can be sexy. Let's redefine "sexy" and reclaim it for ourselves.  Here are the things I would include in the new definition:
A sexy woman is one who recognizes and is learning to enjoy her sexuality. She's working toward developing confidence in her mind and body, learning about what she wants and needs sexually, and devoting time and energy to understanding her sexuality. She's learning to speak up about her needs and to engage in honest conversation with her husband. She's also learning to take an interest in understanding and meeting his needs.
What's your definition of "sexy?"  What would you add or subtract to mine? I would love to hear your thoughts on this – please share them in the Comments.
Tomorrow I'll share some practical ideas for getting in touch with your "sexy side."  (You also may want to check out our Sex and Intimacy Resources page.)  And have you signed up to receive a free copy of my new ebook – 17 Ways to Feel Calmer, Healthier and Sexier – Starting Today?  I'd love for you to have a copy.