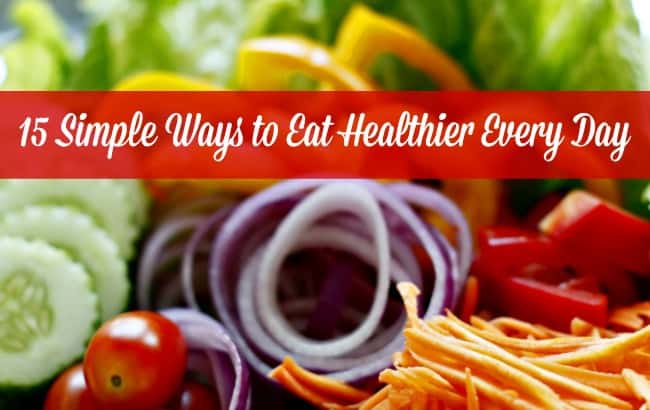 If you've been looking for ways to eat healthy and help your family move toward a healthier diet, now is the perfect time to begin. The weather is warmer, fruits and vegetables are plentiful, and it just feels like a good time to eat less junk and more real, whole foods.
And even though you're really busy (I know you are!) and the idea of eating a healthy diet probably seems overwhelming, you can start making small changes right now that will really add up over time. And it doesn't have to take a lot of time.
Eating healthier does take a little bit of effort, but it doesn't have to be complicated. Here are 15 simple ways to eat healthy and improve your family's diet. Try one or two at a time and let them become part of your family's diet, then add one or two more.
15 Simple Ways to Eat Healthy
• Serve two fruits or vegetables with every meal. They don't have to be fancy – put plates of cherry tomatoes, carrot sticks, sliced red or yellow peppers or sliced cucumbers on the table. Cut a winter squash in half and bake it cut side down on a baking sheet until tender. (Remove seeds after baking – it's quicker and easier.)
Serve bowls of cut-up melon or peaches or fresh berries. Make green smoothies for breakfast or lunch with frozen mango, pineapple and banana, spinach, a healthy fat (half a ripe avocado or 1-2 tablespoons of coconut oil) and water.
• Organize and package healthy snacks on Sunday so they'll be ready to grab and go on weekdays. Make small bags or containers of things like grapes, berries, whole grain crackers and peanut butter, nuts, granola, carrot sticks, and cheese cubes.
• Plan at least three sit-down family dinners each week. They can be simple meals like baked chicken, baked potatoes, a steamed vegetable and some fruit; grilled fish, brown rice and a salad; or a large salad topped with grilled chicken and shredded cheese. For more ideas, download a copy of my free ebook, 20 Quick and Healthy Family Meals.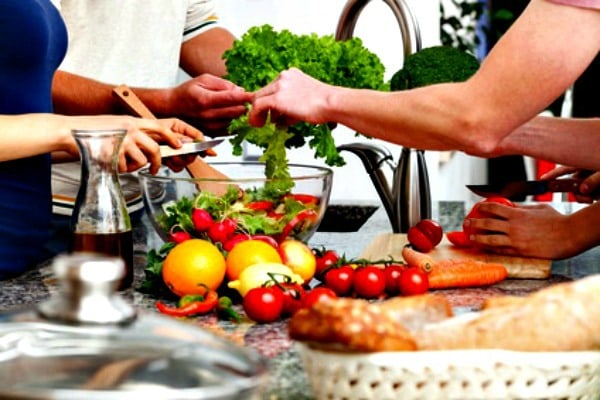 • Grill food for several meals at once.  If you enjoy grilling (or your husband does!), cook enough to last for several meals. Grill chicken breasts for dinner one night, plus extra for a salad with grilled chicken another night. Grill two large pieces of meat (like London broil), and serve one with corn on the cob and salad; turn the other into steak fajitas.
• Make extra dinner and enjoy the leftovers for lunch – at home or at work. Whenever possible, double the foods you cook – you get twice the benefit for almost no extra work.
• Cut down on heavy and high-sugar desserts.  Instead, serve fruit, frozen fruit pops or crisps/cobblers you make with fresh fruit. And don't eat a sweet or dessert after every meal – let them become the exception rather than the rule.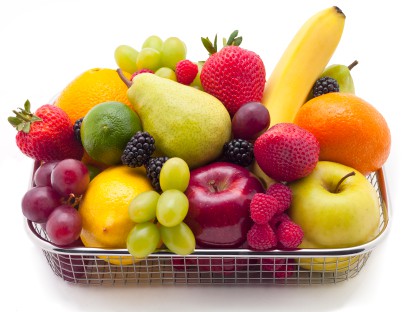 • Replace some of your family's white/processed grain foods with whole grain foods, such as whole wheat bread, whole wheat pasta, or brown rice. Most nutritionists consider whole grain foods to be healthier than "white" or processed grain foods.
• Buy the best quality meat and chicken you can afford. We can't afford organic chicken or grass-fed beef, but I try to buy hormone-free/antibiotic-free beef and antibiotic-free chicken whenever possible. Those meats do go on sale sometimes, so look for sales and stock up. And look for them in discount stores. Over the past year, the Walmart in my area has started stocking grass fed ground beef at a reasonable price.
• Use some healthier ingredients in your baked goods. Substitute some whole wheat flour for white flour, and experiment with sweeteners other than white sugar. Avoid foods that contain high fructose corn syrup, and anything that has sugar as one of the main ingredients.
• Start shopping more on the perimeter of your grocery store and less in the middle aisles (where most of the processed foods are located). Shop for fruits, vegetables, whole grain foods, meat and dairy first, before checking out the processed food aisles.
• Begin visiting a farmers' market or farm stand every week. Plan a couple of meals around the fruits and vegetables you buy there. Take the kids along and get them involved in talking about and selecting fresh fruits and vegetables.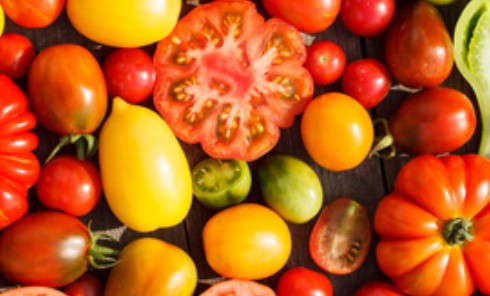 • Begin easing soft drinks out of your family's diet.  During the summer especially, encourage everyone to drink more water. For those who balk at drinking water, make fruit waters.
• Eat the real thing – use butter instead of margarine, half and half instead of coffee creamer, cheese instead of "cheese food," ice cream instead of frozen dessert.
• Serve "real food" breakfasts – Whenever possible, serve things like eggs, low-sugar whole-grain cereal, whole wheat toast with peanut butter, or smoothies you make with real ingredients for breakfast. If your family tends to eat "junky" breakfast foods, begin easing them out of the picture and replacing them with real foods.
Have you made healthy changes to your family's diet? What strategies have worked for you? Please share your ideas in the Comments – I would love to hear from you.
Need more ideas? Get free and low-cost healthy eating and healthy living resources in the CalmHealthySexy Shop.
(You may also like 10 Ways to Prep Food on Sunday to Eat Healthy All Week and 12 Quick and Healthy Family Dinners .)