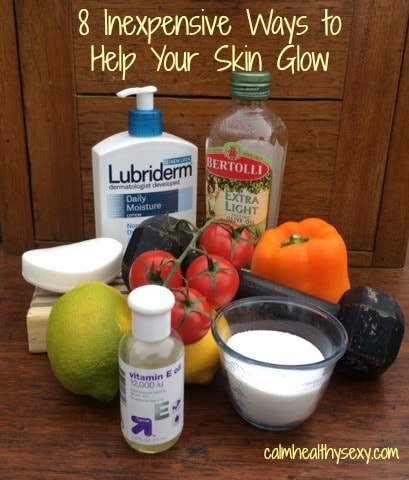 Some women have skin that glows naturally.  For the rest of us, making our skin glow takes a bit of effort.  But it doesn't have to cost a lot of money.  Here are 8 inexpensive things we can all do to help our skin look healthy and beautiful:
Wash your face gently using simple, everyday products.  Use gentle cleansers and warm (not hot) water.  I use light olive oil and plain Dove soap.  Pour the oil into an inexpensive pump bottle and keep it in the shower.  (Be careful – it can make the shower or tub floor slippery.)  Apply the oil to your face to dissolve makeup.  After a few minutes, wipe it off gently with a warm wash cloth, then wash with a mild soap.
Moisturize daily using inexpensive moisturizers.  You can spend as much money as you like on moisturizers.  Or, you can moisturize inexpensively using everyday products.  I have used coconut oil, Vitamin E oil, and olive oil as moisturizers. Currently I'm using unrefined coconut oil. I follow that with an under-eye cream, the only moisturizer I invest a bit of money in (because I'm at – ahem – that age).
Exfoliate gently using a simple, homemade facial scrub.  Using a gentle scrub once or twice a week helps to remove old, dull cells and reveal new, fresh cells.  You can buy scrubs everywhere, but you can also make them at home. Kelly at Simple Life Mom shares 12 homemade facial scrub recipes.  You can also make a scrub quickly and easily by mixing plain white sugar with a light oil (e.g., olive, Vitamin E), and maybe a bit of lemon juice.  Just mix it up, rub gently into to damp skin for a minute or two, then rinse with warm water.
Protect face, neck and hands from the sun.  Sun exposure damages the structure of your skin over time and promotes wrinkles and brown spots.  Although a sun-kissed glow looks great in the short run, experts say it hurts your appearance in the long run.  So protect at least your face, neck and the backs of your hands with sunscreen every day.  (We do need some sun exposure to produce vitamin D, but I'm going to expose my arms or legs to the sun for that purpose, not my face!)
Eat a healthy, balanced diet.  The foods you eat play a significant role in the health and appearance of your skin.  Eating more fruits, vegetables, whole grains and healthy fats, and less sugar, soda, fast foods and processed foods will all lead to healthier skin.  Your skin's glow comes from the inside, and in large part it starts with the foods you eat.  (You may also like 5 Nutrients that Boost the Health and Appearance of Your Skin.)
Stay hydrated.  Water helps your body utilize nutrients and remove waste, both of which promote healthy skin (and overall good health).  It also helps your skin stay "plumped."  Most women, however, don't drink enough water.  Many experts recommend drinking 64 ounces a day, but if you can't manage that much, just start drinking more.  Be intentional about it and make water your default beverage whenever possible.
Exercise regularly.  Exercise increases blood flow, which helps your body move nutrients in and waste out more efficiently and promotes healthy skin.  It also helps manage stress, which takes a toll on skin's health and appearance.  Most experts recommend at least 30 minutes of exercise 5 days a week; in addition, try to move your body as much as possible every day (more walking and moving, less sitting).
Sleep 7-8 hours a night.  Most of us have seen how our skin looks when we don't get enough sleep, and it isn't pretty!  Your skin (and every part of your body) needs 7-8 hours of sleep to renew and restore itself.  If you're getting less than that, revamp your schedule and commitments to make it a priority.
Do you have any inexpensive secrets to healthy and glowing skin?  Any favorite products?  Please share them in the Comments – I would love to hear from you.
Create your best life!
Get health and marriage tips by email + a free marriage resource