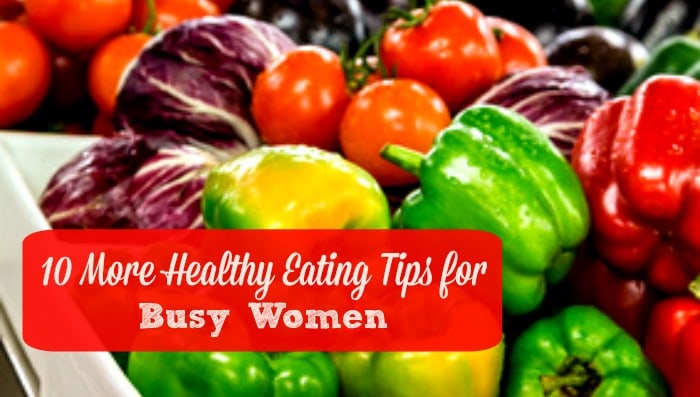 A few weeks ago I shared 10 food prep tips and tricks  (+ a free healthy eating printable checklist) for busy women who want to eat well but don't have much time. These tips ask you to spend just a small amount of time preparing healthy food before you need it, then allow you to sit back and enjoy it for several days or even a week.
I love these kinds of small tasks that pay big dividends in terms of my health and my family's health! In fact, I love them so much, I've put together a list of 10 more healthy eating tips and tricks (actually, two of them are so important that I'm repeating them from the first list!) that will help you  prep, cook and eat more healthy food without adding stress to your busy life. Between the two lists, I hope you'll find several ideas that work for you.
(For 24 quick and healthy family meals plus food prep tips, download our free, no-obligation ebook, The Busy Mom's Guide to Healthy Family Meals.)
10 Healthy Eating Tips and Tricks for Busy Women
Make a menu and create a grocery list for the week. If you don't do anything else on the list, be sure to do this, because making a plan is key to healthy eating. In fact, it's almost impossible to follow through on your healthy eating goals if you don't have a plan. I like to start thinking about the menu and making my list a couple of days before I go grocery shopping; if I wait until the last minute, I usually end up with a menu I don't like or an incomplete grocery list – or both.
Prep food on the weekend to save time (and stress!) during the week. Take some time on Saturday or Sunday to wash and cut up fruits and vegetables, make and package healthy snacks, grate cheese, brown ground beef, and do other prep tasks that will save you time on busy weekdays. (And check out more Sunday food prep tips here.)
Group similar tasks and foods and make enough to last for two or three meals.  For example, I chop and sauté onions and peppers once, then use them over two or three days in omelets, quiche, pasta, spaghetti sauce or other dishes. You can also save time by cutting up salad vegetables for several days – it's much easier to serve a salad on a busy evening if the vegetables are ready to go – and getting all of your fruit for several days ready to eat or use in cooking.
Cook a big batch of brown rice and freeze some of it.  Brown rice is healthy and delicious, but it's definitely not a fast food. On many nights, if the choice is between brown rice and instant white rice, the instant rice is going to win! So cook a double or triple batch and freeze some to use on nights when you just don't have 50 minutes to wait for the rice to cook!
Make a double or triple batch of a healthy snack your family likes, such as energy bars, granola bars or energy bites.  Find a real food snack that your family likes and make a lot of it. Package some of it for grab-and-go use this week, and freeze the rest. My friend Christina at Juggling Real Food and Real Life has a yummy recipe for Chocolate Energy Bites and my family loves to have a big batch of these Homemade Energy Bars on hand.
Make smoothie packs.Take a few minutes to make up individual freezer bags that contain the ingredients for your favorite smoothie – fruit and/or vegetables, a ripe banana, spinach, yogurt (you can freeze it in muffin cups to make yogurt disks – toss one or two into each bag) or whatever you like in a smoothie. When you or your kids need a quick and healthy breakfast on the run, take a pack out of the freezer and let it thaw slightly while you shower and get dressed. Then blend it up with your favorite smoothie liquid. Search for "smoothie packs" on Pinterest for lots of good ideas.
Plant a few fall vegetables.  Summer gardens tend to get big and run wild, but fall gardens can be more manageable. Plant a few broccoli and cauliflower plants, some chard, spinach or other greens, and some lettuce. If you don't have a garden space, just grow a few plants in large pots.
Make a big batch of homemade pizza dough and freeze half.  Have you seen balls of pizza dough in your grocery store's deli or freezer? You can make them at home, but better and healthier! If you have a mixer with a dough hook or food processor with a dough blade, you can mix up pizza dough in less than 10 minutes. (You can also make it by hand, but it takes longer). All you need is unbleached and/or whole wheat flour (I use a combination of unbleached and white whole wheat), yeast, salt, olive oil and water. I like to let it rise for 30-60 minutes, but some people say that isn't necessary. Make one batch for dinner and one or two for the freezer – here are some recipes and freezing instructions. Having a batch or two of pizza dough in the freezer can be a lifesaver on a busy day!
Make a big pot of spaghetti sauce, use it for two meals, then freeze the rest.  Spaghetti sauce in a jar tends to be loaded with sugar, or even high-fructose corn syrup. So leave the jars on the shelf and make your own. Start with quality canned tomatoes (you'll need a stick blender to puree them) or tomato sauce. Add your own vegetables (like some of the onions and peppers you cut and sauteed ahead of time!), meat if your family likes it, and fresh or dried oregano, basil and/or thyme. (Dried mixed Italian seasoning works fine.)  A little red wine is a nice addition if you have it on hand. Cook it down to the consistency you like, then serve it with spaghetti one night, use it as pizza sauce another night (with your homemade dough) and freeze the rest for busy nights when you don't have time to cook.
Mix two jars of natural peanut butter quickly and easily.  My family loves natural peanut butter that contains just two ingredients – peanuts and salt. The only downside is that the peanut oil floats to the top. So I have to mix it in, then refrigerate the peanut butter to keep it mixed. I buy large jars (because my college son eats a lot of peanut butter!) and and getting them mixed well requires a bit of effort and creates more than a bit of mess. So my husband came up with the idea of mixing two big jars at once by dumping the peanut butter into a large bowl (a batter bowl with a spout works really well), mixing it with a hand mixer, then pouring it back into the jars. The peanut butter is mixed perfectly, and it's no more mess than when I try to mix one jar by hand.
These are just a few of the things I do to save time (and sanity!) and feed my family healthy meals and snacks. What are your favorite healthy eating tips, tricks and strategies? Please share them in the Comments – I would love to hear from you.
(For more quick and healthy food tips and tricks, download our free, no-obligation ebook, The Busy Mom's Guide to Quick and Healthy Meals. And be sure to check out the first post in this series, 10 Healthy Eating Hacks for Busy Women.)