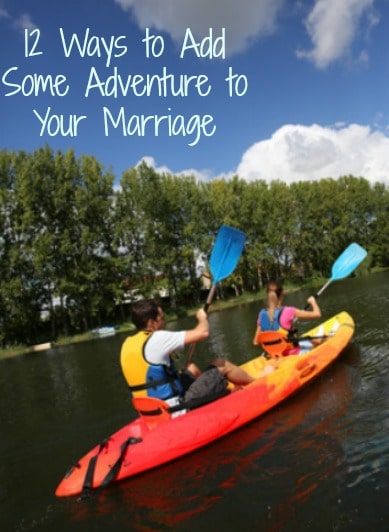 (While my family is on vacation this week, I've updated a couple of posts from the Calm.Healthy.Sexy. archives to share with you.)
Okay, I'm not talking about adventures in bed!  Well, that's part of it, but today I want to encourage you to do something a little bit different,  something that adds an element of adventure to your marriage.   (Believe me, I'm encouraging myself too.  I am not an adventurous person!)  We all know how easy it is to get stuck in a rut. Dating and the early years of marriage tend to be an adventure in and of themselves, but as the years go by we often lose that sense of excitement.  And when children come along, it seems to take all of our energy and all of our husbands' energy just to keep the family afloat!
One way to live a calmer, healthier and sexier life is to do something adventurous with your husband on a fairly regular basis.  It doesn't have to be a "great adventure" (you don't have to travel to the Far East or backpack through the Rocky Mountains!), just something that shakes up your routine and helps you get out of your comfort zone.  Those kinds of experiences help you to bond with your husband and to enjoy his  company in a new and different way. How can we add a little bit of adventure to our marriages?  Here are my ideas.  I'd love to hear yours!
Look for Living Social or Groupon deals for adventurous activities.  My husband and I have taken two guided kayak trips that we got for a great price through Living Social.
Get outside – go for a hike, ride bikes, take a picnic.  Enjoy the late summer and early fall – it's a perfect time to be outside together.
Take a day off and explore your town like tourists.  Bonus – stay overnight in a local hotel and enjoy some "hotel sex" and a break from your day-to-day responsibilities.
Make a campfire in your backyard and spend an evening outside together.
Look for opportunities to help others.  Volunteer together.  Set aside some money (some in his wallet, some in yours) and keep an eye out for someone who might be blessed by receiving an unexpected financial gift.
Go camping.  (I'm suggesting this, even though my husband and I have taken only one camping trip, and it was a disaster!)
Try a restaurant that's completely different from your favorite restaurants.
Learn something new together (photography, dancing, kayaking, anything new that the two of you might both enjoy).
Go away together for a weekend and do something new and different.
Change up your sex life – try something that's a bit daring for you.
Start exercising together.
Start planning a big adventure.  My husband and I are beginning to talk about taking a trip out West.  The trip will be great, but talking about it and planning it is half the fun.
Okay, I'm pretty sure some of you are thinking, "I don't have time to do any of those things!"  And that may be true.  But if that's the case for you, I want to encourage (prod, push, annoy!) you to think about controlling your family's schedule and creating margins in your life so that you do have time, every now and then, to enjoy an adventure with your husband. Please share your adventurous ideas in the Comments.  I would love to hear from you.  And please consider subscribing to Calm.Healthy.Sexy., using the box below or the one at the top of the side bar.  Thanks.
Sharing with Family Fun Friday, Messy Marriage and Motivation Monday.