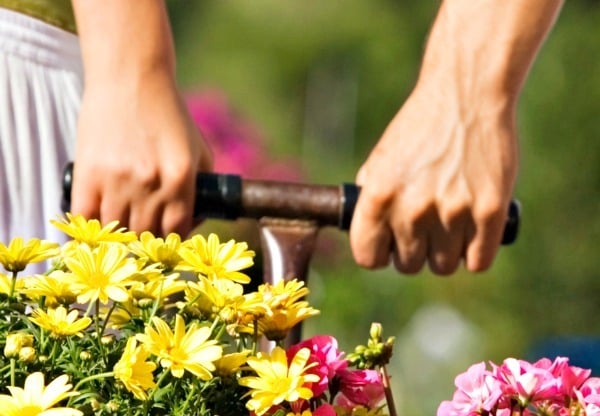 Recently I read about two high-profile Christian marriages that are ending in divorce. Both of the wives are authors who have written about the value and importance of marriage and family. In both cases, the husband committed adultery and refused to commit to saving his marriage.
My heart feels so heavy for these women and their children. The break-up of a marriage causes so much pain, and they have gone through agony over the past couple of years.
Reading these stories made me think about my marriage and the marriages of women who read this blog. I know you want to protect your marriage – I want to protect mine too. But this reminded me that no marriage is immune to problems, including devastating problems like adultery and divorce.
And before we go on, let me say right up front – I don't believe that a wife can prevent her husband from committing adultery (or vice versa) or seeking a divorce. People make choices, and some of those choices are very bad. We can't control what other people do.
But we can acknowledge the reality that all marriages, even those that seem strong, face risks. And we can take steps to strengthen our marriages and reduce those risks.
There's no better time than right now to invest in your marriage. If you want to take steps to strengthen and protect it, here are 4 things you may want to do:
4 Simple Ways to Protect Your Marriage
• Talk about it. Sheila Gregoire of To Love, Honor and Vacuum wrote that as soon as she heard about these divorces, she talked to her husband about their marriage and how to keep it strong. And they agreed together to be very intentional about focusing on each other and their marriage, spending time together, working out problems, and – just as important – having fun together.
That's a simple thing that you and I can both do – today and over the next few weeks. Talk about it, get things out in the open, and decide how to work together to keep our marriages strong.
• Invest time and energy in it. Keeping your marriage strong is an investment. It takes some time and effort and energy. It takes setting aside things that draw you apart, like hectic schedules and electronic entertainment, and focusing on your spouse and your marriage.
If your marriage could use that kind of investment (and every marriage could!), what is one thing you could do this week to devote some time and energy to your marriage? 
• Embrace intimacy. Let me say right up front, this does not mean "have sex with your husband frequently and he won't cheat on you." If you know me, you know that's not how I roll. (Plus, it's not true. Some spouses cheat in spite of a good sex life – cheating often isn't about sex.) Sex in marriage is designed for wives and husbands – it draws us together and creates a bond that helps to strengthen and protect our marriages.
But sometimes it's harder for women to enjoy and embrace sex than it is for men. If that's the case for you, consider devoting some time to exploring, enjoying and embracing sex and intimacy in your marriage. (Here are some articles and resources that may help.)
• Do something different! After reading about these two divorces, I kept thinking about excitement and boredom – how relationships are exciting at first and then become somewhat boring over time. And I wondered if spouses who commit adultery are drawn to it initially because of the excitement of something new and different.
Of course, no relationship can maintain that new-relationship excitement for more than a year or two. And anyone who's committed to a healthy, long-term marriage has to acknowledge that the relationship is going to change over time – life happens and "stuff" gets in the way!
BUT, couples can take steps to bring back some of that initial excitement, and one of the easiest ways is to do something different every now and then. We all love our routines, but routines get boring! So do something this week to break out of doing the same old thing with your husband. And consider doing something different or a little bit exciting every week for the next couple of months.
Investing in your marriage takes some time and creativity, but it's well worth the effort when it results in a stronger, more intimate marriage.
What do you think about the idea of investing a bit of time and effort in order to protect your marriage and strengthen it? Leave a comment or send me an email – I would love to hear from you.
(Please note that this article is intended to encourage women in generally healthy marriages. If you're in a very difficult marriage, these ideas won't be helpful for you, and I encourage you to seek professional assistance in your community. And if you're in an abusive marriage, please call a crisis line or law enforcement. Abuse is never the fault of the person being abused, and marriage tips and encouragement will not help you deal with an abuser.)
Are you looking for more in-depth information on ways to boost your libido, feel sexier and spice up your marriage? Check out this 10-video Boost Your Libido ecourse by Sheila Gregoire of To Love, Honor and Vacuum that's packed with great information and resources (affiliate link). I'm working my way through it and really love how practical the content is for busy wives and moms.