Are you planning to take a vacation this summer? If not, now's the time to schedule one. Why? Because all wives and moms need a summer vacation! And that includes you.
In fact, most wives and moms don't just need, the REALLY NEED – a summer vacation. And I pretty sure you need one too. It doesn't have to last a full week and you don't have to spend a lot of money on it. But you need to get it on the calendar now and start making plans to enjoy it.
Not convinced? Here are four reasons moms need a summer vacation and four things it can do for you, your family, and your marriage:
Moms Need a Summer Vacation!
• A vacation helps you step out of the routines of daily life, which is a prerequisite for relaxing and unwinding. 
Both women and men find it difficult to relax in the midst of their day-to-day responsibilities, but I think it's harder for women.
For that reason, stepping out of the routine is often essential for wives and moms to really relax and unwind.  So be sure to actually "step out" of your routine and remember that vacation shouldn't look too much like real life.
After all, if "vacation" consists of going to a beach house where Mom cooks, cleans up and takes care of kids all day, that's not a vacation!
So start thinking about how to make that happen, and enlist your husband's help. He probably wants you to relax and enjoy vacation, but he may not know what you need. So speak up and say what you need in order to relax.
For example, several years ago I said, "I don't want to cook dinner on vacation." So we go out to dinner every night, because cooking dinner feels like "real life" to me. It doesn't have to be fancy or expensive (our boys would be happy to have pizza every night!) but it allows me to relax and enjoy our time together.
• Vacation creates the excuse you need to disconnect from devices, email and social media and to reconnect with yourself, your husband and your children. 
If we just decide to do it, most of us can take a few days away from our phones, laptops and email.
It may be hard for you to do that (it is for me). Or you may be feeling the pressure of other people's expectations that you stay connected while on vacation.
That's when you need to rely on the "cover" of vacation. Let people know that you won't be readily available for that period of time. For example, when my family goes on vacation, I set my "away" email message at work to say "I will be out of the office from ___ to ___, with minimal email access. I will respond to your message when I return."
Think about similar things you can to do minimize digital stress on vacation, talk with your husband, and work out a plan to limit your electronic and social media activity during that time.
• A vacation allows you to create fun, positive memories as a couple and a family.
Family members often remember fondly the things they did on summer vacation – playing miniature golf, splashing around in the ocean or a lake, eating at the funny restaurant with the shark on the roof, riding bikes to the ice cream shop – things they never do during the rest of the year.
So be sure to include some fun, simple, and memorable activities that everyone will enjoy in your vacation plans. And don't assume that memorable activities have to be complicated or expensive – sometimes, the simple activities are the ones you remember the most.
(Bonus: If you can, try to plan one or two fun activities just for you and your husband. You might even do something that's a little bit adventurous.)
• Vacation creates opportunities for connecting with your husband, including enjoying "vacation sex."
Stepping away from work and home routines, getting more rest, doing fun activities, and relaxing together creates an environment in which sex and intimacy can thrive. (Check out this article on "hotel sex" and why it's great for women!)
Because this can be particularly important for women, be sure your vacation isn't packed with wall-to-wall activities or "command performances" (like long visits with relatives!). Instead, make sure that it actually includes time for relaxation, fun and intimacy.
Create a mindset before you leave that this will be a perfect time for you and your husband to reconnect emotionally and physically, and foster that mindset throughout your vacation.
(Also, check out 10 Ways to Relax and Enjoy Your Summer Vacation.)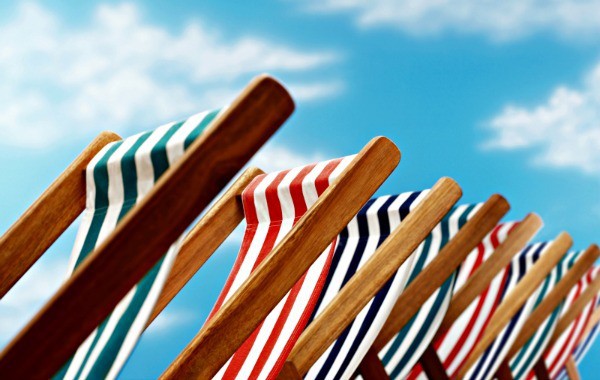 If you haven't yet planned a vacation (or have already taken one but need another!) it isn't too late. Even if time and money are in short supply, sit down with your husband and work out a plan for at least a few days of rest and relaxation. Any of these three types of vacations can provide the break you need:
• Stay vacation – Stay home, but act like a vacationer. Set aside all but the most essential everyday tasks. Visit local parks, museums, swimming areas and other attractions you never have time to enjoy.
This kind of vacation is tricky for wives and moms, because they see all of the things that need to be done around the house. So if you take a "staycation," be intentional about making sure that it's actually relaxing for you.
For example, turn off electronic devices. Eat out or simplify meals – the kids will think sandwiches on paper plates are a treat! Catch up on sleep, and be sure to make time for sex and intimacy with your husband.
• Go vacation – Take a few days or a week and get away from home. It doesn't have to be elaborate or expensive – even a few days in a modest hotel or campground can provide a refreshing break from everyday life.
• Stay and go vacation – Stay home for a few days and go away for a few days – this is my family's favorite type of vacation. My husband and I take a week off work, enjoy the weekend at home, take the family to the beach or mountains for 4 or 5 days, then enjoy the second weekend at home before heading back to work. For us, it's the best of both worlds, and it's definitely more economical than traveling for a full week.
Moms need a summer vacation! I'd love to hear about your vacation plans and what works and doesn't work for your family.