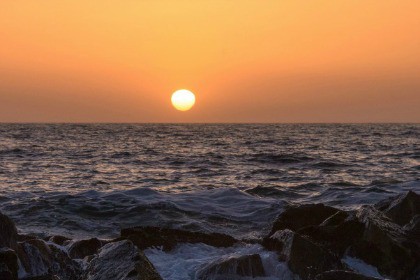 Have you been thinking about how to reduce the amount of stress in your life and live a little bit calmer this year? If so, I'm right there with you. In fact, I'd guess that most women reading this post are hoping for a little less stress and a lot more calm this year. What we need is a plan, and some stress relief tips that actually work for busy women.
The problem, of course, is that it's hard to make the kinds of changes that will allow us to live with less stress and more calm. Our schedules and commitments seem to be set in stone. We don't have time to slow down and take stock of our lives. And we use up most of our energy and resources just getting through each day.
(This post contains Amazon affiliate links. If you make a purchase using one of those links, I'll receive a small commission from Amazon.)
In fact, finding the time and energy to make changes that reduce stress and increase calm is so difficult, I think there's only one realistic way to approach it – by taking small steps, one at a time, and moving gradually away from stress and toward peace and calm. A small-steps approach, using stress relief tips that can actually work, makes things seem less overwhelming and gets you moving in the right direction. It sends a message – to yourself and others – that you're serious about making positive changes, even if you can't make them all at once.
If that approach appeals to you, or you just want to give it a try, here are 8 ways to get started:
• Identify the source(s) of your stress – If you aren't sure what's causing the most stress in your life, your best first step may be to figure it out. Some women feel generalized stress a lot of the time, and some are dealing with so many stressors they can't pick out the major ones. If you're in that position, consider focusing first on figuring out what's keeping you from living calmer.
It may help to write down your thoughts or talk them over with your husband or a trusted friend or family member (but only someone with a positive outlook who has your best interest in mind). And if it seems very overwhelming or you just can't sort it out, talking with a counselor may help you start moving in a positive direction.
• Set a goal and start working on it – Maybe you can't live calmly because something that's important to you isn't getting done. It's always with you, in the back of your mind, nagging you. It could be anything – decluttering your house, finishing a project, overhauling your family's diet, beginning an exercise program, pursuing your education, or starting to work on something you've always dreamed of doing. If it's causing you stress, it's probably a good candidate for a step-by-step approach to reducing your stress.
So set a goal of accomplishing, or at least getting started on, this one thing. Write it down and list the first steps you'll need to take. Then start working your way through the steps, one at a time. Here are some simple ways to start working on a goal and a more in-depth approach to developing a plan for reaching it. (And here's a printable that will encourage you to keep moving forward.)
• Organize something – Missing paperwork, piles of toys, lost food hiding in the recesses of the freezer, a desk that looks like a tornado swept across it – these and a thousand other disorganized things add tremendous stress to our day-to-day lives. They also waste our resources – time, energy and money – as we try to work around them rather than dealing with them.
Some people are natural organizers, but for the rest of us, organizing things requires purposeful effort. If lack of organization is stressing you out, organizing something may be the best first step you can take toward a calmer life this year. Christina at Juggling Real Food and Real Life is sharing great ideas for decluttering and getting organized at her Freedom from Clutter in 40 Days Challenge.
• Control your family's schedule – One of the biggest sources of stress for women is their family's schedule. Children have activities almost every day of the week, some evenings and many weekends. Parents have commitments at work, school and church and in their communities. Many moms are running constantly from one activity to another, living out of their cars, picking up dinner at a drive-thru window several nights a week.
Friend, that lifestyle is very stressful! It leaves little or no time for taking a deep breath, relaxing, connecting with your husband, and just enjoying life a little bit. If this sounds like your life, taking steps to control your family's schedule may be the best first step you can take this year.
• Take steps to reduce your physical stress – Sometimes the stress you feel is primarily in your mind, and sometimes it's primarily in your body. (And often it's a combination of both.) Frequently, you can reduce the stress or anxiety you feel simply by reducing your physical stress. One of the best ways to do that is to exercise regularly. Exercise helps your muscles let go of tension, promotes the release of endorphins ("feel good" chemicals in your brain), and generally promotes a positive frame of mind.
And "exercise" doesn't have to mean "go to the gym four days a week." Instead, it can mean figuring out ways to be physically active as part of your daily routine. Other physical stress reducers, including massage, stretching and yoga can help too. Some women find scents to be helpful in reducing stress. I like this essential oil blend and I want to give this calming blend a try.
• Learn to say "no" – Part of controlling your family's schedule involves controlling your own schedule. Do you have too many activities on your own plate? If so, is it because you can't say "no?" If that's the case, your first step may be to create a plan for saying "no" to new activities, and "no more" to activities you're ready to stop doing.
I used to feel guilty about saying no to things people wanted me to do, but then I realized that when I say "yes" to them I am saying "no" to my husband, my family and/or myself. So I've learned to choose more carefully the things I agree to do. If this is an area you need to address, here are some ways to learn to say "no" or "not now."

• Help someone else – Sometimes we lose the "calm" in our lives because we focus too much on our own problems, or the things we perceive as problems. If you experience a lot of anxiety due to generalized worry, one way to change that focus is to help someone else. By volunteering, serving in a ministry, or simply making yourself available to people you know who need help, you may find that anxiety about your own stresses seems to fade.
• Pursue a passion or interest – Because women are often so busy doing the mundane tasks of daily life, they may find that they aren't doing anything to feed their passions or interests. Although the degree to which you can pursue a passion varies from one stage of life to another (mothers of infants and toddlers are never going to have much time for outside interests!), everyone needs time on a regular basis to do something just "for her." (Your husband also needs time to do things just "for him.") If you've been away from your passions or interests for too long, your first step to living calmer may be to pursue one of them.
Are you taking steps to reduce stress or live calmer this year? If so, what's the first "small step" you plan to take? And what are your best stress reliev tips for other busy women? Please share your thoughts in the Comments – I would love to hear from you.