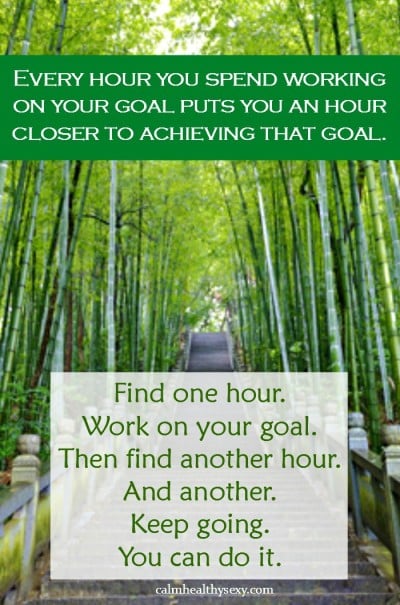 Do you ever feel discouraged about your goals, wondering if there's any chance at all that you'll ever achieve them? Or do you sometimes wonder if your dreams for your life, family, ministry, or business are nothing more than illusions – something that other women might achieve, but not you? If you're a busy wife and/or mom, I'm pretty sure you've felt both of those things. And I have to tell you, I'm right there with you. I'm feeling so discouraged right now about the goals I've set and the things I want to accomplish, I'm just about ready to throw in the towel.
A lot of things are contributing to my discouragement, but the main one is thinking "that's for other women, not me." I look at the things other bloggers and writers and business owners are doing and I just feel so discouraged. (Yes, I know that comparison is deadly!) I feel as if others are moving forward rapidly, and I'm just spinning my wheels. Even though I've set goals for this year and made a plan for achieving them, I've just about decided that they will never happen. That's crazy, I know. (And as a Christian, I know it reflects poorly on my trust in God's plan for my life.)
The other reason for my discouragement is time or, more accurately, the lack thereof. I think this is one every woman feels. We have so many things on our plates and so many people counting on us, that when it comes to working on a goal or moving toward a dream, there just doesn't seem to be anything left (time or energy) at the end of each day.
So I decided this week that I'm going to work on my goals as much as my time and energy allow, then trust God for the outcome. (Of course, as a person who wants to make things happen, that's easier said than done!) And I'm going to value every bit of time that I devote to working on my goals and consider it time well spent. Even if it's only an hour. Or 30 minutes. I'm trying to adopt the theme that "Every hour spent working on a goal puts me an hour closer to achieving that goal."
So I made myself an encouraging image as a reminder to do as much as I can and let that be enough. I actually made two, because I couldn't decide which one I liked best. And in case you're feeling discouraged and needing a reminder that every hour you spend and every step you take toward your goals and dreams is valuable, I made them into printables that you can save, print or share. I hope they encourage you, in case you're feeling a bit discouraged too.
Every Hour You Spend Working on Your Goal printable
Find One Hour. Work on Your Goal. One Step at a Time. printable