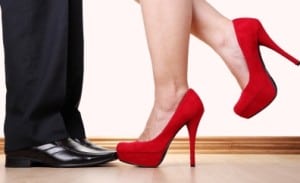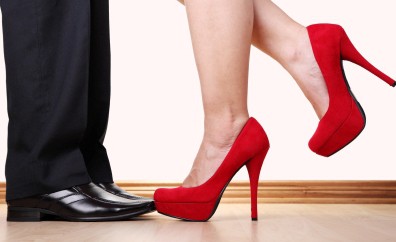 We've been talking about three strategies for building sexual confidence this year. The first two strategies encouraged us to build sexual confidence by becoming more confident in our bodies and increasing knowledge about sexuality and intimacy. The third strategy is to build sexual confidence by taking action. So let's talk about what that might look like – by talking about some steps we could take to have fun with our husbands, build intimacy in our marriages, and increase our sexual confidence – maybe all at the same time!
(Check out our Sex and Marriage page, which is full of  sex-positive resources.)
If the idea of taking steps to increase intimacy seems intimidating to you, make a plan that takes things gradually. I read an article this week that addressed this idea in a really wonderful way. Lynda Wallace, writing on her blog Active Happiness, shared the idea that we operate in one of three zones – our comfort zone, our panic zone, or our stretch zone. We tend to hang out in our comfort zone and try desperately to avoid our panic zone. But what about our stretch zone?  The stretch zone is the place where Wallace says "magic happens." It's where we push ourselves to move beyond what's comfortable for us, but not so far that we end up feeling panicky.  It's where we try new ideas and activities and test our boundaries. As we operate in the stretch zone, we actually begin to increase our comfort zone.
I think this is something many wives can apply to sexuality and intimacy. No matter where we are, we all have a comfort zone and a panic zone. For many of us, though, the sexuality comfort zone is fairly limited – which generally isn't good for our marriages.  But what if we decided to operate in the stretch zone some of the time, pushing our own boundaries just a bit and adding new elements of sex and intimacy to our marriages? The process might be a bit intimidating, but I predict that the results would be very positive!
So, I encourage you (and me!) to stretch beyond your sex and intimacy comfort zone this year. Here are a few ideas to help you get started:
Flirt with your husband.  Yes, like when you were dating. Wink at him across the room. Kiss him for no reason. Make little suggestive remarks. Find ways to let him know you find him attractive and interesting. (Here are some great flirting ideas from Sheila Gregoire.)
Send him sexy texts or emails.  For a long time, I thought sexting was just something teenagers did that they weren't supposed to do. Then I figured out that married couples can sext ( or send sexy emails) – and it's perfectly all right! (Be careful, though, if your husband uses a work cell phone or email account.)  Sexting can help you get in the mood throughout the day, and lets him know you're interested in getting together that evening. Start with something fairly mild and see how things develop.
Plan a date night.  Arrange a fun, relaxing evening for the two of you, something you'll both enjoy. Make all of the plans and, if you have children, arrange for child care. (Bonus – send the kids off for the night with a relative or friend!)
Break out the lingerie.  Most women have nice lingerie they haven't worn in years. (I've heard husbands refer to the "lingerie vault," where lingerie gets imprisoned and never gets out!)  Break it out and wear it. If you don't like it or it doesn't fit, get something new. It doesn't have to be expensive – I enjoy browsing the lingerie department in Target and even WalMart.
Set the mood.  Arrange some candles in your room (be careful with them!) or otherwise arrange dim lighting. Play some sexy or romantic music.
Initiate something with your husband. Most husbands enjoy and appreciate it if their wives initiate once in a while. This may be well outside your comfort zone, but work your way up to it and give it a try.
Make some space in your life.  It's almost impossible to establish meaningful sex and intimacy with your husband if there's no space in your life. If every moment is crammed with activity, you won't have the will or energy or ability to change things for the better. Paul Byerly, author of The Generous Husband, addressed this topic this week in two articles every husband and wife should read – Does your life have room for more sex? and The time and room your marriage needs.
Have an honest conversation with your husband. Even more than taking action, talking about sex and intimacy really pushes the boundaries of most people's comfort zones. Maybe you need to say, "I want to improve our sex life, but I don't know where to begin." Or, "I'm afraid." Or, "This is a problem for me." One approach to getting a conversation going is to read a relevant article and bring it up as a conversation starter. Or ask him a question about something that's on your mind. Maybe start with the least intimidating part of the conversation and move forward from there.
What are your tips for taking action to build sexual confidence this year? What has worked for you? Please share your ideas in the Comments – I would love to hear from you.