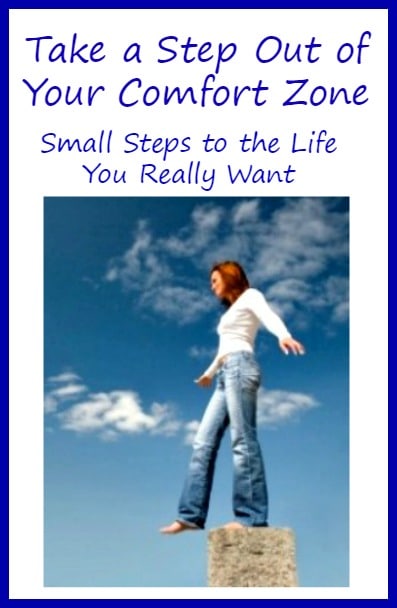 When I envision a calm, healthy, sexy woman, I picture someone who is willing, on occasion, to take a step or two outside her comfort zone.  I don't mean a woman who lives life on the edge or always pushes the boundaries.  Rather, I picture a regular women doing regular things, but sometimes moving into areas where she isn't entirely comfortable.  She's taking on small risks, facing fears, and meeting challenges, all of which take place outside her comfort zone.  When she does those things, she also creates the kind of energy and confidence that are part of a calm, healthy, sexy life.  
If you're a woman who ventures into new areas or takes on new challenges easily, you probably don't need to take this SmallStep. But if you're like me, a woman who likes predictability and comfort, hates change, and tends toward worries and fear, let's talk for a few minutes about taking a step this week to move out of our comfort zones.   In a previous post on enhancing sex and intimacy, I mentioned the "stretch zone," the area that falls somewhere between our comfort and panic zones.  It's the place where we can stretch beyond our limits and fears and into places where we don't really know what we're doing.
Moving into our "stretch zone" isn't just for sex and intimacy (although it's great for that!); it's applicable to almost every area of life.  What areas of your life are firmly entrenched in your comfort zone?  Where do you feel a small  yearning for something new and different?  What do you long for, yet fear?  What keeps rolling around in the back of your mind that you won't allow to come to the front of your mind?  Think about your responses to those questions – one of the thoughts that emerges may be an area where you need to "stretch" a little.
The opportunities for stepping out of our comfort zones are endless.  My need to "stretch" is probably entirely different from yours; something that seems terrifying to me may be routine for you, and something that's easy for me may seem overwhelming to you.  Here are a few ideas to jump start your thinking about which step is right for you:
Dreams – Do you have a dream you've been afraid to pursue?  Something you put on the back burner because you were too busy or the time didn't seem right?  Something that scares you, because it would require you to move into the unknown?  If so, what could you do this week or in the next few weeks to begin exploring it?  For years, I dreamed of writing about life and health and marriage in a way that would be useful to other women, but I didn't do anything about it.  Then last summer I got up the nerve to launch this blog.  I knew nothing about blogging, and less than nothing about creating a blog that people would want to read.  I was afraid to put myself out there, and I was afraid to fail.  (I'm still afraid of those things!)  I moved out of my comfort zone, and in the process created a lot of energy and enthusiasm in my life.  And yes, also a lot of frustration.  But it's been worth the risk.  What dream are you waiting to pursue?
Relationships – Are you holding something back in one of your relationships, because you fear the consequences of addressing it?  Something with a parent, a friend, one of your children?  Maybe something in your marriage needs to be addressed, but you aren't sure where to begin.  It may not be something bad, just an area you want to strengthen or improve, like increasing intimacy with your husband or improving communication with a teenage child.   Could you take a step this week or in the near future to open up a conversation about moving the relationship in a positive direction?
Career/Vocation – Do you feel stuck in your job, career or vocation?  Are you working in an office but long to be working at home (or vice versa)?  Do you want to homeschool your children, but fear you'll mess up their education?  Have you always wanted to pursue a different job or career?  If so, what could you do this week to at least investigate making a change?  I'm all for realism, and am not suggesting that you abruptly quit your job or pull your children out of school!  If you have four children under the age of 8, I know that a dream of going to medical school may have to wait.  But perhaps you can do something to move toward your goal or investigate the possibilities, even if it means stepping out of your comfort zone.
Service/Ministry – Having you thought about serving others in a particular way, but haven't moved in that direction?  Have you felt God calling you to a particular ministry, but haven't investigated the possibilities?  Do you feel inadequate to help in that area of service or ministry?  If so, should you move into your "stretch zone" this week and investigate the possibilities?  I've felt a nudge for several years to get more involved in a particular area of ministry, but haven't done much about it.  This week, though, I'm going to  investigate ways that I can get involved.  What about you?
These are just four of the dozens of areas where you or I may need to move outside our comfort zones.  What is your experience with doing things that are a "stretch" for you?  What is the next area in which you're planning to stretch?  Please share your ideas and experiences in the Comments – I would love to hear from you.