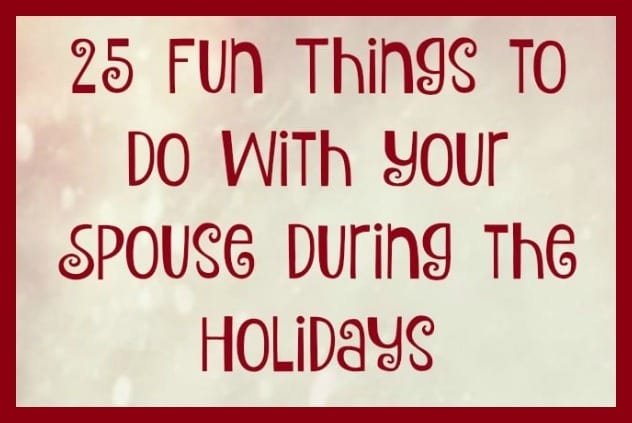 Are you looking for ways to have fun with your spouse and enjoy your marriage during the hectic Christmas season?
I am, but it's a struggle. My Christmas to-do list always threatens overwhelm me, but I'm determined not to let it get the upper hand! I want to have fun with my husband during the "most wonderful time of the year," not work my fingers to the bone every day, then drop into bed in complete exhaustion. (This post contains Amazon affiliate links.)
If you're feeling the same way, I encourage you to first check out our companion article, 5 ways to have fun with your spouse this Christmas.
Then use the list below to plan 3 or 4 fun activities with your husband over the next few weeks. (You can even combine Christmas tasks with fun – my husband and I went out to dinner tonight, then did some Christmas shopping.) Here are 25 ideas to help you get started:
• Visit a walk-through or drive-through Christmas lights display.
• Go ice skating.
• Take a walk or a hike.
• Grab some massage oil (or coconut oil or lotion) and give him or her a massage.
• Play Christmas music, put your feet up, and enjoy a glass of wine or cup of hot chocolate.
• Make love.
• Make cookies.
• Play Christmas music and wrap gifts together.
• Go to a movie.
• Go shopping together, then stop for coffee, ice cream or a glass of wine.
• Ride bikes.
• Play in the snow. (If you're lucky enough to have some snow!)
• Build a snowman.
• Say no to something (or several somethings!) in order to make time to have fun with your spouse.
• Watch a classic Christmas movie.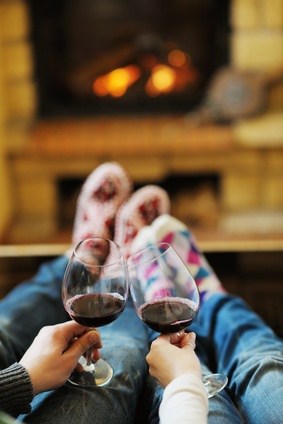 • Work together to get the house or yard ready for company.
• If you're traveling, explore the town or area where you're staying. (Leave the kids with the grandparents for a few hours!)
• Play a game together.
• Make up some new sexy rules for the game.
• Play some romantic music and dance together.
• Wear festive holiday lingerie.
• Straighten up your bedroom, light some scented candles (be careful with them!), and spend some time touching and enjoying each other.
• Stroll through a beautifully decorated shopping or residential area.
• Go shopping or do errands together, rather than separately. Find a way to make them fun.
Want more ideas for having fun with your spouse and nurturing your marriage during the busy holiday season? Get a copy of my ebook, Peace. Love. Joy. 75 Simple Ways to Take Care of Your Health, Happiness, and Marriage this Holiday Season. Use the code FRIEND25 at checkout to save 25%.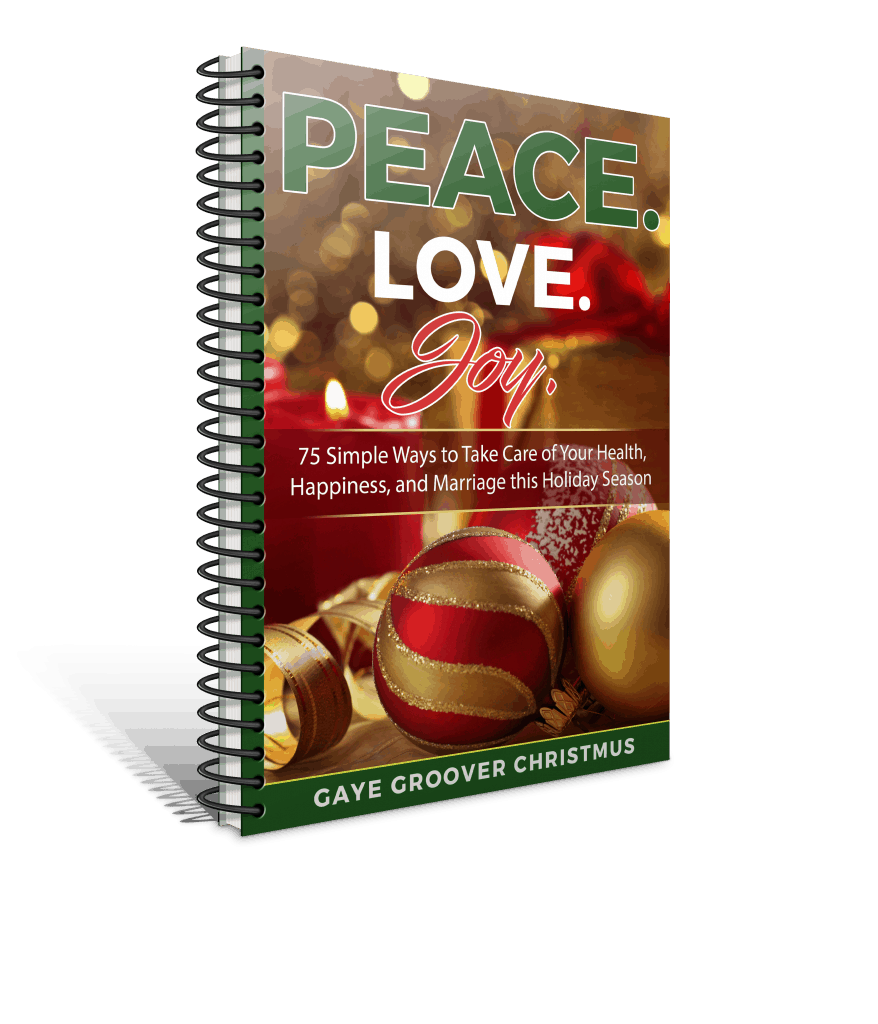 You may also like these posts about connecting with your husband and enjoying your marriage:
How do you and your husband have fun during this busy time of year? Please share your tips and ideas in the Comments – I would love to hear from you.