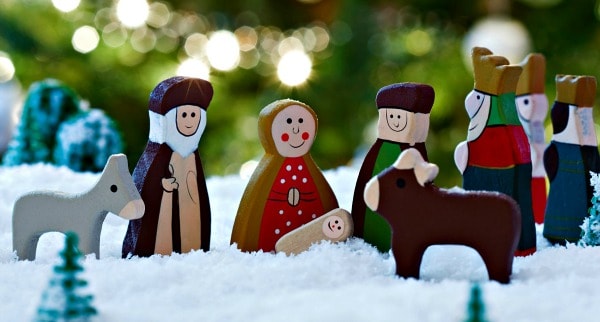 The 5 weeks from Thanksgiving Day (in the U.S.) through Christmas and on to New Year's Day are some of the busiest of the year for wives and moms.
With extra shopping, cleaning, cooking and celebrating added to your already-busy schedule, you start to feel like the weight of the world is on your shoulders. And any thought that you might love your life and enjoy your marriage during this crazy time seems to fly right out the window.
But I don't think it has to be that way. Yes, the holiday season is going to be busy, but it doesn't have to be chaotic. And you don't have to be under chronic stress and pressure during the entire 5-week period. I believe that the Christmas season can be the most wonderful time of the year. It can be a time when you stay calm, take care of your health, and enjoy your marriage and family.
But, making those things happen takes a little bit of effort. So I've created a resource that helps you figure out what to do and how to do it. Peace. Love. Joy. 75 Simple Ways to Take Care of Your Health, Happiness, and Marriage this Holiday Season is full of ideas to help you prioritize what's important, let go of the things that aren't, manage stress, eat well, take care of yourself, and invest in your marriage.
Here's an excerpt from Chapter 1 –
"If you're yearning for a holiday season that's more about family, fun and joy, and less about obligations, money and stress, here are 5 things you can do to move in that direction. Consider taking these steps to enjoy the holidays now, before things really start to get crazy.
1. Figure out what you and your husband really want. What does an ideal Thanksgiving, Hanukkah or Christmas look like to you? What does it look like to your husband? Talk about it openly and honestly, and listen to what he has to say.
Don't be surprised if your ideal holidays and his look very different. For example, decorating the entire house may be important to you, but mean nothing to him. And watching football with his family after Thanksgiving dinner may get him in the holiday spirit, but bore you to tears. So bring all of your hopes and expectations out in the open, and encourage him to do the same.
2. Establish your priorities. Now that you know what's important to both of you, establish priorities for your family. Make a list of the three or four things that are most important to each of you. Maybe for your husband it's spending relaxed time as a family and choosing gifts that will allow the family to have fun together. Maybe for you it's starting the holiday season with a clean, uncluttered house and entertaining small groups of friends. Let each other know, "This is what's most important to me over the next few weeks." Then agree to honor each other's priorities and make them happen. And recognize that, in doing this, each of you will probably have to forgo two or three of your "favorites." If you don't, you'll be right back to trying to do everything and driving yourself crazy.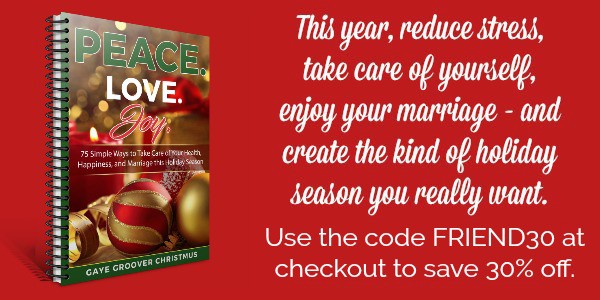 3. Let go of things that don't fit your priorities. This is where things start to get difficult. In order to create the kind of holiday season you and your husband envision for your family, some things will have to go. You can't attend every event, accept every invitation, make every gift, create every craft, and decorate every inch of the house – not if you want to relax a bit and enjoy the things you determined are most important.
Obviously, some activities are required – your children's Christmas program, your boss's holiday drop-in, shopping for gifts, cooking holiday meals. But some are not.
So you may have to say no to your neighbor's dessert buffet, your aunt's Christmas cantata, your daughter's friend's skating party, or your sister-in-law's all-day shopping trip. Because you can't do everything, and this year you want to do the things that will make the season fun, relaxing and memorable for your family…."
Get a copy of the ebook today, and start creating exactly the kind of holiday season you want this year. And use the code FRIEND30 at checkout to save 30% off the regular price.
Get the ebook here – Peace. Love. Joy. 75 Simple Ways to Take Care of Your Health, Happiness, and Marriage this Holiday Season.
You may also like –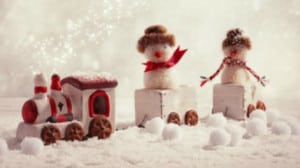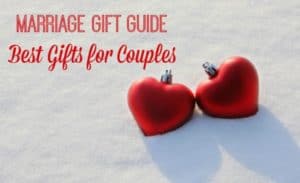 Need a Christmas gift for yourself, one that's designed to help you boost your libido, feel sexier and enjoy intimacy more? Check out this 10-video Boost Your Libido ecourse from Sheila Wray Gregoire that's packed with great information and resources (affiliate link). I'm working my way through it and really love how practical the content is for busy wives and moms.