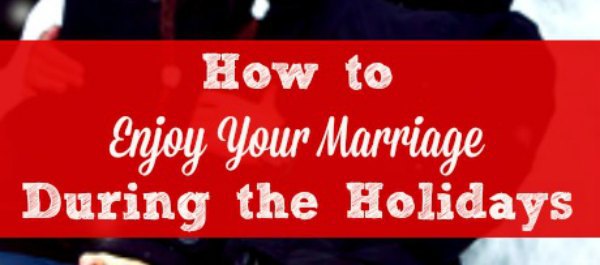 Although planning for Christmas and checking things off your list is important, making time to have fun with your husband is important too. I don't want to get to New Year's Day and realize that we haven't done anything fun together since before Thanksgiving – and you probably don't either!
Instead, I want to work with him on setting our Christmas priorities and getting things done and having some fun in the midst of the hustle and bustle of the season.
If you're hoping to do the same, here are 5 ways to have fun with your husband and enjoy your marriage, in spite of your endless to-do list and general Christmas craziness:
1. Make it a priority. I don't know about you, but I tend to think that "fun" and "enjoyment" should happen spontaneously. The reality, though, is that those things rarely happen without planning for married people who have jobs and houses and children and responsibilities. If we just wait for them to happen, we're going to be waiting a very long time.
Instead, we have to make a decision, then make a plan. And the decision is, "I'm going to have fun with my husband and enjoy being with him, even though it's the busiest time of the year and chaos is swirling all around me." Making that decision and prioritizing your marriage are the critical steps – the other steps won't happen without them.
2. Talk about it. Let your husband know that you want to spend time with him and have fun together – now and at Christmas and right through NewYear's Day. Talk about what that means to you and to him, and discuss what each of you can do to make it happen.
Be willing to give and take – what's fun for you may not be fun for him and vice versa, so make sure that both of you get to "have your say."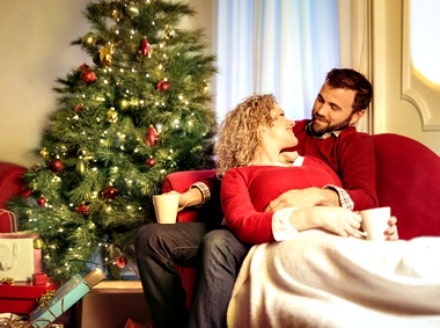 3. Plan 4 fun things to do together between now and New Year's Day. Get out your calendars, sit down together, and plan at least 4 fun things the two of you want to do together over the next couple of weeks.
Maybe you want to see a new movie in the theatre, walk through a Christmas lights display, go ice skating, or just sit down and enjoy a glass of wine together. Or maybe you want to combine fun with a little bit of getting-things-done. Like wrapping gifts while watching a Christmas movie or working outside to spruce up the yard before guests arrive.
My husband and I are taking that approach this week; we plan to go out for a nice dinner on Thursday night, then do some Christmas shopping. We both hate crowded malls, so we're hoping that shopping later at night will be less stressful than shopping during the day!
After Christmas we plan to take a day trip and enjoy exploring a new place together.
What would you and your husband like to do? Pick some things you'd each enjoy and put them on your calendar. (And make a note of anything you need to do to make them happen, like asking a friend to keep the kids for a few hours.) Need some ideas to get started? Check out this list of 25 fun things to do with your spouse during the Christmas season.
4. Let go of things that get in the way. Between now and Christmas, the number of things that can get in the way of having fun with your husband will grow exponentially. The reality is, you'll have more tasks to do than any woman can possibly accomplish. And those tasks will suck the joy out of the season and your marriage, if you let them.
So decide now not to let them. Figure out which things you can let go, and cross those things off your to-do list with nary a second thought. Talk with your husband – if he's like mine, he has lots of ideas about what's important and what's not at Christmas!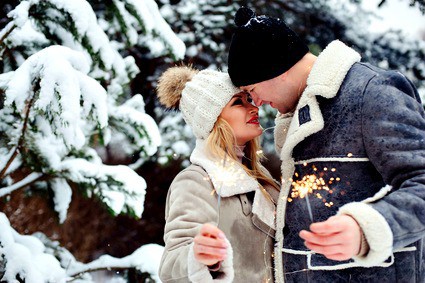 5. Make love regularly. Yeah, I know you're busy and tired, and sex can seem like one more task on your to-do list. I really, really get that. But I also know that making love regularly reduces your stress level and makes you feel great. Ditto for your husband.
And it brings the two of you closer together and smooths out some of the little bumps in your relationship, all of which can make a stressful season seem a bit less stressful.
So make time for it, at least a couple of times a week, even if you don't have the time. (If you're experiencing significant problems in your marriage related to sex, this idea won't be helpful. If that's the case, please consider speaking with a professional counselor. You may also want to check out some of the resources on the Sex and Marriage Resources page.)
Have you struggled to have fun with your husband and enjoy your marriage during the Christmas season? Or have you figured out some ways to make your marriage a priority, despite the craziness of the season? Either way, please share your experiences in the Comments – I'd love to hear from you.
And if you're ready to make a plan that will help you slow down and enjoy your life, marriage, and family this holiday season, check out my holiday planning ebook, Peace. Love. Joy. – 75 Simple Ways to Take Care of Your Health, Happiness, and Marriage this Holiday Season. Use the code CHRISTMAS5 to get it for $5 (regularly $8).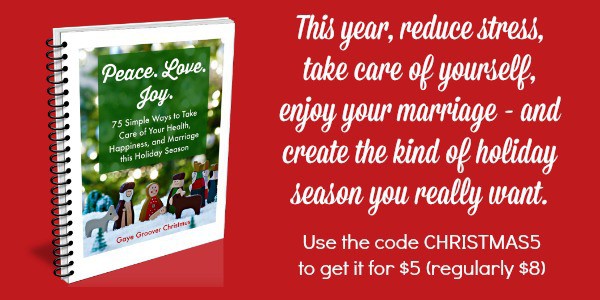 If you're looking for ways some fun, sexy or practical gifts for couples – for you and your husband or other couples you know – check out our Top Gifts for Couples- Fun and Happy Marriage Gift Guide.