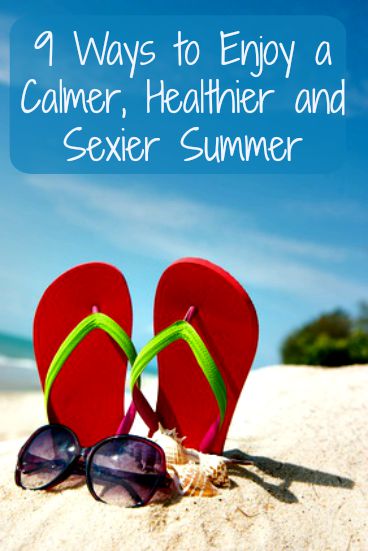 Most women really need to take a break. They need to slow down, kick back, and just chill out for a while. But they struggle to find time to do any of those things. During the school year taking a break seems completely out of the question. But during the summer – well, that opens up new possibilities. Even if your schedule is incredibly busy, you probably can (and definitely should) make time to slow down and relax a bit. Here are 9 ways to help you get started:
Make a plan – Time to slow down and relax won't just appear in your schedule. If you let it, your schedule (and your kids and other people!) will keep you busy and on the go every waking hour. So take control of what's happening in your life this summer and make a plan that involves living a little bit calmer, healthier and sexier.
Take a vacation – You don't have to spend a lot of money or even go away from home, although even a few days away can sometimes make a world of difference.
Enjoy your marriage – Let summer be a time when you and your husband spend a little more time together, laugh a bit more, and just generally have some fun.
Simplify your life – Summer is the perfect time to let go of some of the things that take up time and energy during the rest of the year. In the summer, your house doesn't have to be perfectly neat, your kids don't have to be perfectly dressed, and you don't have to say 'yes' to everything people want you to do. And one of the tasks that takes up lots of time – cooking – can be pared down and simplified during the summer.