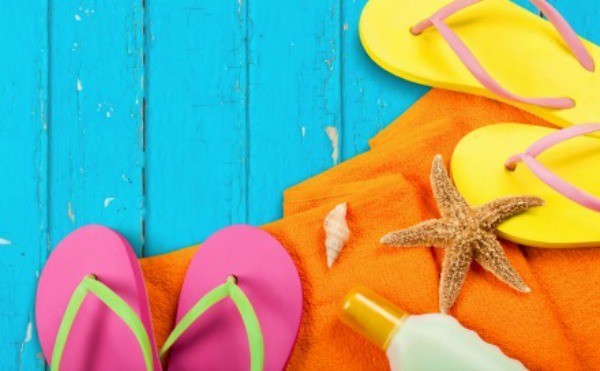 I don't know about you, but I want to slow down this summer. I think it's because I grew up in a time and place when summer for kids meant lots of freedom and relaxation. The kids in my neighborhood didn't follow a jam-packed schedule of camps and programs; we just hung out with our friends, went to camp for a week, and maybe took a trip with the family.
And we thought summer was just about perfect. So now, even though many years have passed since those idyllic summers, I still think summer should look different from the rest of the year – a little more relaxed and a lot more fun. In other words, I want to slow down this summer.
The reality for most women, however, is that summer isn't very different from the rest of the year. Schedules don't magically divest themselves of commitments, and responsibilities don't suddenly come to a screeching halt, just because the calendar says "June," "July" or "August."
So except for, perhaps, a week or two of vacation, summer isn't particularly fun or relaxing for many women. (And when they do take a vacation, they may need to be intentional to make sure that it's fun and relaxing.)
Fortunately, I think we can change this pattern. We can't go back to the carefree summers of childhood, but we can create something that's different from the busy routine of September – May. The secret is making small, short-term changes in our lives that reduce stress and give us some space to kick back, relax, and make happy memories. Here are 6 simple things you can do: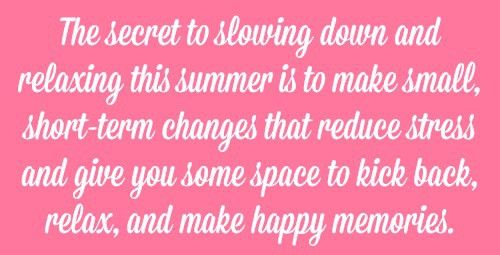 6 Ways to Slow Down this Summer
• Simplify one or two areas of your life.
What activities absorb lots of your time and energy, over and over again? Maybe it's the washing and folding the laundry, managing clutter in the house, cooking and cleaning up the kitchen, dealing with paperwork or transporting kids to activities. It could be anything you do regularly that leaves you feeling depleted or frustrated.
Identify one or two of those areas, and figure out a way to simplify them for the summer.  Hire a tween or young teen in your neighborhood to help with routine tasks, like folding laundry. Or let him or her play with your younger children while you get some things done. Research and implement a simple process for dealing with clutter. Plan and fix simple meals. Take a little bit of time on Sunday afternoon or evening to prep food for the week. Figure out an activities schedule that keeps you from becoming a one-woman taxi service. Just pick one or two things that are causing stress for you, and figure out a way to simplify them.
• Let go of one area of responsibility, at least temporarily.
If you're a person who takes on lots of responsibilities, consider letting one of them go for the summer, or at least part of the summer. Maybe you need to take time off from planning fundraising for the soccer league or coordinating social activities for your neighborhood.
Or perhaps  you need to take July off from teaching Sunday School or volunteering. Pick something that takes a fair amount of time and energy, and let it go for a while.  Use that time instead to relax and enjoy the summer with your husband and family.
• Make a list of 3 things you really want to do – and do them.
Make summer a little different and a bit special by doing at least 3 fun things. Think about things you've been wanting to do but just haven't had the time. They can be small or large; a reasonable approach might be to pick one small thing (in terms of time and/or money), one medium thing and one big thing.
I'm working  on this right now for my own summer. My family has a week of vacation planned for August (a big thing), and I'm really looking forward to that. I'm also taking a short trip with my sisters in July (a medium thing). And I'm taking July 3 off work, in order to create an extra-long 4th of July weekend (a small thing).
Can you make a similar list for yourself, one that includes activities that will make summer more fun and relaxing for you?
• Plan some downtime.
Don't run on "full steam" all summer. Instead, throttle things back by including some downtime in your days. Make time to sit outside after dinner with your husband, go for walks, read books, enjoy a hobby, watch movies as a family – any of the kinds of things that never seem to "fit" into a family's busy schedule.
My husband and I are planning to take one weeknight every week this summer and make it an evening of relaxation. (I'll let you know how that goes!)
• Institute some summer traditions.
Make summer different from the rest of the year by establishing summer traditions. Eat dinner outside regularly, plan a family video night once a week, go out for ice cream or make ice cream sundaes at home on Sunday night, visit a park or playground one morning a week (before it gets too hot), pick strawberries or blueberries, make special summer food – anything that creates fun, positive memories for you and your family. One of my favorite summer traditions is to eat dinner on the deck (whenever it's not 95 degrees at dinner time!)
• Cultivate sex and intimacy in your marriage.
Few things can produce more relaxation or create a better frame of mind than good sex with your husband. Sex and intimacy also help your marriage and your life in general rise above the routine and mundane; they bridge the gap between you just slogging through your busy, stressful routine and you and your husband enjoying and building a life together. Not just in the summer, but all year long.
Summer, however, is the perfect time to cultivate sex and intimacy.  There's something about warmer air, longer days, and lighter clothing that promotes a sexier state of mind. (And floral, summery essential oils can promote that sexier feeling too.) Even the foods we eat in the summer are more conducive to that state of mind than those we eat in the winter. So this summer, take the time and make the effort to cultivate sex and intimacy in your marriage. (If you aren't sure where to begin, check out our favorite Sex and Intimacy articles and the Sex and Marriage Resources page.)
What do you think? Is it possible to make summer a little more fun and relaxing than the rest of the year? What are your tips for making that happen? Please share your ideas in the Comments – I'd love to hear from you.