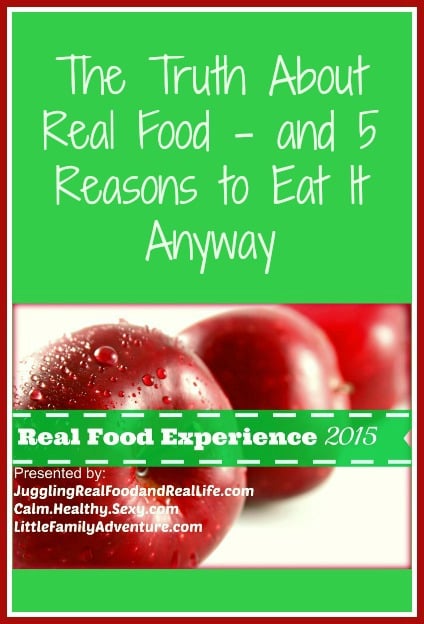 Throughout January, hundreds of women are working together toward a simple goal – improving their health by eating more real food. They're taking part in The Real Food Experience 2015, a month-long challenge to make small, sustainable changes that will lead to better health and more energy. This post is part of that effort, and here's the reason I'm writing it – I want to tell you (and me!) the truth about eating real food, then encourage both of us to move forward with a real food diet in spite of that truth.
So here's the truth – eating real food takes time, energy and effort.  I can't sugarcoat that fact, and if you've spent any time shopping for, prepping, and cooking real food, you know it's true. Eating processed food is quicker, easier and often cheaper. That's why we do it – we're busy, and we're looking for fast and affordable ways to feed our families. It seems like a reasonable approach to making our lives just a little bit easier.
But it's a short-term solution, and it doesn't pay in the long run. A real food diet is always the better choice, despite the effort it requires. Here are 5 reasons why:
A processed food diet sacrifices health and energy for speed and convenience. Most of the foods that save us time and effort are loaded with things our bodies don't want or need, including large amounts of sugar and salt, hydrogenated oils, artificial colors and flavors, and unpronounceable chemicals. Over time, those things can damage our health and sap our energy. My friend Christina, author of Juggling Real Food and Real Life and creator of The Real Food Experience 2015, tells one of the clearest stories I've ever heard of becoming ill from eating processed food and then becoming well from eating real food. If you haven't read her story of health through food, I encourage you to check it out.
Our bodies crave real food.  The earliest humans, and all humans up until the last 100 years, ate real food – fruits, vegetables, grains, meat, nuts and other foods they collected, hunted or grew. They didn't eat hydrogenated vegetable oils or white sugar or artificial flavors. They ate the foods their bodies were designed to use for growth, energy and health. Although processed and fast food can seem to satisfy us for a while, they aren't the foods our bodies crave and need in order to flourish.
We deserve to eat real food.  Many women believe they don't have time to take care of their own bodies. They don't usually come right out and say that, but they believe it and act on it. They think they don't have time to exercise, don't have time to sleep, and don't have time to eat real food. If that sounds like you, I want to gently encourage you to change your thinking. Because if you don't have time, you need to make time. You are worth it. I am worth it. Our bodies are fantastic. I believe they were designed by God and are now in our care. Let's take care of them in every way we can, but especially by feeding them food that nourishes and heals.
Our families deserve to eat real food.  Some women won't take care of themselves, but they will invest the time and effort to care for their families. You already know I think you're worth the time and effort, but maybe you aren't convinced. Okay, I understand that. So do it for your family. Your children, in particular, need to eat primarily healthy foods. So does your husband. They need to eat a diet that provides optimal vitamins, minerals, protein, complex carbohydrates, and healthy fats. You just can't get those things from a box or a drive-thru window.
We can make it easier.  Yes, cooking, serving and eating real food takes time. But it doesn't have to take all day – we don't have to grow, harvest, make and process all of our own food! We can shop at regular grocery stores (with maybe a quick trip to the farmer's market!) for delicious, healthy food. And we can learn tips and tricks for preparing it and cooking it more quickly. One of my favorite tips is to cook double or triple of anything that freezes well, then freeze enough for one or two additional meals. That approach allows me to grab a healthy "fast food" meal from my freezer on busy days, rather than picking up fast food. And don't worry, that's not the only tip – throughout the month of January, the Real Food Experience hosts and contributors will be sharing more tips and trick for making it easier to shift to a real food diet.
Have you moved, or are you in the process of moving, to a real food diet? If so, why did you decide to make the change? And what's your best tip for making it easier? If you haven't made the change, what's the hardest obstacle for you to overcome? Please share your thoughts in the Comments – I would love to hear from you.
I'd also love for you to join our Real Food Experience 2015 Facebook group. We share all of the challenges and posts in the group, as well as tips, successes, struggles, and encouragement. Just click "Join Group," and one of the administrators will add you. And be sure to bookmark my Real Food Challenge page, where I link to all of the new posts as they're published.