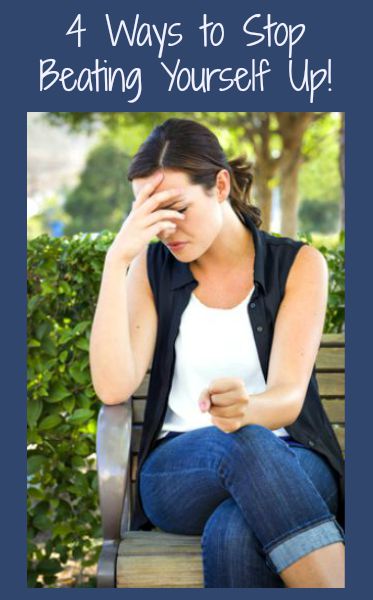 Here's a small confession – I am not a crafty mom or a decorating mom. If you spend any time reading blogs or checking out Pinterest, you know that many, many women are crafty moms. Others have created beautiful homes that look like they belong in magazines. I am in awe of women who know how to do those things, but I will never be one of them.
And it's not just that I'm not a crafty mom or a decorating mom. I also am not a super-blogging mom. I'm not a homeschooling mom. I'm not the mom who can do 14 different things at once with perfect ease.  I can't sew. I don't scrapbook. I'm not an extrovert. I'm not beautiful. I'm reasonably thin, but it doesn't seem thin enough. I'm not a wonderful hostess. And the list goes on and on.
Do you ever feel this way? Do you ever focus so much on your weaknesses that you forget about your strengths? In other words, are you frequently beating yourself up? Why do you do that? Why do I? Women tend to be extremely hard on themselves, particularly women who really care about doing a good job in their marriages, with their children, in their homes, and at work. They strive for impossible standards that no one actually expects them to meet. They tend not to recognize the things they do well, but can hone in like a laser on the things they do poorly.
But it doesn't have to be that way. I think that you and I can stop focusing on the things we can't or don't do, and start focusing on the things we do well by taking a few simple steps:
First, recognize that you are a unique person, created in the image of God. My devotional reading for today reminded me to see myself through Christ's eyes, "as one who is deeply, eternally loved." It's foolish for me to focus on my weaknesses and the things I can't do, when God has created me in His image and given me gifts and talents to fulfill His purposes.
Second, identify your strengths and the things you do well. Say them to yourself, or write them down. Give yourself credit for those things and allow yourself to enjoy them.
Third, train yourself not to focus on areas that aren't your strong suit. This is hard, because our minds tend to drift toward the negative. Make a conscious effort to stop negative thoughts about the things you can't/don't do.
And finally, focus your time and energy on your strengths and the most important things in your life.  Many women spread themselves too thin, often doing things simply because they think they should be doing them. You know, the "I should paint my living room/volunteer for the PTO/homeschool my children/sew all my own clothes/entertain every weekend because that's what good women do/that's what everyone is doing/that's what the good moms do" line of thinking. Really, it's kind of crazy, but most of us fall into it, at least some of the time. So practice not doing that, but instead focusing on the things you and your husband have decided are important for you and your family. (And if you haven't worked together to decide those things, consider doing that right away.)
So, when I find myself focusing on the things I will never be or the things I can't do (which happens quite often!), I'm going to thank God for creating me with unique skills and gifts, focus on the things I am and the things I can do, and spend my time and energy on the things that are important to me and my family. I'm striving to live a calm, healthy, sexy life (and I hope you are too), and beating myself up about the things I can't do really tends to get in the way!
What about you? Do you tend to focus on the "woman you aren't" instead of the "woman you are?"  Or have you figured out a way to avoid that trap? What are your strengths? Since I mentioned so many things I can't do, I'll focus on the positive and say that I am a good cook, a good listener, and a hard worker. How about you? I would love to hear from you.