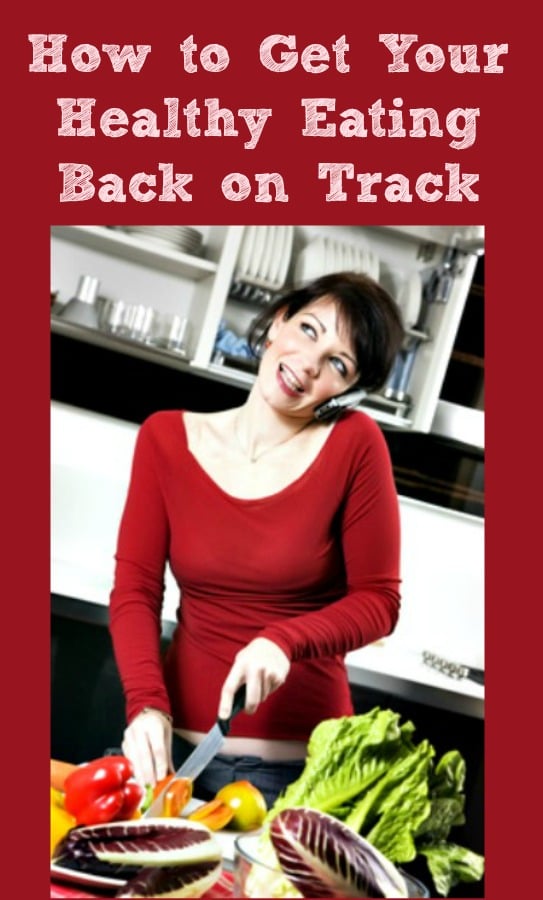 If you've been making an effort to eat healthier recently, you may have run into some roadblocks. You might be feeling frustrated, and maybe even feel as if your healthy eating plan has drifted off track. It might be your job or travel or special events that are threatening to derail your efforts. Or it could be that your family won't get on board. You may even be questioning your own reasons for embarking on this journey.
If it feels like your efforts are going off track, don't get discouraged. I know that feeling, and I've have identified some steps we can both take to get back on track. Yes, I'm talking to myself too.  I was sick last week, and I used that as an excuse to get off track with healthy eating. So now I'm in the process of working my way back onto my real food eating plan.
And as part of that process, here's what I realized – this is a blip, not a failure. Things happen – people get sick, schedules get messed up, life happens. And if you've gotten a bit off track too, that's blip too. You haven't failed.  We both just need to get back on track. And recognize that we'll encounter lots of blips along the way. Hopefully, we'll encounter fewer of them as we make real food and healthy eating a part of our everyday life. But we'll always have to deal with them.
So if you're dealing with some blips, don't be discouraged. Here are 5 steps you can take right now to get back on track.  And if you haven't run into any blips yet, just file these tips away – because at some point in your real food journey you're probably going to need them.
Eat less sugar. Sugar can be so addictive. It seems like once you start eating it you just can't stop. (Or is that just me…?) So really make an effort to cut back on it, especially watching out for the added sugar found in so many processed foods. And instead of adding white sugar when you need to use a sweetener, try using small amounts of more natural sweeteners, like honey or maple syrup.
Drink water.  Your body needs water every day, but even more so when you've been eating unhealthy food. Water helps your kidneys filter toxins out of your body. It fills you up and promotes weight loss. It helps reduce that bloated feeling that comes from eating high-salt or high-sugar foods. And, drinking water sends a message to your mind and your body that says, "OK, no more junk! We're getting back on track!" So be sure to drink 6 to 8 8-ounce glasses each day.
Get rid of things you don't want to eat.  If it's not in your house, you're probably not going to eat it! Granted, we can run into food we don't want to eat in restaurants or at other people's houses, but it's fairly easy to get over, around or under those kinds of roadblocks. However, if food you don't want to eat has made it's way into your house, it becomes much harder. So get rid of it, and stock up on delicious real food that you can enjoy instead.
List 2 real food goals for the week.  Don't try to change too many things at once, especially if you've gotten a bit discouraged. Pick 2 things you want to do this week and write them down – on paper or in a note on your phone or computer. Maybe you want to eat 2 fruits and vegetables at every meal and switch to whole-grain bread and pasta. Or stop drinking sodas and eliminate white sugar. Any strategy that helps you eat more real food and less processed food is great. Make those things priorities for the week and start working them!
Move your body every day.  Regular exercise, like walking, jogging, biking or dancing, also sends a message. It reminds you that you are important, your body is important, and your health is important. It says to your mind and body, "I am taking care of myself, and I am worth the effort."  (Plus, after you've walked for 30 minutes, you really don't want to eat a Twinkie or some Cheetos!)  So find time to get up and move every day.
(If you need more ideas or encouragement, check out all of the challenges, menu plans, recipes and encouragement at The Real Food Experience 2016. And be sure to download my free ebook – The Busy Mom's Guide to Healthy Meals – with 24 quick and healthy breakfasts, lunches and dinners and 22 tips for making real food prep and cooking a little bit easier.)
Have you gotten off track with your efforts to eat more real food? What is most difficult for you? What strategies for getting back on track have worked for you? Please share your ideas in the Comments – I would love to hear from you.