Is it possible to feel calm, be healthy, and feel sexy during the holidays?  Or are the six weeks from Thanksgiving (in the U.S.) to New Year's Day just a pit of stress, overeating, no exercise, and very little intimacy? Although our culture pushes us toward the later, I believe we can achieve the former. Over the next couple of weeks 'l'll share a number of tips for slowing down, taking care of yourself and your loved ones, and enjoying the holiday season, even if it means you don't have the perfect gifts, decorations, meals and parties. Today, I'm suggesting four ways we can stay healthy during the holidays:
1. Move your body for at least 30 minutes every day. I know that sounds impossible, given everything you need to do over the next 6 weeks. But trust me on this – it is truly one of the best things you can do for your body, mind and spirit.  Notice that I didn't say "go to the gym for 30 minutes every day," or even "exercise for 30 minutes every day" (although both of those are great). You just need to move your body purposefully for at least 30 minutes. How? By walking briskly in your neighborhood, on a treadmill, or around the mall. By riding a bike, dancing with your husband, playing outside with your children, lifting weights or exercising with a DVD.
Regular physical activity can help you look better, feel better, manage your weight, and reduce health risks (like high blood pressure and blood sugar). Think you don't have time during this busy time of year? Try it for two weeks and then re-evaluate. Get your husband or children (or both) involved. I think you'll find that the time invested pays you back over and over. I know it does for me. (Bonus tip – Don't spend a lot of time sitting.  Even when you're not exercising or being physically active, be up and moving as much as possible.)
2. Eat healthy, whole foods – most days.  I don't know anyone who plans to watch what she eats on Thanksgiving day or Christmas Eve or Christmas day. I don't. But what about the other 40 days between Thanksgiving and New Year's Day? Sometimes we just write off the entire holiday period as a total loss for healthy eating, and end up munching our way through piles of sweets and batches of snacks for the entire six weeks.  Some of those sweets and snacks don't even taste good (packaged cookies, weird cheese products?), but people bring them to events and we find ourselves eating (but not enjoying) them. But this year, let's do something different.  Let's eat the holiday foods we really enjoy, at events that are important to us, and eat healthy, whole foods at the other times.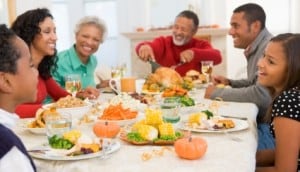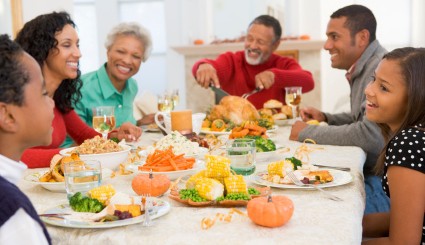 For example, in addition to Thanksgiving dinner, during the next two weeks I know that my husband and I will go celebrate our anniversary and we'll attend a dinner party with friends. So I'm going to plan ahead to enjoy wonderful food at those events. But on other days during those two weeks I plan to cook normal meals for my family (as much as possible!) and eat lots of fruits, vegetables, lean dairy, whole grains, nuts and lean meats. I'm going to skip the various baked goods that people bring to the office and make every effort not to rely on processed foods and fast food, even when the days get hectic. Can you do something similar? Look at your schedule, a week (or maybe two weeks) at a time, and plan ahead for times when you'll enjoy some of your favorite holiday foods. Then make a meal plan that ensures you'll eat healthy, whole foods the rest of that week. Near the end of that time, do the same thing for the next week, until you've worked your way through the holiday season.
3. Sleep at least 7 hours per night. This is difficult advice for many women to follow, even at less hectic times of the year. At the holidays, it can seem almost impossible. But it's critical to our health and state of mind. Adequate sleep helps us think clearly  promotes healthy metabolism (the way our bodies burn calories and utilize nutrients), strengthens our immune systems, and promotes a positive frame of mind.  Lack of sleep makes us tired, irritable and stressed, and increases the risk that we'll get sick. Very few things are worth a week of 5-hour nights:  a child's illness – yes; perfectly wrapped packages, a perfectly decorated house, and 20 dozen perfect Christmas cookies, no.
4. Plan to maintain your weight. Obviously, this tip is closely related to the first two. The media bombards us with articles about the average person gaining 5 pounds over the holidays, as if it's some sort of wonderful holiday tradition! I guess it is a tradition of sorts, but not the kind we want to continue! Remember that it's much easier to keep prevent weight gain than it is to lose weight you've already gained.  Don't start the New Year with 5 or even 3 extra pounds. Monitor your weight (at least 2 or 3 times a week), keep moving, limit processed foods, and focus on whole foods. You may want to track your calories, even if you don't do that at other times during the year – I use the free MyFitnessPal app on my phone to keep track of both calories and exercise.
What do you think?  Is it reasonable to try to maintain good health habits during the holidays? What has worked for you, or what do you plan to try this year? I would love to hear from you. Gaye
Updated November 2014.