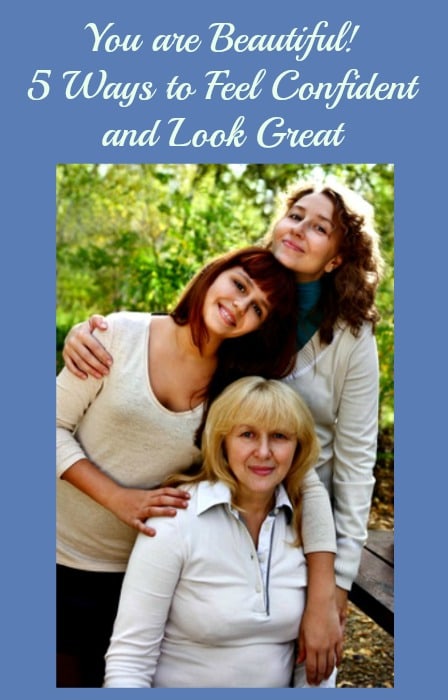 Hollywood and the media lie to us quite often, and one of their biggest lies revolves around this theme – only very young and stunningly beautiful women are attractive, confident and sexy. This is completely false, but how often do you believe it?
Sadly, I believe it quite often – and you probably do too. Because the flawless images of women we see in movies, on television and in advertising reinforce that lie, over and over again.
The problem is, those images are fake – they've been manipulated to create "perfect" women who don't really exist. Of course, a few women are born with stunning natural beauty and will always look good, with or without makeup and airbrushing. But most are not.
Don't believe me? Check out these photos of Heidi Klum without makeup and airbrushing. Yes, she is still a beautiful woman, but she doesn't look at all like the woman we see in magazines and on television.
As a matter of fact, she looks kind of normal. Which tells me that most of the pictures we see of her (and of other models and actresses) are works of fiction, not reality. 
The good news for those of us who can't rely on personal makeup artists, stylists and photographers is this – all women can be attractive, confident and sexy. If you're not feeling any of those things, try these five strategies for looking and feeling great:
1. Show off your assets.  No, I'm not suggesting you start wearing low-cut tops or super-short skirts! But I am suggesting that you accentuate and play up your best features.
Do you have beautiful eyes? Wear eye makeup that makes them stand out. Pretty hair? Maximize it with a good cut/color and a bit of attention every morning. A nice figure? Wear clothes that flatter it. Toned arms? Wear tops that show them off.
You get the idea. And, of course, reflect your inner beauty by treating people well, showing an interest in them, and expressing your needs and opinions in ways that value them. That, more than any makeup, clothing or jewelry, creates an attractive image in the minds of the people you interact with every day.
2. Live confidently.  One of the most attractive things a woman can put on is confidence. Think about the most attractive people you know, women and men. Some of them are not particularly beautiful or handsome, but it doesn't matter – because they're confident. What if you don't feel confident? Then fake it until you start to feel it – stand up straight, walk confidently, look people in the eye and smile, speak to people everywhere you go, take on a challenge, share your thoughts and opinions, and take small steps to look good every day.
3. Control your time.  Is 100% of your time booked with work, child care, housework, kids' activities, social activities, volunteer work and other "stuff?" If so, you're going to find it difficult to do the things that help you feel confident and attractive – things like taking care of your appearance, exercising regularly, eating well, pursuing a goal or dream, and live confidently.
Doing those things requires a little bit of time each day, which you don't have if you're running yourself ragged. Clearly, other people want and need a lot of your time, but you need some of it too. It isn't selfish to do things that help you feel attractive and confident – it's smart. So look at your schedule and find things you may need to prioritize differently.
For example, do you really need to serve on two committees at your children's school and two at your church or synagogue? Do your children really need to play on five sports teams at the same time? Do they need to take dance, music and gymnastics? Have you made community commitments that are too time-consuming at this stage in your life? If necessary, make some tough decisions that will free up some time and allow you to take good care of yourself.
4. Get up and move. Regular exercise is probably the best thing a woman can do for her body, mind and spirit. Exercise helps you look better and feel better.  It burns calories, tones muscles, increases your energy level, reduces your stress and gives your skin a beautiful glow. You don't have to sign up for a gym or class – walking briskly, jogging, biking, playing outside with your kids, and working out with a DVD are great forms of exercise. Using light weights 2 or 3 times a week tones your muscles, and stretching exercises keep you limber.
Think you don't have time? The Physical Activity Guidelines for Americans recommend 30 minutes of physical activity on most days of the week – you can even break it up into two shorter sessions. So look at your schedule and figure out a way to fit it in – walk while your kids practice soccer, walk during your lunch hour or after dinner with your husband, ride bikes as a family, do a workout while you watch TV, or get up 15 minutes earlier to exercise. Try it for two weeks and see how you feel – I predict you'll feel great!
5. Eat well. If you want to feel good about your body, feed it well. A diet that's heavy on fast food, restaurant food and processed food drags your body down, so that it doesn't look or feel its best. Conversely, a diet that's high in fruits, vegetables, whole grains, nuts, lean meat and dairy helps your body look and feel great. It also promotes weight loss and helps you reach or maintain a healthy weight.
If eating healthy foods is new for you, start with small changes – eat two fruits or vegetables with every meal; replace processed snacks with fruit, cheese, nuts, or popcorn; pack a healthy lunch rather than eating fast food; or decrease the number of soft drinks in your diet. These are just a few of the many positive changes you can make; for more tips on eating well, check out our Healthy Eating 101 series.
I hope these tips help you as you strive to bring out the attractive, confident woman who lives inside you. I'd love to hear about your strategies for making these kinds of changes, your ideas for making time to take could care of yourself, or the struggles you face when it comes to feeling attractive and confident.