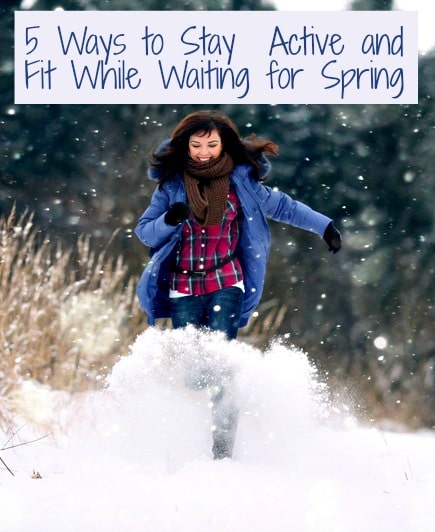 If you've been trying to exercise regularly this winter, you've run into a formidable opponent – brutal winter weather. And if you've given up trying to stay active, well, who can blame you? Winter seems determined to keep us on our couches and under our blankets this year. Regardless of where you live, you've probably dealt with bitter temperatures, ridiculous wind chills, and unusual amounts of snow for months on end. And in many areas, that pattern seems determined to continue. It's enough to send even the most avid exerciser into hibernation until spring.
But even though staying active takes a huge amount of effort when the weather won't cooperate, don't give in to the lure of your couch and blankets. The health benefits of exercise outweigh the hassles, even when it's ridiculously cold outside. And as an added bonus, regular exercise may help you ward off the winter blues. Here are five simple ways to stay active and fit between now and the arrival of beautiful, warm, sunny weather: 
Wear an activity monitor every day. A pedometer, FitBit, or other activity monitor keeps track of the number of steps you take each day. Health experts recommend taking 10,000 steps per day (or working up to that level), and most of us probably won't meet that goal without a reminder. If you have a sedentary job like I do, or otherwise spend a lot of time sitting, your normal activity level is probably less than 4,000 steps per day. So wear a monitor that will remind you to get up and move throughout the day. My FitBit reminds me to get up and walk through my office building twice a day and to hop on the treadmill for 20 minutes at lunch. Those simple activities plus 30 minutes of walking after work allow me to accumulate 10,000-11,000 steps on most days.
Set a fitness or health goal. Two months from now, most of us will be enjoying spring weather. What do you want to achieve by the time spring rolls around? Maybe you'd like to be able to run a race, complete a charity walk, or enjoy a hike in the woods. Perhaps you want to be fit enough to play soccer or take a long bike ride with your kids. Or maybe you want to lose 10 pounds or tone up for spring and summer. Set a goal that regular exercise will help you achieve, and create reminders and rewards that help you work toward that goal.
Get organized. Staying active in cold, rainy or snowy weather takes planning and organization. So figure out what exercises or activities will work for you, then get organized so you can do them easily. For example, store all of your exercise clothes in one location, so you aren't slowed down by a lost sock or missing sweatshirt. Put any equipment you'll need (e.g., hand weights, jump rope, stability ball) in one easy-to-access location. Or, if you plan to exercise with online videos, take a few minutes to bookmark your favorites and save all of the bookmarks in a folder. That way you'll be able to find them instantly when you're ready to exercise.
Use every indoor activity resource you can access. Some people like to exercise outside in cold or yucky, but I'm not one of them. If you aren't either, you need to get creative and resourceful. Yes, you can exercise in your living room every day, but that gets boring. So identify indoor exercise resources you can access and use them to break up the monotony of the same old thing. For example, two large churches in my community have indoor walking tracks that anyone can use, either for free or for a rock-bottom price. Community rec centers often provide indoor fitness facilities, some public schools open their gyms to the community during non-school hours, and some employers provide fitness facilities in the workplace. Find out what resources are available to you and use them.
Take advantage of any break in the weather to get outside and move. When the sun comes out and the wind dies down, get outside whenever possible. Just being out in the natural light boosts your mind and body, and cold, fresh air (within reason!) invigorates you. Take a walk, try out some ice skates, or go sledding with the kids. Just get outside and move whenever the most vicious of the winter weather takes a break.
 The cold weather will end eventually, and you want to be fit and ready to go when spring finally arrives. So follow these simple steps and stay active throughout the last few weeks of winter.