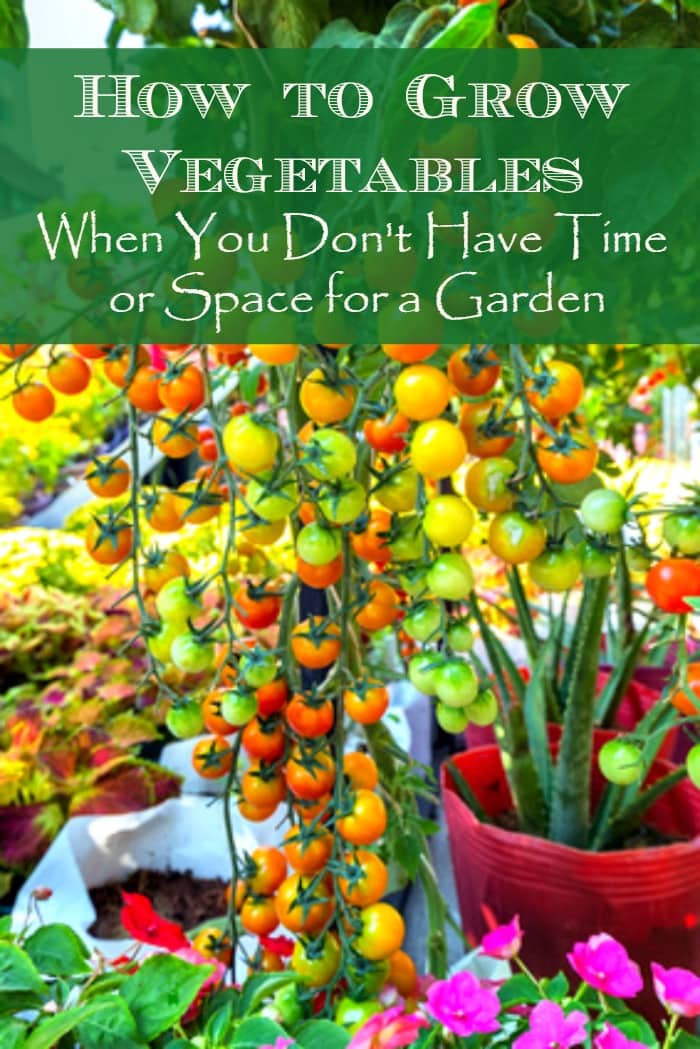 If you're looking for a spring and summer activity that does wonderful things for your physical and mental health, look no further than gardening. Working outside to grow vegetables gives you an opportunity to do some of the things our bodies and minds really need – breathe fresh air, enjoy the sunshine, get some exercise, and eat healthy and delicious food. It's a great family activity too – most children love to dig in the dirt, plant, water, and pick fresh vegetables.
But, I know what you're thinking – "Gardening takes time. And I don't have any time." Or, "I don't have room for a garden." Fortunately, you don't need a lot of time or space in order to reap the benefits of gardening. Here are three ways to grow your own vegetables that don't require a traditional in-ground garden:
Grow vegetables and herbs in containers – The easiest and least intimidating way to begin is to grow some tomatoes, peppers, herbs, strawberries or other container-friendly plants in large pots. This strategy works well if you have very little space or time. Place the containers in a sunny location, ideally in a spot that's convenient for watering and monitoring them, fill them with organic soil, and add your plants. Some plants  are advertised as "container" or "patio" varieties; ask for help at your garden center if you aren't sure which varieties grow well in containers.
Grow vegetables and herbs in existing spaces. Find some sunny spots around your house that could accommodate a few more plants. You might be able to add herb plants to flower beds or plant vegetables around shrubbery. (But don't plant them in soil that's been treated with chemicals.) Maybe you have an old flower bed or box that needs some attention and could be re-purposed as a small garden rather easily. Or perhaps there's an unused corner of your yard where a few tomato and pepper plants would do nicely.
Create a raised bed garden – If want to "go bigger" than container gardening, but don't want to deal with an in-ground garden, consider planting vegetables in raised beds. I grow my vegetables and herbs in raised beds and think it's the best way to produce a lot of delicious food with a minimum of time, effort and hassle. I started with two 4 x 4 beds a number of years ago and now have expanded to four beds. Raised beds cut down on the work required to set up and maintain a garden – especially the weeding – and allow you to grow lots of vegetables and herbs with minimal effort. If someone in your family is handy, he or she can build 4 x 4 beds fairly easily. If not, you can buy them ready-to-assemble at most garden centers. (Make sure they're made of untreated wood – you don't want chemicals to leach into the soil.)  Starting with one 4 x 4 bed is a great way to "ease" into gardening. The downside to raised bed gardening is that it costs money the first year to set up the beds and fill them with organic, weed-free soil. But you'll use them for a number of years, and the work required to maintain the gardens is minimal, so for me it was worth the investment.
Once you've decided how you'll garden, decide what you want to grow. Pick vegetables your family enjoys, plus one or two new ones. Add some favorite herbs, such as basil, mint and oregano. Then determine the best time to plant. Your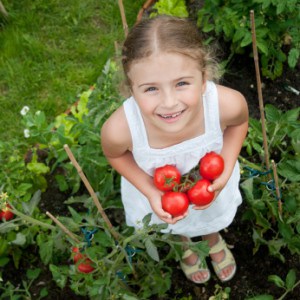 local Extension Service office can tell you the best time to plant in your area. Next, shop for plants at your garden center, greenhouse or farm supply store.
Then, the fun part – plant your garden! If you have children, be sure to involve them; make it a fun project, not a chore. Gardening is a great way to help children learn to love healthy, nutritious foods. If they've helped to grow it, they're going to want to eat it! Finally, tend your plants. Keep an eye on things; pull weeds as soon as they appear and watch for bugs. Many bugs can be removed by hand, but you may need to use organic pesticides if they become a problem.
Do you grow vegetables? If so, what's your best tip? Please share your thoughts in the Comments – I would love to hear from you.
Sharing with FoodieDIY Friday.