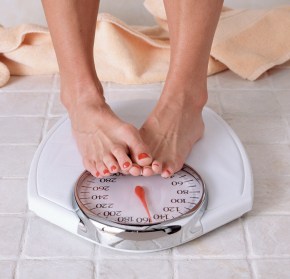 Is weight loss part of your plan for living healthier this year?  If so, you already know that losing weight is a tough goal – but one you can achieve.  Whether you're just getting started or have been working on it for a while, here are 10 tips that can make it easier to lose the next 10 pounds.
Make a plan.  You need something more specific than "I need to lose weight."  Set a reasonable goal, like 10 pounds in 2 months, and focus on achieving it.  Then take a break before setting and working on the next goal.  (Just be sure to maintain your weight loss during the break!)
Weigh or measure food so you know how much you're eating.  An inexpensive kitchen scale really helps monitor servings and calories.  Most people grossly underestimate how much they're eating, so use simple tools to monitor your intake accurately.
Keep track of everything you eat.  Studies show that people who monitor their food intake by recording it (on paper or electronically) lose significantly more weight than people who don't.  Use an app like MyFitnessPal on your phone or computer, or just write it down.  Every food, every meal, every day.
If you don't know how much you should be eating, aim for about 1500 calories per day.  Most women can lose weight on that amount.
Eat primarily whole foods and reduce processed, packaged, and fast foods.  Eat lots of fruits and vegetables, lean meat and other protein, and small amounts of nuts.

Consider reducing (not eliminating) carbohydrates from grains.  Some people  weight more easily if they decrease the amount of grain-based foods (bread, pasta, cereal, etc.) they eat.  I've found that reducing these foods definitely allows me to lose weight more easily.  One reason is that my carbohydrate cravings decrease after I have decreased grain carbs for a week or two.  The other is that it's easier to cut calories when I'm eatingless bread and pasta.
Move your body every day.  Regular exercise or physical activity burns extra calories, tones muscles, and helps you feel great.  It's an essential part of losing weight and keeping it off.  In addition, I think that regular exercise helps to control appetite and cravings.  I can't cite research to prove it, but that's been my experience.
Give your body and mind time to adapt to a new way of eating.  I won't lie to you – the first 1 to 2 weeks of a healthier, reduced calorie eating plan can be tough.  But if you can stick with it through that initial difficult period, things will start looking up.  Your new way of eating will gradually become your normal way of eating, and yearnings for unhealthy foods will wane.  I'm not saying you won't ever crave cookies, but my experience is that the longer you go without eating cookies, the less you crave them!
Organize your kitchen, shopping and food preparation in a way that facilitates weight loss.  Plan meals at the beginning of every week.  Put together healthy snacks so you can grab them on the run.  Prep vegetables and fruits so they're easy to reach.  And keep foods that you don't want to eat out of your kitchen.  For more ideas, check out this article with great kitchen tips to promote weight loss.
Be kind to yourself.  Ladies, we tend to be too hard on ourselves.  If you need to lose weight, you're probably already beating yourself up.  Don't.  Instead, make a plan and start working it.  If you get off track, just get back on.  Enlist someone who supports your weight loss efforts to help you.  Reward yourself for progress.  And allow yourself modest food treats so you don't feel deprived.  For example, when I'm trying to lose weight I don't eat cookies or cake, but I do allow myself small amounts of dark chocolate as a treat.
What weight loss tips have worked for you?  Please share them in the Comments – I would love to hear from you.  I also would love for you to  subscribe to Calm.Healthy.Sexy. by email.  Enter your email address in the sidebar (under Subscribe to Blog Via Email).  You'll receive an email when I publish a new post, nothing else.  And please follow Calm.Healthy.Sexy. on Twitter (@CalmHealthySexy), Facebook, or Pinterest.  Gaye
Linked with the fabulous blogs and blog hops at Sunny Simple Life, Nifty Thrifty Things, I Heart Nap Time, Flamingo Toes, Six Sisters Stuff, Live Laugh Rowe, That Friday Blog Hop, My Turn for Us, Twinkle in the Eye, The Grant Life, Shaken Together, What Jean Likes, NanaHood, This Gal Cooks, Out on a Limb, Nanny to Mommy, House of Hepworths, To Love, Honor and Vacuum, Fluster Buster, We Are That Family, and Sincerely Paula.
Pin It