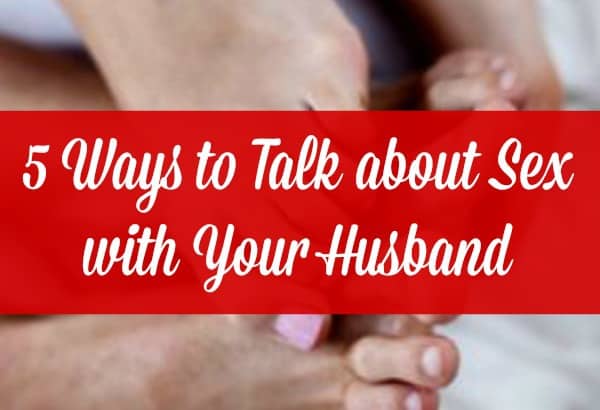 Recently, we talked about the importance of communicating directly and honestly about sex in marriage as a key to enjoying better sex and greater intimacy. That article focused on the "big picture" and the importance of addressing significant issues that are affecting sex within our marriages. Those conversations are vitally important – we can't get "unstuck" and move forward without them.
But I realized that another kind of communication can make a big difference too. Let's call this "in the moment" communication. Very simply, it's letting our husbands know what we need and what we like while we're making love.
Communicating at that moment is crucial. Your husband can't read your mind and neither can mine – we have to tell them what we're thinking and feeling. And most of them truly want to know!
But it's hard, isn't it? I have to admit – I may be even worse at this than I am at "big picture" communication. Why? Probably for the same reasons many women don't like to talk about sex.
You know the reasons – the "good girls don't" messages we've heard over the years, the squeamishness of saying what we want in bed, or the wish/thought/hope that he would somehow just know.
Wishing and hoping won't get us very far, but honest communication will can help us make progress. If you're ready to take small steps toward talking more openly about what you need in bed, here are 5 ideas for talking to your husband "in the moment," when it seems like a hard thing to do:
• If you think the change will be too abrupt, mention it ahead of time, outside the bedroom. Say something like, "Hey honey, I realized I need to tell you more about what feels good to me when we're making love. So I just wanted to let you know that I'm really going to try to do that."
• Start by focusing on the positive. Let him know by your words, sounds or actions when he's doing something you really like. Don't be afraid to be verbal/vocal about what feels good. In most cases, he really wants to know so he can keep doing it! Believe me, I am talking to myself here – it just doesn't come naturally.
• Focus on the negative by making it positive.  Most of us don't want to say to our husbands, "Hey, I don't like that" or "Please stop doing that." Once in a while we might need to be that blunt, but we can also try a more positive approach, like "Could you ____ again," or "Maybe a little higher," or "I really liked it when you _____." And sometimes we may just need to say, "This isn't working for me tonight. Maybe we could try ________."
• Encourage him to let you know what he likes and wants too.  The idea is for both spouses to communicate, open up to each other, and become more intimate in the process.
• Make it fun. Often the "big picture" conversations about sex need to be serious, but "in the moment" communication can be a bit more lighthearted. Don't take yourself too seriously. If something you say comes out sounding weird to you or him, laugh it off – and try again another time. J at Hot, Holy and Humorous has some great reminders for making sure sex is fun and not so darn serious all the time!
Are "in the moment" conversations hard or easy for you? What tips do you have for making them easier? Please share your thoughts in the Comments – I would love to hear from you. Believe me, I need all the good ideas I can get!
(This post is intended to offer ideas and encouragement to women in generally healthy marriages. If you are in a difficult marriage, these ideas won't be helpful. If that's the case, please seek professional help for dealing with it.)
If you're looking for additional resources to help your embrace sex and intimacy in your life and marriage, take a look at Sheila Gregoire's online video course, Boost Your Libido (affiliate link). Sheila is a leading sex Christian author. and she has a passion for helping women embrace and create a great sex life in their marriages.