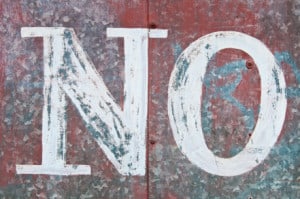 "Every time you say "yes" to something, you say "no" to something else."
(This is the sixth of 12 strategies that are designed to help us live calmer, healthier and sexier this year.)
The first time I read that statement my immediate thought was, "No, that's not true." But the more I thought about it, the more I realized it is true. Every time you or I take on a new activity, or continue one we've done for a while, we're saying "no" to another activity.
Of course, saying "yes" is often good. Some things just need to be done, and we want to do them. (And some things need to be done even though we don't want to do them!)  Some things we enjoy, or they're important to us or our families. All of that is good.
The problem arises when when we've said "yes" to so many things (or to a few very big things) that we can't make time for other things that are important to us. If I've decided that spending more time with my husband is a priority this year, but I have meetings or activities four nights a week, I'm not likely to be able to do the thing that is really important to me. If you've decided that eating well and exercising regularly are priorities, but you work full time and spend every evening taking your children to practices and lessons, the odds of achieving your priorities are very small. Most of us want to stay calm, be healthy or feel sexy (or hopefully all 3!), but we won't be able to reach those goals if we're running on empty because we have too many commitments.
(One key to saying no is to control your family's schedule!)
So, tasks, activities, and projects can be good, but sometimes they distract our attention from things that are even better.  Do you have a hard time saying "no" to something new, so that you can stay focused on the things that are most important?  Or, maybe even harder, letting go of something you're already doing? If so, try one or more of these ideas:
List your priorities for the year and the tasks you're already doing. Odds are good that something needs to give. What task(s) could you  let go? Letting go may be a process that takes months or even a year, but you have to start somewhere.
If someone asks you to do something new, and you really don't want to/don't have time to do it, just say no.  Be assertive – it's not selfish to protect your time and energy. It's smart, and your husband and family will thank you.
If someone asks you to do something new and you aren't sure about it, say that you need time to think about/pray about it.  Then carefully assess your time and energy before you respond.
Agree with your husband that the two of you are going to discuss any new obligations before you take them on.  That gives you time and space to think about any requests and talk them over with him.
Remember that you aren't the only person who can do it.  I've heard women say, "Well, if I don't do it, nobody will do it." That may be true, but that doesn't mean you have to do it. If no one is willing to do it, maybe it really isn't that important.
Think of doing some tasks just for "your turn."  For example, I don't like serving on church committees and would much rather use that time for something else, but I feel the need to take "my turn" sometimes. So I'll serve on a committee for a 3-year term, but never more than one committee at a time and never more than one term in a row.
Remember that you can do some things in a different season of life.  I never participated in the women's group in my church until my youngest son graduated from high school last spring. I just decided that while he was involved in sports and school activities, I didn't have enough time. Yes, I did feel guilty at times. But now that I'm in a different season, with my youngest in college, I have time to participate in that group.
Is saying "no" hard or easy for you? How do you make sure your time and energy are spent on the things that are important to you? Please share your ideas in the Comments – I would love to hear from you. I also would love for you to subscribe to CalmHealthySexy by email. Just enter your email address and click "Subscribe" at the top right-hand side of the page. Thanks. Gaye