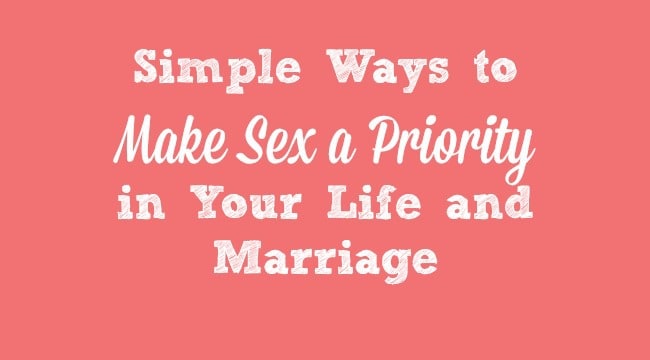 One of our mantras around here is that small steps can lead to big changes. You don't have to turn your life upside down in order to make changes that will help you live a calmer, healthier or sexier life. Instead, you can make small changes gradually that lead to big changes over time. Like taking small steps to make sex a priority in your life and marriage.
You probably remember – way back when – that sex used to be a lot of fun. You may even remember a time when you couldn't get enough of it. Regardless, you know that a fun and intimate sex life is good for you, good for your husband, and good for your marriage. And, more than likely, you want to make it a priority again.
(By the way, this is not about having sex to make your husband happy. Sex is for both of you, and this is about developing an intimate sex life that's enjoyable and meaningful for you and for him.)
But, for a variety of reasons, enjoying a great sex life is easier said than done. You get busy, you say "yes" to things when you really mean "no," and pretty soon you find that you're juggling more than one person can reasonably handle. And sex drops to the bottom of your "to do" list.
Your husband is busy too, and at some point you realize that you're living separate lives – you're both running, but not on the same track.
If you find yourself in that position (and, believe me, I'm often right there with you), decide to make a change. You don't have to revamp your entire life. Instead, take a small steps approach to make sex a priority in your life and marriage.
Here are three things you can do this week to get started.
• Decide to make it happen.  When we get busy we get distracted, and sex often drops off our radar screens. We just don't think about it. But you already know that regular, enjoyable sex is important – really important – for creating a healthy life and a happy marriage.
So determine that you're going to make sex a priority for you. For example, you might decide that making love twice a week would create intimacy and promote harmony in your marriage. Or that you're going to initiate sex once a week. Or that you're going to start a conversation with your husband about how to make things work better for both of you.
Whatever action on your part would promote better sex and increased intimacy in your marriage, decide to make it happen.
• Determine how to make it happen.  Next, figure out how to make it happen. Although it seems decidedly unromantic to plan or schedule sex, very often that's exactly what we have to do. My friend, Christian sex author Bonny Burns, swears by scheduling, especially for women who struggle with low libido. We plan and schedule other activities that make our lives better – why not sex?
Let your husband know that this is a priority for you, and work together to figure out a plan. And remember that good sex doesn't always have to involve a marathon love-making session; sometimes "short and sweet" serves the same purpose – increasing fun, joy and intimacy in your marriage.
• Ensure that it happens. The steps to ensuring that sex occurs regularly will look different in every marriage. Maybe you'll need to clear some activities from your schedule or your children's schedules, or perhaps your husband will need to clear some from his, in order to make time for increased sex and intimacy.
Maybe you need to talk about some things that you know are hindering intimacy in your marriage or your enjoyment of sex.
Maybe you need to take time to unwind in the evening, rather than working like an indentured servant until you fall into bed, exhausted. Maybe you to banish screens and devices from your bedroom. Or maybe you need to start using music, candles, scents or essential oils to help you relax and feel more sensual.
Or you might need to consider planning sex for "off times," like Saturday mornings or during the kids' Sunday afternoon naps. Fawn Weaver, author of The Happy Wives Club, says that she likes to plan sex for the time of day when her mind has the least number of "to do" items running through it, which for her is often first thing in the morning. (That mental "to do" list is a libido killer for many women!)
Whatever it takes, determine that you're going to think it through, talk about it with your husband, then take the steps that you need to take to make sex a priority in your life and marriage.
What's your experience with making sex a priority in your life? Are you able to do it for yourself, not just your husband? I would love to hear your ideas and what's worked for you.
(For some women, deciding to make sex a priority will not be enough. If you're experiencing difficulties in this area, some of the books, blogs and resources on the Sex and Marriage Resources page may be helpful. And if you're experiencing serious problems with sex or in your marriage, please seek help from a professional counselor.)