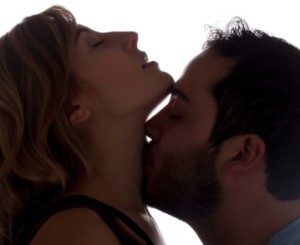 A SmallStep is one simple thing you can do to live calmer, healthier or sexier.  This week, consider taking the SmallStep of making sex a priority in your marriage.
Enjoying a satisfying sex life with your husband is an essential component of a calm, healthy, sexy life.  But, for a variety of reasons, enjoying sex on a regular basis is often easier said than done.  Here are some strategies for taking the SmallStep of making sex a priority.
Decide to make it happen.  When we get busy we get distracted, and sex often drops off our radar screens.  We just don't think about it.  But regular, enjoyable sex is important – really important – for creating a healthy marriage.  So decide to make sex a priority for you.  For example, you might decide that making love twice a week would create intimacy and promote harmony in your marriage.  Or that you're going to initiate sex once a week.  Or respond positively every time your husband initiates sex for two weeks.  Whatever action on your part would promote better sex and increased intimacy in your marriage, decide to make it happen.
Determine how to make it happen.  Next, determine how you will make it happen.  Although it seems decidedly unromantic to schedule or plan sex, very often that's exactly what we have to do.  Let your husband know that this is a priority for you, and work together to figure out a plan.  And remember that good sex doesn't always have to involve a marathon love-making session; sometimes "short and sweet" serves the same purpose – increasing fun, joy and intimacy in your marriage.
Ensure that it happens.   The steps to ensuring that sex occurs regularly will look different in every marriage.  Maybe you'll need to clear some activities from your schedule or your children's schedules, or perhaps your husband will need to clear some from his, in order to make time for increased sex and intimacy.  Some women may need to take time to unwind in the evening, rather than working like slaves until they fall into bed, exhausted.  Some couples may want to plan sex for "off times," like Saturday mornings or during the kids' Sunday afternoon naps.  Think it through and talk it through with your husband, then take whatever steps are needed to ensure that sex becomes a priority.
(In some marriages, deciding to make sex a priority will not be enough.  If you're experiencing difficulties in this area, please check out the books, blogs and articles on the Sex and Marriage Resources page.  And if you're experiencing serious problems in your marriage, please consider seeking help from a professional counselor.)
What's your experience with making sex a priority?  I would love to hear your ideas.  I also would love for you to  subscribe to Calm.Healthy.Sexy. by email (enter your email address in the sidebar under Subscribe to Blog Via Email) or Bloglovin'.  Or follow on Twitter (@CalmHealthySexy), Facebook, or Pinterest.  Thanks.  Gaye
Sharing with Creative Geekery – The Pin It Party, Messy Marriage, To Love, Honor and Vacuum, Cropped Stories, We are THAT Family, Prowess and Pearls,  Mercy Ink, Happy Wives Club, SITS ShareFest, Serendipity and Spice, Six Sisters Stuff, Inspire Me Monday and Matrimonial Monday.
Photo credit – Kozzi