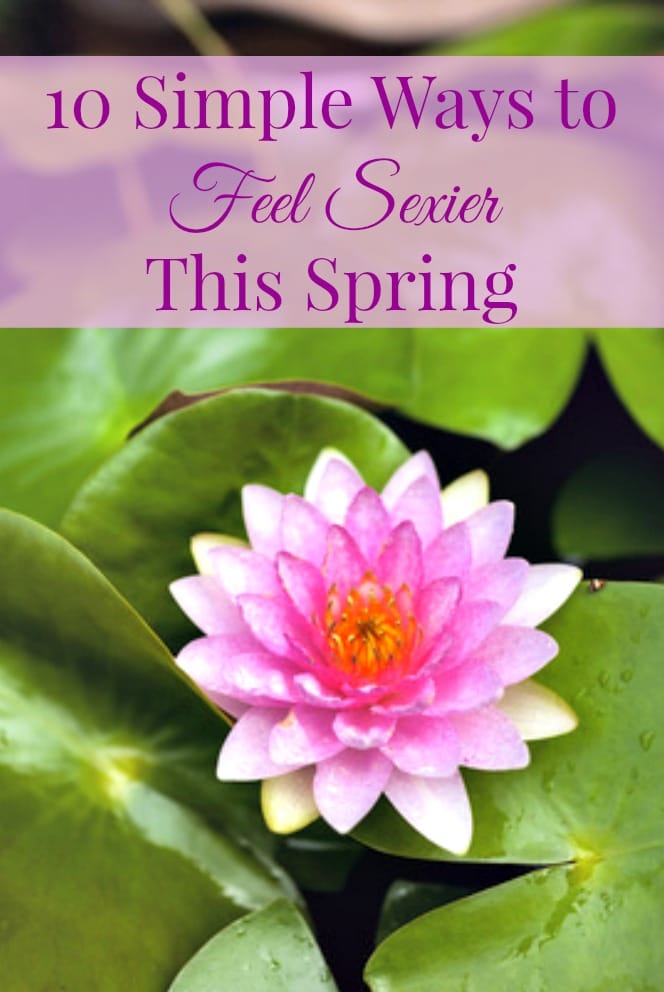 I always feel better when Spring finally arrives, and I think most other women do too. By the time March rolls around, I'm more than ready to ditch the heavy clothing, gloomy weather, and hearty meals in exchange for lighter clothes, brighter weather, and healthier fare. And I'm hoping to feel sexier this Spring too, because, let's be honest, it's pretty tough to feel sexy throughout a long, dreary winter. (Download the free printable 26 Ways to Feel Sexy this Spring.)
What about you? Are you thinking about some changes you might make to celebrate the arrival of the new season? Last week we talked about ways to recharge your marriage this Spring. But what about recharging yourself, maybe by embracing your sensual side and allowing yourself to feel sexier this Spring?
Every married woman needs and deserves to feel sexy. It isn't just for models and actresses! And even though it seems like a tall order, it really doesn't have to be difficult or complicated. In fact, simple steps and small changes can make a big difference in the way you feel about yourself, your sensual side, and your marriage. This article includes 10 ideas for feeling sexier this Spring, and I've also created a free printable that shares 16 more ideas. I'd love for you to download it, print it, post it, and/or share it with other women.
(Download the free printable 26 Ways to Feel Sexy this Spring.)
Here are 10 simple strategies for feeling sexier this spring:
Read something from a book, blog, or article that promotes sex and intimacy in marriage. Do it every day for a month. (Here are some great resources to help you get started.)
Figure out what you need in order to have time and energy to embrace your sexuality, then ask for it. Maybe it's a regular break from the kids, some alone time, conversation with your husband, or time to relax in the evening. Whatever it is, ask for help in making it happen.
Practice thinking positively about sex and intimacy. Recognize that it's not just something for your husband – it's very much about you too. As a matter of fact, the idea that sex is primarily for men is a major obstacle to women embracing and enjoying their own sexuality. (Just because your mom said it or your church teaches it doesn't mean it's true!)
Do things that help you feel more attractive. Recognize and embrace your natural beauty. Enhance the things you like and play down the things you don't. And realize that people see your beauty as a total package of who you are, whereas you probably define it by the "flaws" you see in the mirror. (At least that's how I tend to define it for myself!)
Wear clothing or accessories that make you feel good. It's a good idea to ditch your usual "uniform" every now and then, whether it's yoga pants, suits, or an actual uniform, and wear things that make you feel great about the way you look. For some women it might be a great pair of jeans. For others it might be a hot pair of heels, a beautiful necklace and earrings, or a sweater in just the right color.
Add things to your life that help you feel sexy. For some women it's music. For others it's dancing or beautiful scents or lingerie. Figure out the things that do it for you, add them to your life, and reserve some time and energy to enjoy them this spring.
Make a change or do something unexpected. Change your daily routine in a way that helps you feel sexier. Or do something different with your husband – dance together, make love in a different place, send him a sexy text, initiate, or try something slightly outside your comfort zone.
Plan your day with sex and intimacy in mind. A couple of days a week, organize your schedule so that you have time to think about sex during the day and energy to enjoy it in the evening.
Go on a date with your husband and wear something a little bit sexy. Yes, you as a wife and/or mom can wear things that make you feel sexy. Find something that says "I'm on a hot date with my husband," rather than "I'm going to church" or "I'm picking the kids up from school!"
Make love often. Regular sex creates a positive cycle that benefits almost every area of your life and marriage. As a bonus, it can help you feel sexier and increase your interest in sex.
What works for you when it comes to feeling sexy and embracing your sensual side? Please share them in the Comments. And I'd love for you to download 26 Ways to Feel Sexy this Spring and print it out, post it, and/or share it with other women.
You may also like 10 Simple Ways to Put Sexy Back into Your Marriage from Sheila at To Love, Honor and Vacuum.