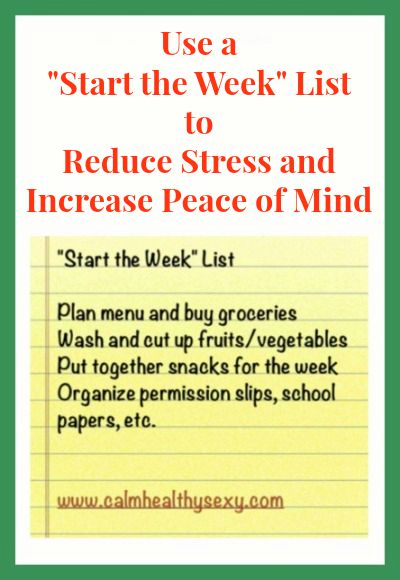 If you find that small crises are stealing the calm from your days, consider using a "Start the Week" list to bring them under control.  It's simple, takes very little time, and pays you back many times over in terms of lower stress and greater peace of mind. Here are 4 steps to get you started:
Identify the "crisis points" for you and your family. Do you struggle to pack snacks and lunches quickly and easily? Do important school papers disappear on a regular basis? Do you rush around trying to find clothes for yourself or the children every morning? Is one little thing always missing – a shoe, a sock, a set of keys, a lunch box? Do you spend the day worrying what you can fix for dinner? Is the rush to get to after-school activities, with musical instruments, dance shoes, sports gear and snacks in tow, driving you to distraction? Figure out which two or three things in your life create high levels of stress on a regular basis.
Identify one or two steps you can take to control each "crisis point."  What could you do to prevent or control each crisis? Could you set up "centers" in your refrigerator and pantry that include all the snacks and lunch items you'll need for the week? Would it help to start the week with five sets of clothing ready to go for each child? Do you need to establish a file in a central location and train the children to put their important school papers in that file? Do you need to improve meal planning, based on the week's activities? Figure out the most practical things you could do to keep each "crisis point" from creating stress in your life.
Create a "Start the Week" list.  Pick the 3 or 4 steps you identified above that could make the most difference in your life and put them on your "Start the Week" list – write the list on a note pad or your calendar or create a note on your phone or computer. This is the list you'll use at the beginning of every week to organize the small things in your life that tend to trip you up.  Make the steps concrete and specific; for example – Create menu based on the week's activities. Clean out and organize refrigerator and pantry. Check school papers folder; sign permission slips and papers and put them in book bags. Package all school and after-school snacks for the week. Organize lunches and store them together in the refrigerator. Make sure each child has clothes for 5 days ready to go. The steps will differ for every family – make sure that your list works for you and your family, reducing stress and creating calm for everyone.
Complete each item on the list before the week begins.  On Saturday or Sunday, work your way down the list and accomplish each task. Some may take only a few minutes (e.g., pulling together 5 sets of clothing for each child), while others may take a couple of hours (e.g., planning the week's menu and shopping for groceries). Either way, the time you invest will pay you back many times over in reduced stress and increased calm and peace of mind. In addition, as you develop a routine over time, each item will take less time to accomplish.
What are the little things that cause big headaches for you? Have to found a way to prevent or control them? Please share your ideas in the Comments – I would love to hear from you.