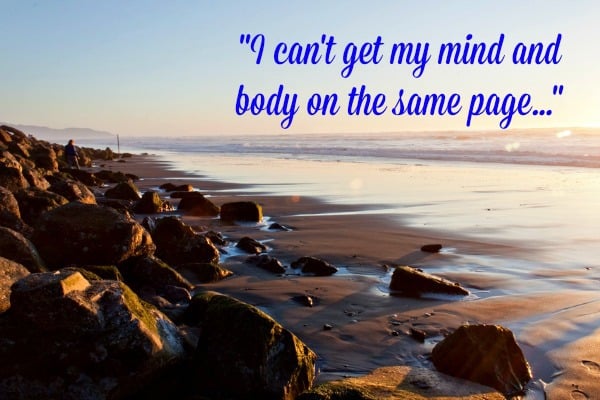 A woman said to me recently, "I can't get my mind and body on the same page." She was talking specifically about sex and intimacy. She wanted to feel good about her body, to feel sexy, and to enjoy sex with her husband, but found instead that she usually viewed her body negatively, wondered if her husband really thought she was sexy, and struggled to enjoy sex.
Do you know that feeling? I sure do. I've struggled with it on and off (maybe more on than off) throughout my marriage. And getting older doesn't make that disconnect between my mind and body any easier to overcome!
But sex isn't the only area in which women feel this kind of disconnect. Another woman said to me recently, "I know I need to eat healthier. I've done it before, I know I can do it, but right now I just don't want to do it." Her mind knows what she needs to do, but she can't quite get her body on the same page. (Includes affilate links)
The same thing happens with exercise. And with deciding to follow your dream. And with making other positive changes that you know you need to make.
Your mind knows what you need to do, but you just can't quite get your body in gear to do it.
If you find yourself in that position, whether it's about sex or healthy living or following your dreams or anything else, here are 3 steps you can take this week to bridge the disconnect –
1. Identify the lie – In almost every case, you can trace the source of "I can't get my mind and body on the same page" to a lie. Something like, "I'm too fat to feel sexy" or "Sex is mostly for my husband." Those are lies. Or it could be an entirely different kind of lie, like "I don't have time to eat healthy," "I don't deserve to make time for exercise," or "A good wife and mom doesn't pursue her own goals and dreams."

If your mind knows what you want to do but you can't get the rest of you to cooperate, look for the lie. When you find it, call it out and determine to put it behind you (or at least set it to the side). It may help to talk it through with your husband or a friend. (And, if the lie is related to a difficult area in your life, it may help to talk it through with a counselor.)
I've struggled with this in a lot of areas. When my children were younger, I struggled with wanting to exercise regularly, but thinking that my family needed all of my time and attention. Although I've generally overcome that lie, it still creeps back into my mind at times and tries to direct me from exercise to "more important things."
2. Replace the lie with the truth – Once you know the lie, counteract it with the truth. For example, the reader who said she can't get her mind and body on the same page needs to replace the lies she believes about sex with true statements – like "I'm a sensual woman," "My husband finds me sexy," or "I deserve to enjoy sex in my marriage." She needs to decide what's true and positive for her, then begin focusing on it every day.
Of course, it's not easy to replace old beliefs with new ones, but you have to start somewhere. And simply recognizing the lies you're telling yourself and replacing them with one truth is a good place to start. Beyond that, do some reading in the area you want to change (I'll link to some resources below) so that you can identify the best ways to identify the truth and start to get your mind and body on the same page.
3. Do one thing to embrace the truth. It's important to tell yourself the truth, but it may be even more important to take action that embraces the truth and makes it real for you. For example, if you're struggling to feel sexy, do one small thing this week that helps you feel more sensual. If you feel frumpy, do one small thing that helps you feel more attractive. And if you know that your body needs and deserves a healthier diet, do one thing that will help you eat healthier this week.

For example, one of the things I've had to do over the years is to accept that I don't have to look like a fashion model in order to be attractive. I know I'm not classically beautiful, and I certainly don't look like any woman I've ever seen on a magazine cover, but I can still make the most of my appearance and feel attractive. I've had to learn that confidence is attractive (and to practice acting and feeling confident) and to understand that every woman has a form of beauty that she can embrace and maximize.
One of the small ways I've done that is to acknowledge that I have pretty eyes and to decide to wear eye makeup every day in order to make them stand out. And on the flip side, I've made a conscious decision not to focus too much energy on worrying about the parts of me that aren't as attractive (nose, I'm talking about you).
You can take the same kinds of small steps, once you decide what the truth is that you need to embrace.
If you sometimes feel like you can't get your mind and body in sync, or you know that you're believing lies, I hope that these three simple steps will help you. Give them a try this week and let me know how they work for you.
Here are some resources that you may find helpful: