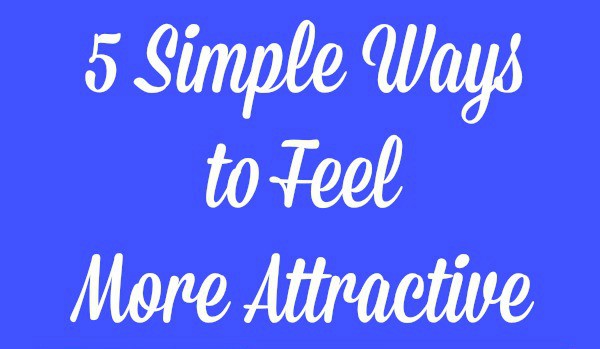 I never feel beautiful, and most days I don't even feel attractive. And I know I'm not alone. I'm guessing that you struggle to feel attractive too. Why is that? Why do most of the women we know struggle with knowing how to feel attractive.
I'll tell you why. It's because our culture bombards us with messages that say, "This is what beautiful looks like, and you don't measure up." Then the images just start rolling and never stop – images of young, thin, blonde, buxom, perfect women. And because we don't look like them, we don't know how to feel attractive – and we begin to believe that we don't measure up and never will.
And when we believe the lies about those images, we retreat into feelings of self-doubt, worry and fear. And those feelings begin to affect the way we live and the way we interact with people. Sometimes they keep us from doing things we really want to do or getting to know people we really want to know. It's crazy and yet it's entirely predictable too, because the culture tell us over and over that something is wrong with us.
One Thing You Need to Know About Feeling Attractive
But here's the thing we need to understand – the women we see in magazines, advertisements, and television shows do not actually exist. They're phantoms, created by tricks of makeup, lighting, and Photoshop! Yet we compare ourselves to them, and decide that we don't measure up.
You've probably heard Cindy Crawford's famous line, "I wish I looked like Cindy Crawford." Because the real Cindy Crawford doesn't look like the woman we see in magazines or on television. So let's stop comparing ourselves to women who don't exist! We'll never learn how to feel attractive if our standard of beauty is based on women who don't really exist.
We also need to understand that the way we see ourselves is not the way other people see us. Most of us look in the mirror and immediately zero in on our "flaws." We focus like a laser on our (supposedly) limp hair, dry skin, dark circles, bulging waistline, or any other body part we deem lacking. We're like my friend Carrie, author of A Mother's Shadow, who described how she once felt at a pool party:
Some years back, the company my husband was working for took a group of us on a trip. I was sitting on a lounge chair by the side of the pool in my swim suit and a cover up, with a towel over my very white legs, all the while feeling incredibly conscious of this and that, and mentally comparing myself with all the other women there; naturally I only saw their positives and all of my flaws.
Carrie focused on her flaws and that's what most of us do too. But that's not the way we look at other people, and it's not the way they look at us. (Yes, a few people do, but we don't need those people in our lives anyway!) Most people look at us as a whole person, a combination of our appearance, personality, and actions. Their impression of our attractiveness takes into account the way we present ourselves, the kinds of interactions we have with them, and the way we make them feel. They see us the way Carrie saw another guest at that party:
About that time a woman and her husband came to the pool. I couldn't help but watch her, because immediately she gave the impression of self-confidence, and her demeanor was amazing… She was so incredibly comfortable in her skin, that she was indescribably beautiful (even though) physically, she was very average looking… I was mesmerized by this woman who visited with other women and men at the pool in complete comfortableness; she exuded that spirit of loving yourself for what you are. She radiated a belief in her value and what she had to offer. And it was easy to tell as I watched and listened that she was a kind and generous woman by her comments and the way she talked.
Don't you want to exude that kind of attractiveness in all of your interactions with people? I sure do. Fortunately, that kind of beauty is available to all of us, because every woman can act and speak and present herself in ways that value herself and other people. We can learn to present ourselves with confidence, which is very attractive, while also promoting, encouraging and lifting up others.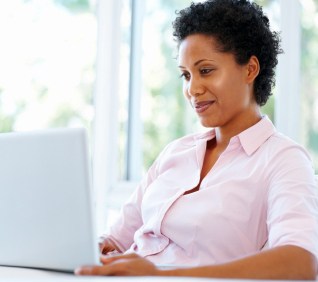 So let's talk about some ways to break the cycle of seeing ourselves as unattractive and start doing things that will help us feel more attractive. Here are 5 simple, practical things we can do to get started:
1. Identify a couple of things you like about your appearance.
Even though we're incredibly hard on ourselves, we can usually identify one or two things we like about the way we look. I know, for example, that I have nice blue eyes. Maybe you know that you have pretty hair or lovely skin or a good figure or a beautiful smile. Hopefully you like several things about yourself, but pick one or two to get started..
2. Pick one thing you like and emphasize it.
Now that you've identified a couple of things you like, pick one and emphasize it. Make up your eyes, get a great haircut, wear a touch of makeup, wear clothes that fit your body and look good on you – anything that makes you feel good about your best feature. Make this a priority, and make time in your schedule so that you can do it every day.
3. Work on one thing you don't like about your appearance.
For most of us, this is a long list. We hardly know where to begin! But just pick one thing to work on. Maybe your hair is graying – like mine – or you've never liked the color. Color it! Maybe your skin feels dry and looks dull. Get started on a skin care routine (it doesn't have to be expensive), drink lots of water, and eat more fruits and vegetables. Maybe you wear sweats or yoga pants most of the time and feel like a frump. Start wearing clothes that fit and make you feel good.
Again, this doesn't have to cost a lot of money. Focus on making one small, simple change that will help you turn something you feel bad about into something you feel good about. After a while, make another change.
4. Begin doing one thing to take better care of your health.
Our physical and emotional health and the way we treat our bodies are closely tied to the way we look and the way we feel about ourselves. If you try to get by with 5 hours sleep a night, your eyes and skin will show it. (Not to mention how bad you'll feel!) If I eat a lot of processed food, my skin and digestive system will let me know. (Not to mention how bad I'll feel!) And if you or I go for days (or weeks!) without exercising, our physical and mental health will suffer, which always affects the way we feel about ourselves.
So begin this week doing one thing to take better care of your health. Determine which health habit is most affecting the way you look and the way you feel about your appearance, and begin working on it. If you're not sure where to begin, I suggest making sure you sleep 7-8 hours most nights. After that, begin exercising regularly, sitting less, and moving more. Figure out the one thing your physical or mental health needs most and start doing it.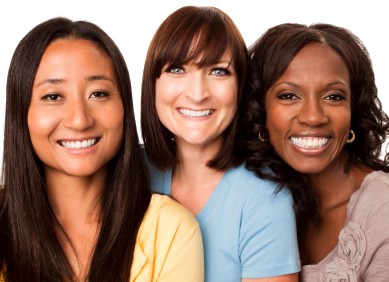 5. Stand up straight, speak with confidence, treat others well, and act like a confident woman.
This is critical to learning how to feel attractive. So much of the way others see us, and the way we see ourselves, is perception rather than black-and-white reality. We all know people who seem very attractive, but if you really analyze their appearance, they're actually quite average. The difference in most cases is the way they perceive themselves and the way they treat others.
Confidence is attractive, as is treating others with kindness and respect. (That doesn't mean letting people walk all over you, which is the opposite of self-respect.) So act confident, even if you don't feel it. Stand up straight, walk tall, look people in the eye, speak clearly, and generally act like a woman who believes in herself. This can be a "fake it until you make it" thing – you don't have to feel confident to act with confidence!
6. Believe your husband if he says you look good.
If you're fortunate to have a husband who says you look beautiful or pretty or hot, decide to believe him. More than likely, that's exactly how he sees you. He's not trying to flatter you in order to manipulate you or get you into bed – he thinks you're beautiful or pretty or hot! Yeah, he probably knows that you don't look like the women in magazines, but he doesn't care. (And he may realize that they don't actually exist.) So choose to believe him – say "thank you" and accept the fact that he likes the way you look.
Learning how to feel attractive is hard. It requires ignoring our culture's lies about beauty and letting go of things we've believed for a very long time. But we can do it, by first understanding the things that really make people attractive and then beginning to take small steps to help us feel more confident in our bodies and ourselves.
Download a free printable copy of this 30-second confidence boost which reminds you how to feel attractive in 5 quick and easy steps – 30-second confidence boost – An easy way for women to build their self-confidence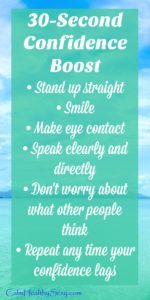 More Encouragement for Feeling More Attractive