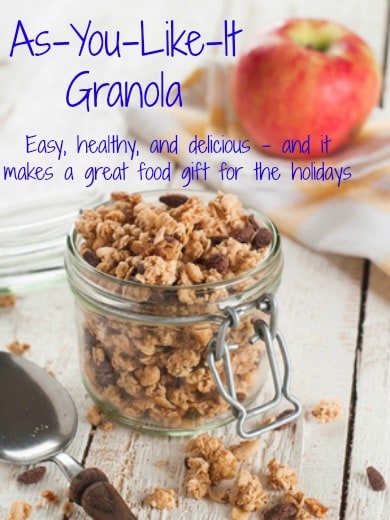 To me, homemade granola is a near-perfect real food – it makes a delicious breakfast or snack, everyone in my family loves it, and I control the ingredients – so I know it's good for us.
As-You-Like-It Granola is my favorite recipe, because I can customize it with the ingredients my family likes best – it can become Cranberry-Almond Granola, Cherry-Pecan Granola, or just about any other combination I can imagine.
Making granola is something even the busiest wife and mom can do to increase the amount of real food her family eats.  And for the holidays, it makes a perfect food gift.  I begin making and freezing it weeks before Christmas – which reduces last -minute "food gift stress!"  And, people absolutely love to receive it.
(You may also like 10 Ways to Prep Food on Sunday to Eat Healthy All Week.)
If you've never made granola, or you just want to try a new recipe, I hope you'll give As-You-Like-It Granola a try and let me know what you think.
[gmc_recipe 3074]