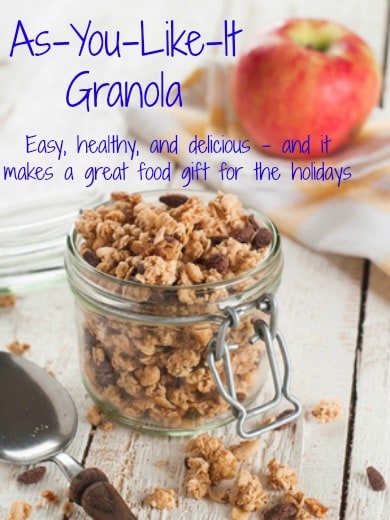 To me, homemade granola is a near-perfect real food – it makes a delicious breakfast or snack, everyone in my family loves it, and I control the ingredients – so I know it's good for us.
As-You-Like-It Granola is my favorite recipe, because I can customize it with the ingredients my family likes best – it can become Cranberry-Almond Granola, Cherry-Pecan Granola, or just about any other combination I can imagine.
Making granola is something even the busiest wife and mom can do to increase the amount of real food her family eats. And for the holidays, it makes a perfect food gift. I begin making and freezing it weeks before Christmas – which reduces last -minute "food gift stress!" And, people absolutely love to receive it.
(You may also like 10 Ways to Prep Food on Sunday to Eat Healthy All Week.)
If you've never made granola, or you just want to try a new recipe, I hope you'll give As-You-Like-It Granola a try and let me know what you think.
Easy and Delicious Homemade Granola

Print recipe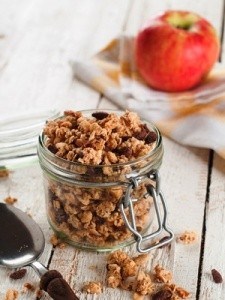 Ingredients
4 cups rolled oats
1 cup nuts (pecans, almonds, walnuts, etc.) (chopped)
1 cup dried fruit (raisins, cranberries, cherries, etc.)
1/3 cup light brown sugar
1/4 teaspoon salt
1/4 teaspoon ground cinnamon
1/3 cup vegetable oil (e.g., light olive oil, fractionated coconut oil))
1/4 cup honey
1 tablespoon vanilla extract
Directions
This recipe doubles easily, and I recommend doubling it whenever possible. You get twice as much delicious granola for very little extra work! If you have two large baking sheets you can bake both batches at once - just switch them to the opposite rack halfway through. A double batch may take a few extra minutes to bake.

Preheat oven to 300°. Lightly oil a large baking sheet or spray it with cooking spray. (I like to line it with foil, then oil or spray it, for easier clean-up.) Mix the first 6 ingredients (through cinnamon) in a large bowl. Combine oil and honey in a small saucepan; heat to simmer. Remove from heat and stir in vanilla. (Sometimes it foams up when you add the vanilla.) Pour over oat mixture and mix well, using a large spoon. Spread evenly on the baking sheet. Bake for 30 minutes, stirring once or twice. (For softer dried fruit, wait and add it the first time you stir the granola, after about 15 minutes of baking.) The baking time may go a few minutes beyond 30; you want it to be dry and crunchy, but not too crisp. Watch it carefully the last few minutes, as it can go from "just right" to "too brown" fairly quickly! Cool completely and store in an airtight container.
Notes
This recipe requires a large rimmed baking sheet (I think it's the quarter-sheet size).  If your baking sheets are smaller, use two; you want the granola to be spread out in a thin layer while it bakes.
You also can add other ingredients you like in granola, such as coconut or seeds, both of which may need to be added halfway through the baking time to avoid over-baking.
This granola makes a wonderful food gift for Christmas or an occasion.
Making a double batch gives you double the granola for only a tiny bit of extra effort!