Beauty is a package.  It's the way you look + the way you feel + the way you treat others + the way you treat yourself.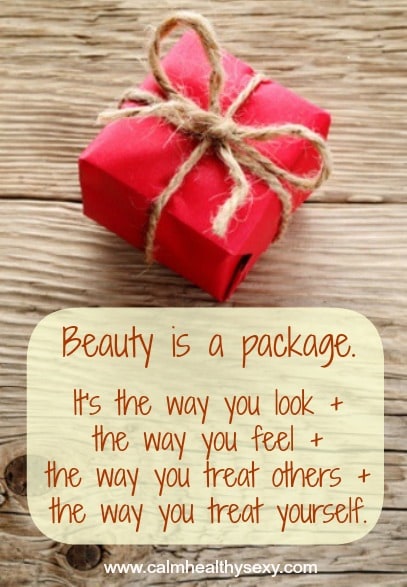 Before we go any further, let's just get this out in the open – a few women are born with stunning physical beauty.  We know it, we see it, we live with it.  The true number is probably smaller than we think, because many of the beautiful women we see in magazines, television shows and movies are media creations.  Without their makeup artists, stylists, and professional photographers, they look surprisingly like average women.  Nevertheless, some women are blessed with great physical beauty.
The fact is, though, that great physical beauty alone doesn't take a woman where most of us want to go.  It doesn't ensure her a happy marriage or joyous family life or meaningful ministry or fulfilling career.  It can open the door to those things, but it can't take her very far beyond the doorway.  The other components of beauty – they way a woman feels (her physical and emotional health), the way she treats others and the way she treats herself – hold the keys to a life filled with joy and purpose.  And, as a bonus, it turns out that other people find those things attractive.
(Check out  this lovely story of a woman who chose to be beautiful.)
So let's focus on the entire "package."  Let's identify the strengths of our physical beauty and play them up, and acknowledge the weaknesses and play them down.  Then let's spend most of our time and energy focusing on the rest of our beauty  – by taking care of our health and managing our lives in a way that maintains our sanity. By going out of our way to treat others the way we want to be treated.  And by treating ourselves the same way – gently, kindly and with respect.
And then, by our words and attitudes and actions, let's  teach our daughters, nieces, granddaughters, and all of the girls and young women we know the real meaning of beauty.
Photo credit – © windu – Fotolia