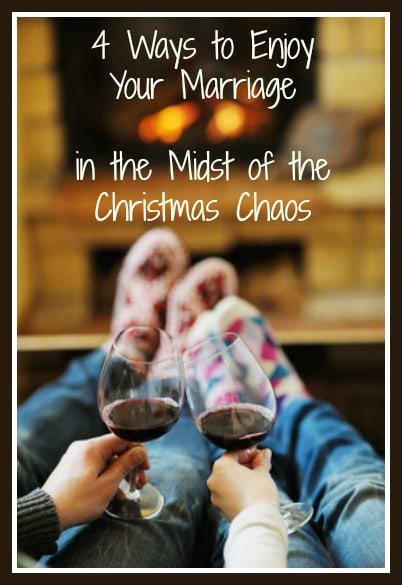 How are your Christmas preparations going? Have you managed to get things under control, or are you floundering in a sea of unwrapped presents and "to do" lists? I'm going back and forth between the two. I feel unprepared, but am trying to tamp down that feeling and just go with the flow!
One of the best ways to manage Christmas chaos and stress is to focus on the most important things, and let the less important things slide. It's so easy, though, to get it backwards – to focus on the things that don't really matter (presents, decorations, events) and let the things that do matter (people) slide. And one of the things that we tend to let slide at this time of year is our marriages. (Or maybe I'm the only one who does that…) If you want to stay connected with your husband and enjoy your marriage, in spite of the craziness, here are 4 things that can help:
Keep things in perspective. You won't be able to do everything, and some things won't be perfect. It doesn't matter. Do the most important things first, then let some of the less important things go. You'll maintain your sanity, and your husband and children will enjoy spending time with you. And if other people tend to critique your gifts or decorating or food, resolve not to care. It isn't your job to buy your aunt the perfect Christmas gift or to decorate to your mother-in-law's standards or to cook a gourmet meal for your extended family. And don't try to do everything yourself – get the rest of the family involved. (Sheila Gregoire shared a great article this week about not becoming a "Christmas martyr.")
Do some tasks on your "to do" list together. Although the "divide and conquer" approach is more efficient, doing some of the shopping, decorating or cooking together is more fun. My friend Christina at Juggling Real Food and Real Life told me that she and her husband went shopping this week and made it into a fun time together – holding hands, smiling, greeting people, and enjoying a nice dinner. I don't know about you, but that sounds like a great way to tackle Christmas shopping to me! That kind of approach to "doing Christmas" builds joy in our marriages and families, and helps reduce the feeling that the entire season is just one big drain on our energy.
Do something fun. Take some time away from the ever-present "to do" list and do something that both of you will enjoy. Go to a concert, check out a Christmas lights display, take a walk, go out for coffee and dessert, relax and enjoy a glass of wine, make some popcorn and watch a Christmas movie – anything that will be fun and relaxing for both of you. If you think you don't have time, cross something less important off your list and make time.
Enjoy sex and intimacy. For many women, the demands of the season push interest in sex right out of their minds. But don't let that happen to you, because it's not good for you or your marriage. Sex helps the two of you stay connected, creates positive energy in your marriage, and reduces some of the stress that comes with the season. So make some time and save some energy for connecting with your husband. (And remember that "Sex is About You Too!")
What are your tips for keeping joy in your marriage in the midst of the Christmas season>  Please share them in the Comments – I would love to hear from you.
You May Also Like: