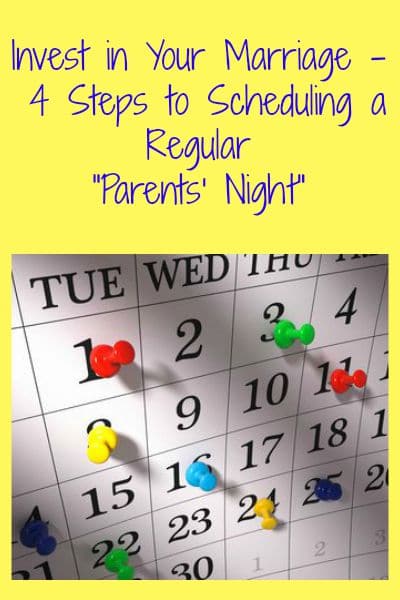 Yesterday I shared four reasons to consider setting aside occasional evenings for you and your husband to connect and enjoy some "down time" together. I called those evenings "Parents' Night," but you could call it whatever you like. (And you don't have to be parents to plan and enjoy these kinds of evenings.)
If you read that post, you may have been thinking, "Girl, you've lost your mind. Apparently you haven't seen my schedule!" I know, I know – many of you are juggling packed schedules and can't imagine adding one more thing to your to-do list.
But what if, in the long run, the thing you add actually makes life easier? What if it makes things run more smoothly, because you and your husband are more in sync? What if it gives you something to look forward to, and makes some of the mundane tasks on your schedule seem a little more tolerable?
That's what I think a regular "Parents' Night" can do for many couples. If you want to give it a try, here are four steps you can take to get started:
• Talk with your husband and agree on what's realistic. Can you set aside one evening a week or one every other week? What about two evenings a month? If the best you can manage is one evening a month, start with that – with the idea of increasing the frequency over time. Look at your commitments and calendars and pick dates that will work for both of you.
If possible, keep it consistent (e.g., every Monday, every other Tuesday, the first and third Thursdays). Once you've decided, write those dates on your personal and family calendars for the next four months. Agree that, barring an emergency, you won't schedule any other activities or let your children schedule any activities on those evenings.
• Start making a list of things you'd like to do. You don't have to plan out each night, but it's helpful to begin thinking about and anticipating things you'd enjoy doing together. For example, you might set aside time to talk about your hopes and plans for the future. Or read a book together. Or play a game. Or watch a movie. Perhaps you'll want to work on a house project together. Or share a massage.
If you have access to child care or your children are old enough to stay home alone, you might go out for dinner or coffee or a walk (although this isn't necessarily a date night, if you can add some date-like elements once in a while, go for it). And hopefully, after relaxing and spending time together, you'll wrap up the evening by making love.
• Determine what it will take to make it happen. Clearly, you'll need to make changes to your normal routine on Parents' Nights, but the type and extent of the changes will vary, depending on the ages of your children and your current commitments. And implementing those changes will take some time and "training" – of yourselves and your kids! If you have very young children, simply put them to bed as early as possible and set aside your normal evening activities to concentrate on each other.
School-age children will need to learn that they're "on their own" on Parents' Nights, in terms of homework, chores and entertainment. They'll need to practice studying independently, playing quietly and putting themselves to bed – all valuable life skills! And they'll have to learn to plan ahead, because Mom and Dad won't be available to help with last-minute school projects or to bake cookies for the class bake sale on those nights.
You and your husband will have to learn some new skills too, like saying "no" to meetings and commitments on the evenings you've set aside. And letting go of the idea  that you must be on-call to assist your children every waking hour.
• Give it a try, address problems that arise, and try again. You won't get it right the first time, or the second or the third. Old habits die hard, and it will take a while for everyone to get on board. Add an element that makes it fun for the kids, like pizza for dinner on "Parents' Night." Or reading by flashlight in a "tent" until bedtime. Take a "small steps" view of the process and celebrate small successes along the way.
What do you think? Is setting aside evenings for you and your husband to connect and unwind a reasonable goal? What would make it work for you? Please share your thoughts in the Comments – I would love to hear from you.