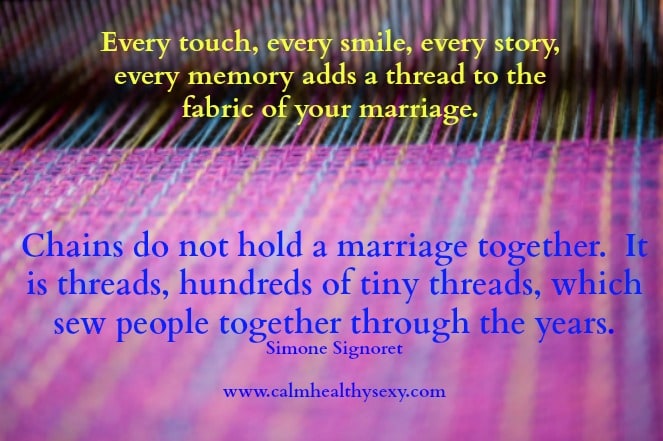 Thanks to Tyson Cooper, author of Uplifting Love, for sharing this quote from Simone Signoret in his article Hundreds of Tiny Threads.  I had never heard the quote before, but was immediately struck by the implications of those words.
It's true, isn't it? Although the big events of our married lives create wonderful and exciting memories, it's the small, everyday, seemingly mundane things that knit us together. The glances, the touches, the smiles, the funny stories, the private jokes, the acts of service – these are the threads that weave the fabric of our marriages.
Unfortunately, small acts can also destroy the fabric of a marriage. The resentments, the silences, the criticisms, the angry replies, the withering looks, the acts of love withheld – each one cuts a slender thread, eventually leaving us with a tattered mess.
Let's choose, today and every day, to weave new threads into our marriages, with small acts that strengthen the fabric and increase its beauty. 
Sharing with Messy Marriage, To Love, Honor and Vacuum, We Are That Family,  Happy Wives Club, Matrimonial Monday, The Chicken Chick, SITS Sharefest, The Jenny Evolution, Shaken Together, The Grant Life, Truly Lovely, What Jean Likes and Pursuit of a Functional Home.
Add a little bit of spice to your marriage!
Get 18 Ways to Spice Up Your Marriage. Plus simple tips for a healthy life and happy marriage - right to your inbox.