(While I'm on vacation this week, I'm thrilled to share a guest post by my friend Bonny at Pearl's Oyster Bed. She writes to encourage all wives, and especially low-libido wives, to create sexual intimacy in their marriages  She is also a great friend of this blog and an encouragement to me.)
If we were to think of the whole of marriage as a three-tiered coconut cake, sexual connection will be the icing that keeps the layers together. Some would say the icing on the cake is an added bonus, but it is not just an added bonus. It is much more.
I see the icing, especially when it is between the layers, as binding.  There is a spiritual and bio-chemical connection you give and receive during the act of sexual intimacy. No other relationship contains this powerful physical and spiritual bonding.
The icing also forms a barrier. It seals in the cake's moisture and keeps it from becoming too dry. Sexual intimacy does the exact same thing. It seals in the moisture and protects. It keeps your marriage delectable and forms a barrier against temptation.
Within your marriage, are you the lower drive spouse? If so, sexual intimacy is often the most crucial emotional need of your higher drive mate. What happens when the most important need of one spouse is the rock bottom priority of the other spouse? WWIII, thermonuclear meltdown, the explosion in the microwave…..
There can be great healing for the marriage where sexual desire is unequal or polar opposite (like fire and ice). Healing requires taking an inventory of your cake ingredients.
The flour of spiritual connection – sharing a faith, the same moral code and values; defining integrity and priorities as the same; agreeing upon your life's purpose together.
The eggs of emotional connection – knowing your mate's feelings, goals and frustrations; having and showing love, esteem, trust, respect and confidence in your mate. 
The sugar of physical desire – having a tangible craving to fondle, play, and orgasm; being physically healthy and having a balance of hormones.
The milk of amusement – doing things together outside of your normal daily routine, taking turns choosing the activity, but agreeing by mutual decision.
The vanilla of self-value and self-image – realizing your personal worth and that your husband loves your body no matter what shape it's in
The powdered sugar of sex-positive attitude – through God's help you have processed any negative sexual experiences or attitudes you have had. You know that sex is God-ordained and something to celebrate with your husband.
The butter of tranquility – the absence of out-of-control stress and anxiety in your life.
The coconut of crazy – the freedom to be just a little bit silly every once in a while or a lot of the time, flirting, having fun and laughing
Sometimes the cake comes out flat and you are mystified as to what happened. But it's evident something was missing or in wrong proportion.
I was kind of clueless as to why the issues of my marriage came to a boiling point, and so much of it revolved around sexual intimacy. It took serious introspection and some outside intervention for my husband and I to realize that our pantry was out of eggs and sugar. He worked on strengthening emotional intimacy. I worked on restoring my physical health and sexual desire.
The conflict about sex usually happens when a disconnect exists in one or more of the above categories. Of course, these categories are not exhaustive, but I think they represent the majority of issues.
One Last Thought
If sex is a bone of contention in your marriage, pray that God will reveal the places where your marital intimacy needs to be strengthened. The marriage relationship is the metaphor most used in scripture to describe the kind of intimacy God desires to have with his believers. God created sexual intimacy. He said it is good. It's OK to pray about improving your marital sex life.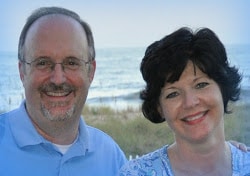 Bonny and I would love to hear from you. Please share your thoughts in the Comments, then click over to Pearl's Oyster Bed and visit her. If you're interested in sexual intimacy in marriage, you'll want to subscribe to her blog! Gaye

 Sharing with Pin It Monday, Pin It Tuesday, Messy Marriage, To Love, Honor and Vacuum, and Prowess and Pearls.