A SmallStep is one simple thing you can do to live a calmer, healthier or sexier life.  This week, consider taking the small step of setting a limit or establishing a boundary that will allow you to make time for things you really want to do.

If you're like me, you have things you want to do, important things, like exercising, cooking healthy meals, relaxing with your husband, writing, developing your business, spending time with good friends, enjoying your children, or other activities that are important to you.  But you don't have time to do them consistently – something always gets in the way.  Maybe the things getting in the way are important – but maybe they aren't. More often than not, less important things suck up much of our time and energy,  making it difficult if not impossible to do the things we really want to do.
(Check out all of the SmallSteps to a Calmer, Healthier, Sexier Life.)
Sometimes the things that suck up time and energy are big problems that require a big solution.  For example, if you can't do the things that are important to you because your husband works 60 hours a week, you homeschool and serve on two church committees, and each of your children has three after-school or evening activities…well, you can't solve that problem in a week.
But what if, at least in part, it's small things that are taking up a lot of your time, keeping you from do the things you really want to do?  What if you set a limit on one of those things, in order to free up some time for something better?  For example, if you:
Assigned some mundane household tasks (sorting and folding clothes, vacuuming, etc.) to other family members (the kids!), it could allow you more time to make healthy family meals.
Limited phone conversations with a talkative friend, it could give you time to go outside and play with the kids.
Set a timer when you begin checking email or reading blogs and quit when the timer went off, it could free up time for exercise or writing or working on your business.
Limited the amount of television you watch, it could provide more time for conversation, connection and sex with your husband.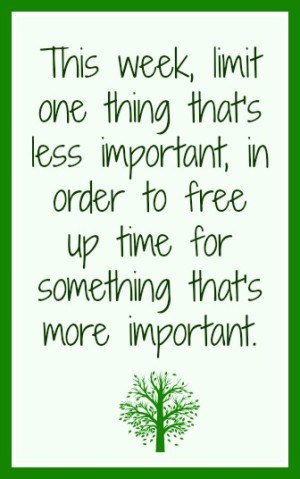 You get the idea.  None of those things are wrong or bad, but they may be taking up time that you'd really rather devote to something better.  So this week, consider setting a limit or establishing a boundary for how you choose to use your time.  Limit one thing that's less important, in order to free up time for something that's more important. If it works, in a week or two limit something else.  You soon may find that you've created time for things that allow you to live a little calmer, healthier or sexier.
I would love to hear your ideas or experiences with setting limits on some in order to free up time for other things – please share them in the Comments.
Create your best life!
Get health and marriage tips by email + a free marriage resource