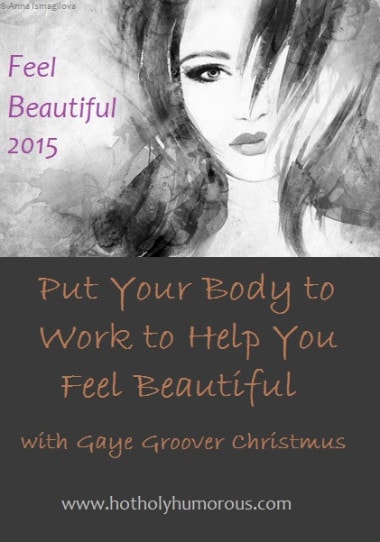 I'm honored to be guest posting today at J. Parker's blog, Hot, Holy and Humorous. J. has been writing a wonderful series of posts this year that encourage women to feel beautiful and to see themselves as beautiful.  I was thrilled when she asked me to be part of this series. Here's an introduction to my post, Put Your Body to Work to Help You Feel Beautiful:
If you're in the midst of the struggle to feel beautiful, believe me, I'm right there with you. That struggle is a process for me that tends to involve one step forward and two steps back – and I'm guessing it does for you too. So today I want to suggest a strategy that can help you move forward in that process – by putting your body to work for you. This is an approach that has helped me tremendously, and I think it can be a powerful tool for every woman who wants to embrace and accept her beauty.
Before we begin, I encourage you to remember two things. First, beauty is subjective. Yes, a few people are so objectively beautiful that no one thinks otherwise. But they're the exception. Most people possess the type of beauty that's more attractive to some people and less attractive to others. You've probably had the experience of saying, "She's so beautiful," and your husband or a friend saying, "Really? Do you think so?" In most cases, beauty truly is in the eye of the beholder. Second, beauty is changeable. The way you look today is not set in stone – you can change it. Not by having plastic surgery or an extreme makeover, but by making the most of your natural beauty, taking charge of your body, and growing in confidence. Because what it really comes down to is this – confidence is attractive, and a woman who is becoming confident in herself, her body, and her appearance is becoming more beautiful every day.
"Putting your body to work" to help you feel more beautiful simply means helping your physical body work for you, rather than against you. So many women set aside focusing on their physical bodies in favor of handling dozens of other tasks that clamor for attention. Over time, this lack of focus results in their bodies working against them – making them less able to embrace their God-given beauty. If you find yourself in that position, here are 5 ways you can turn things around and begin putting your body to work for you:
Please click over to Hot, Holy and Humorous to read the rest of the post.
Create your best life!
Get simple, practical health and marriage tips by email + 15 Ways to Connect with Your Spouse - When Life Gets Crazy!