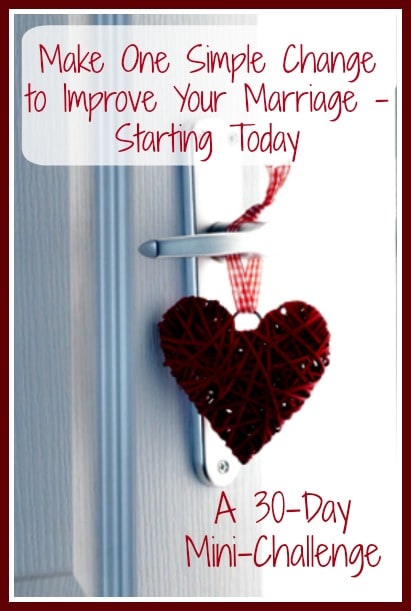 I've set some goals for this year, and you've probably set some too. Goals are great – they help us define our priorities and figure out ways to achieve them. For me, goals are  the "big picture" – they describe the life I hope to live in the coming year.
But even though I like working toward the "big picture," I like focusing on the "little picture" too. The "little picture" isn't nearly as grand, but it may turn out to be just as important.  It consists of small, simple things we can do, day in and day out, to make positive changes in our lives.
Over time, these small things add up to something big. They seem minor, almost trivial, but the effects of doing them day in and day out add up. It's like the difference between setting a weight loss goal for the year – "Lose 30 pounds" – and making a simple change today – "Take a 30-minute walk." Both are good, but the simple change is immediate – we can do it today and tomorrow and the next day and pretty soon find that our minds and bodies are changing in positive ways.
It's the same with our marriages. We can (and should) set goals that will improve or strengthen our marriages over the coming year. But we can embrace the "little picture" view of our marriages too, by making small, simple changes that add up over time. That's why I want to encourage you (and me!) to make one simple change to improve your marriage – starting today and continuing for the next 30 days.  Pick something that will help you and your husband overcome a difficult area, or choose something that would add even more joy to a strong area.
Let's call this a mini-challenge, because it shouldn't be hard to do or take a lot of time.  And you can do anything that will give a boost to your marriage. The options are almost endless. If you're not sure which small change would most benefit your marriage, here are some ideas to get your thinking started:
Practice gratitude for your husband – Each day for the next 30 days, identify one thing about your husband for which you are thankful. Say it out loud to yourself or write it down.
Show your gratitude to your husband.  If you already know what you're thankful for, but rarely ever tell him, thank him every day for something he does for you or your family. It can be very simple and focus on small things – "Thanks for picking up the boys after soccer." "Thanks for bringing me coffee this morning." "Thanks for putting gas in my car yesterday." Or big things – "Thanks for working so hard for our family." "Thanks for supporting me when I needed it most."
Read blogs, articles or book chapters that promote marriage – Read something every day that encourages healthy, happy marriages. If possible, share some of what you read with your husband. After 30 days, you'll have accumulated a treasure trove of positive attitudes and ideas for keeping your marriage strong. Not sure where to begin? Check out The Generous Wife and Encourage Your Spouse.
Change one thing that bothers your husband – If something you do bugs your husband, stop doing it for 30 days. We all do little things that bug our spouses, and most of the time we have the power to change those things. Or maybe he wishes you would start doing something. Either way, take that power into your hands and see where it leads.
Touch him every day – It seems crazy, but in the busyness of everyday life, husbands and wives can sometimes go for days without really touching. So be intentional about touching your husband every day for the next 30 days – hug him like you mean it, give him a real kiss, hold hands, sit close together on the couch. This is especially important if his love language is physical touch.
(If you're looking for more ways to strengthen your marriage this year, be sure to download my free ebook – Time for the Two of You – Simple Ways to Make Time for Your Marriage and my free printable – 15 Ways to Connect with Your Husband – Even When Life Gets Crazy!).
Listen to him every day – Similar to touching, busy couples can sometimes go for days without really listening to each other. When life gets hectic, communication can be reduced to discussing schedules and to-do lists. So take time, even if it's only 10 minutes, every day for the next month, to really listen to your husband. Put other things aside and ask him about his day, his plans, his interests, or what's on his mind.
Do something that speaks to him in his love language.  Every day, do one thing that speaks to your husband in his love language. It doesn't have to be big or time-consuming – every love language has it's own small acts, gestures or words that say "I love you. I'm in this with you."
Invest in sex and intimacy.  OK, I'm not saying "have sex every day for the next 30 days!" But I am suggesting that every bit of time, effort and action you invest in improving sex and intimacy with your husband will benefit your marriage. This change will look a little bit different for every marriage. For example, if sex is a struggle for you or an area of real difficulty in your marriage, you may need to begin with reading, thinking, praying, and seeking to understand that struggle over the next 30 days. Lori at The Generous Wife has written a week-long series on sex and intimacy that would be a great place to start. If your main problem is fatigue, stress or lack of time, you may want to spend time figuring out how to control your schedule or manage your life in ways that will free up time for sex and intimacy. Or maybe it's just a matter of being more intentional about sex and figuring out things that will help you embrace and enjoy your sexuality. Whatever your focus, if you decide to take on this area of change for the next 30 days, you'll find some great information and encouragement in the books and blogs listed on the Sex and Marriage Resources page.
Obviously, this isn't a complete list. You may want to make small changes or investments in an entirely different area of your marriage. The point is simply to make small changes consistently over time, and watch them add up in ways that benefit you, your husband, and your marriage.
I'm taking on this mini-challenge as a way to invest in my marriage, and I want you to hold me accountable!  My plan is to be intentional about physical touch over the next 30 days. I realized recently that I tend to focus so much on getting things done, I can easily forget about the importance of touch in day-to-day interactions with my husband. So I'm planning to make sure that we enjoy some meaningful physical touch at least once a day for the next 30 days. What about you? If you want to take on this mini-challenge too, share the small change you plan to make in the Comments – and we'll hold each other accountable!