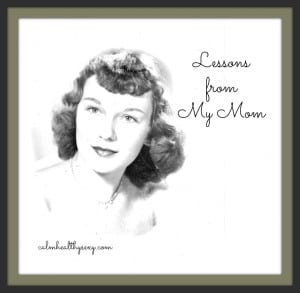 Some of you know that my Mom passed away unexpectedly in December.  Since then, so many people have shared their stories and memories of her with me and my sisters.  And because we celebrated her life with memorial services in two states, we were blessed to hear from people who knew her at different times in her life.  All of these funny stories, poignant memories and snippets of daily life have been rolling around in my mind for weeks now.  And they've helped me see clearly six lessons I learned from my Mom's life, lessons I hope to carry with me for the rest of my life:
Focus on other people.  The thing I heard most often as people talked about Mom was her interest in other people.  She always wanted to know how others were doing, what they had been up to, and what was new with their families.  She was happy to tell friends about her life too, and loved talking about her children and grandchildren, but that wasn't her primary focus.  She made people feel comfortable and encouraged them to talk about themselves – it was her gift.
Adapt and change.  Mom came of age in the era when women focused solely on their homes and families.  She worked at home, and my father worked in his business.  And I think she was happy with their life.  But my father died when they were still quite young (she was only two years older than I am now), turning her life upside down.  She floundered for a while, but then found her footing, emerged from her grief, and began to create a new life.  She accepted that her life going forward would be completely different than the one she had envisioned, and over the 25 years between his death and hers she created a full, active and joyful life for herself.
Stay positive.  Most people endure a share of life's problems, and Mom was no exception.  She knew loss, grief, illness, fear, family conflict and financials trials over the course of her life, especially in recent years.  And sometimes she was "down," maybe even a little depressed.  But never for very long.  She always bounced back, because she emphasized the blessings in her life, not the trials.  I think it was often an act of will, because she knew, and had seen in others, the sorrow and bitterness that result from ignoring the positives and focusing on the negatives.
Don't give up.  I can't even count the number of surgeries and hospitalizations Mom went through during the last few years of her life.  I know that during the last year she endured three surgeries, three stays in a rehab hospital, and three brief stays in a nursing home.  All of which she hated!  But she never gave up.  She learned to walk again after neck surgery, then again after back surgery and then again after hip surgery, a difficult task at any age and much more so at 81.  Each time she persevered, doing what she needed to do, because she wanted to keep living her life.  Each time she kept in front of her the goal of returning to her little condo, getting back to cooking, going back to church, and resuming her activities with friends.  And each time, against very strong odds, she achieved that goal – because she didn't give up.
I also learned a couple of things from my Mom's life that I don't want to emulate.  I think she'd be okay with that, even though she might not agree with me.
Take charge of your health.  Mom grew up with the miracles of modern medicine.  She was born at the dawn of antibiotics and vaccines and saw advances in drugs, medical care and surgery throughout her entire life.  She believed in doctors and medicine.  But she didn't much believe in prevention or the power of a person to take charge of her own health.  She thought that taking a pill for diabetes or high blood pressure was as good as eating well and exercising, and it was certainly a lot less trouble!  She never quite "bought into" the idea that medicine can only go so far, and that it's better to prevent diseases through diet, exercise, stress management and a healthy lifestyle than it is to treat them.  My sisters and I are taking the prevention route, and we tried with only modest success to take her along with us!
Be prepared to take care of yourself.  When my father died, Mom wasn't prepared to take care of herself financially or otherwise.  She wasn't raised to take care of herself, didn't learn those skills.  Although she had a college education and a teaching certificate, she didn't work outside our home after she had children.  She didn't know anything about money or insurance or investments.  And that lack of knowledge and skills multiplied her burden of grief and sorrow and uncertainty after my father's death.  So what I learned from her life is this – women need to know how to take care of themselves and their children if the need arises.  They don't have to work outside their home, but they need knowledge and information and a plan.  For me, this took the form of always keeping a hand (or at least a finger!) in my career.  I never worked full time when my children were young, but I always did something – freelance or part time – in order to keep my options open.  And I maintained at least a basic knowledge of our money situation, insurance and retirement planning.  I didn't want to be left completely unprepared, like my Mom.
My Mom wasn't perfect, but she was a great mom and a great friend to many people.  Losing her still seems surreal – I'm quite certain it hasn't sunk in yet.  Thanks for letting me share these lessons from her life with you.  I hope they've reminded you, as they have me, that we are all creating a legacy of lessons with our lives.  Gaye
Sharing with Ladies Only Blog Share, The HomeAcre Hop, Pin It Monday, The Chicken Chick, Messy Marriage, Inspire Me Monday and Motivation Monday.