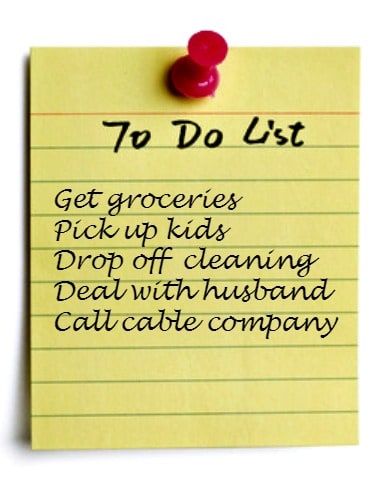 Is your marriage something that brings joy and companionship into your life? Or is it just another item on your "to do" list? I ask this because I read an article this week which suggests that, for many women, marriage is the latter. It's the thing that makes them "time starved," that keeps them from doing the things they really need and want to do. The article reports on a survey of "breadwinner moms," women who make about as much as or more than their husbands (apparently, that's now 49% of women in the US who work outside the home). According to the article, the survey found that, for these women, "marriage becomes just one more item… where they aren't spending enough time and focus." The article makes clear that it's not kids who are the problem, but husbands. The author even suggests that being a divorced parent is the best way to raise children, because you don't have a husband getting in your way and taking up your valuable time.
Really? Marriage is such a drain on women's time and energy that it's better for them to be divorced and raising their children alone? Come on, that can't possibly be true. If you're married to a good man, your marriage should be a source of happiness, support, and shared goals. It shouldn't be another item on your "to do" list  – something you have to deal with and then move on. It should be a pleasure (most of the time), not a chore.
Listen, I know that finding joy in marriage isn't always easy. I work full time outside the home. I know what it's like to try to balance marriage, kids, work, and life. Has my "plate" ever been too full? Yes. Has my husband ever irritated me? Yes. (Pretty sure I've irritated him more.) Have I ever felt like marriage is just one more thing for me to juggle? Yes. Have I ever longed for peace, quiet and time to myself? Yes. Have I ever thought I would be better off raising my kids alone, with marriage removed from my "to do" list? No, not in a million years.
If you're like me and have sometimes allowed your marriage to end up on your "to do" list, here are some ideas for helping it to become a source of joy instead:
Make it a priority.  Decide that your relationship with your husband is more important than your job, your friendships, your children's activities, and your other commitments. That doesn't mean you won't devote time and energy to those things (and sometimes they'll take a lot of time and energy), but it means that they shouldn't take everything you have to give, and then some. Save some of your best time and energy for your marriage.
Control your schedule and your children's schedules.  Most families do too much. The children participate in too many activities, and the parents commit to too many responsibilities. Many of those activities and responsibilities are optional, but people treat them as if they're required. If you're yearning for a break, some down time, or a shorter "to do" list, maybe it's your schedule, not your marriage, that's the problem. Consider reigning in your schedule and focusing on the things that are really important to you.
Communicate with your husband.  If you feel overwhelmed and exhausted most of the time, something needs to change. Talk with your husband about the things that are wearing you down. Ask for his input and help. Sometimes women don't say directly what they need (and, to be fair, sometimes men don't hear it or act on it). I had to learn this skill, because it doesn't come naturally to me. So open a conversation about what's going on in your family and your marriage, and practice asking for what you need.
Let him do things his way.  If you ask for help and your husband gives it, let him do it his way. The clothes don't have to be folded perfectly, and the dishwasher doesn't have to be loaded in a certain way. The kids don't have to be dressed in exactly the right clothes, and the errands don't have to be tackled in a certain order. I like for things to be done my way, but since I want to maintain my sanity I don't insist on it. My husband washes and dries the laundry, for example, but then he leaves it in the baskets for quite a while. Fine – I'm not complaining. If I need a clean pair of jeans, I'd rather dig them out of a basket than add another task to my list by taking on the laundry.
Remember that your husband is your man, not one of your kids.  People tend to live up to our expectations of them. If you treat your husband like a child, he'll probably act like one. And clearly, if he's acting like a child, the burden on you to get things done is going to be greater. So treat him like a man, your man, even if he doesn't always act like one. For example, let him be the kids' dad – don't insist that he do things the "mom way." Let him do for himself the things adults typically do for themselves, even if it takes him a while to get around to them. And let him do things for you. If he's gotten out of that habit, ask him to do things for you. Then let him do them his way.
I'd love to know what you think about this. Does your marriage seem like just one more item on your "to do" list? Or have you figured out a way to enjoy it while keeping your "to do" list (somewhat) under control? Please share your thoughts in the Comments – I would love to hear from you.
Sharing with To Love, Honor and Vacuum, Family Fun Friday and Messy Marriage.
Add a little bit of spice to your marriage!
Get 18 Ways to Spice Up Your Marriage. Plus simple tips for a healthy life and happy marriage - right to your inbox.