This recipe is for those days when you have a little bit of time to cook, but not a lot. Days when you want to feed your family a "real food" meal without spending hours in the kitchen at the end of a busy day.
The kind of day that falls somewhere between "I'm so organized that I put dinner in the Crockpot this morning" and "I'm so disorganized that I'll have to pick up takeout on the way home from work/school/soccer/ballet!"
If you have children who won't touch a mushroom with a 10-foot fork, the recipe includes a variation for them. And if you're looking for a more grownup version, that's covered too. (The grownup version may not qualify as a "fancy" meal at your house, but it does at mine!).
Whichever version you choose, add whole grain rice or noodles topped with the delicious pan sauce and a vegetable or salad and enjoy a lovely meal in less than an hour.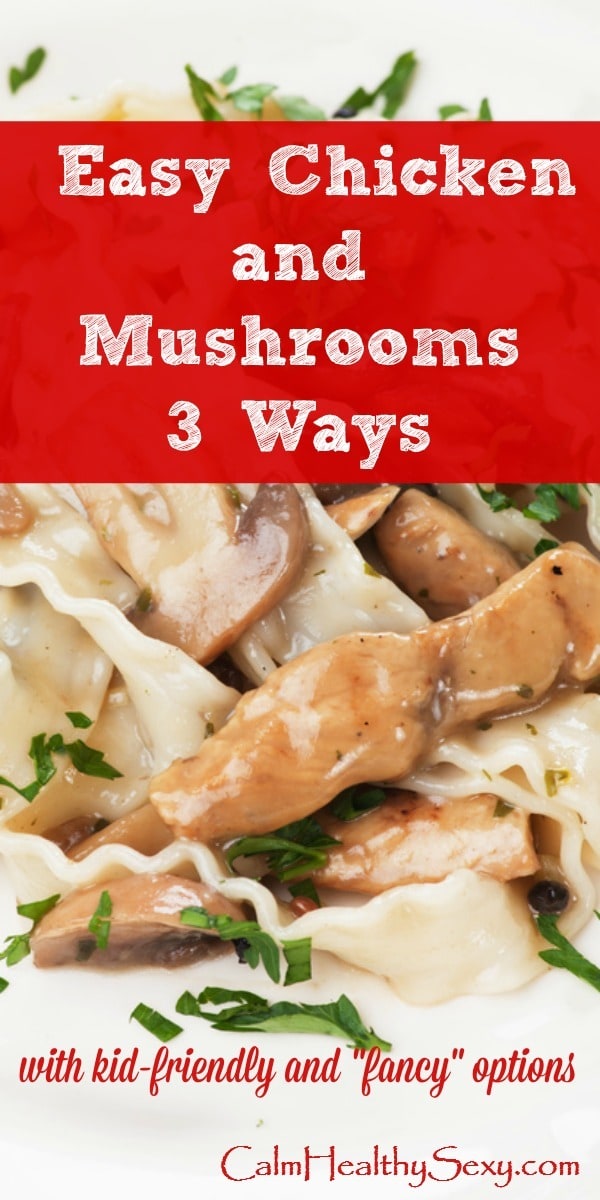 Easy Chicken with Mushrooms 3 Ways

Print recipe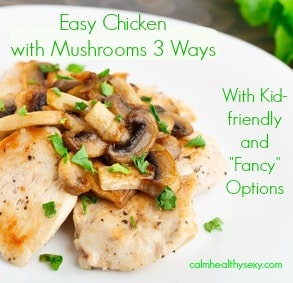 Ingredients
4 skinless, boneless chicken breasts
1 Package (8 oz.) mushrooms, sliced
2 shallots, sliced (optional)
2 cups chicken broth
4 tablespoons extra virgin olive oil, divided
2 tablespoons flour
Directions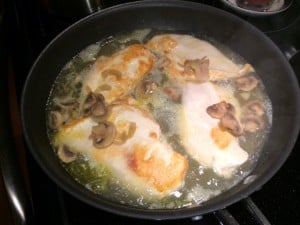 Heat 2 tablespoons olive oil in a large skillet. Saute mushrooms until just beginning to brown. Remove from pan. Heat remaining 2 tablespoons olive oil. Saute chicken breasts until brown on both sides. Add 1 1/2 cups of chicken broth to the skillet and heat until boiling. Return mushrooms to the pan. Cover, reduce heat and simmer until chicken is done.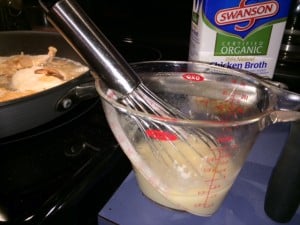 While chicken is cooking, add flour to remaining 1/2 cup broth and whisk until smooth. When chicken is almost done, add the liquid-flour mixture to the pan, whisk it in and continue to heat until the liquid thickens slightly and creates a pan sauce. Add salt and pepper to taste.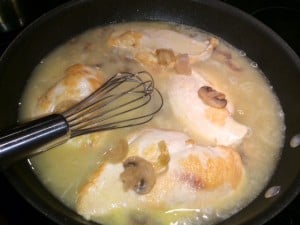 Serve chicken breasts with whole grain rice or noodles. Top both with the pan sauce.
Child-friendly variation (for mushroom haters!) - Don't add the mushrooms to the pan until the chicken breasts and pan sauce are ready. Remove chicken breasts and pan sauce to plates for the non-mushroom eaters (they will basically be having chicken with gravy). Then add mushrooms to the pan and cook for several minutes. Serve the remaining chicken breasts and pan sauce with mushrooms.

"Fancy" variation - Substitute 1 cup white wine for 1 cup chicken broth and saute 2 sliced shallots with the mushrooms. Add the mushroom/shallot mixture to the pan with 1 11/2 cups of the broth/wine mixture and simmer until chicken breasts are cooked. Whisk flour into the remaining broth/wine mixture and cook until the sauce thickens slightly. Garnish with chopped fresh parsley (optional, but nice).

Notes
As is so often the case, you can get twice the "mileage" for only a bit of extra work by doubling the recipe.  Use two skillets (4 chicken breasts in each) and cook as directed.  The extra portions make delicious lunches or can be frozen for a day when you need a quick dinner.