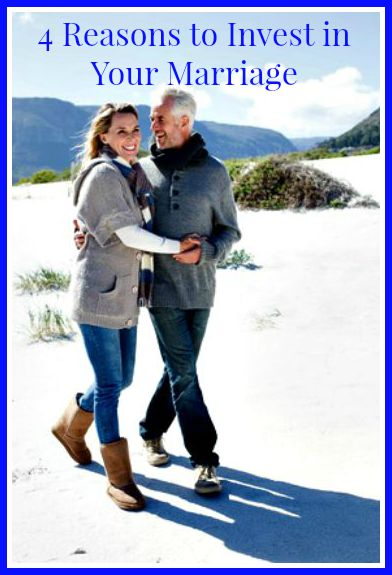 We all know marriages that "just drifted apart."  Nice marriages that seemed good, stable, even happy.  Wives and husbands we thought were just like us, but who shocked us to the core by revealing, seemingly out of the blue, that he had moved out or she had filed for divorce or they just weren't happy anymore.
Or maybe the "drifting" wasn't that dramatic.  Maybe we just noticed one day that she always looked unhappy or he always seemed to be working.  Or that they seemed to have created separate lives for themselves.
Whatever we noticed, whatever shock we felt when we heard the news, I know one thing – you don't want that to happen to your marriage, and neither do I.  So how can we avoid "drifting apart" and ensure that we stay together and stay strong as a couple?  By doing one thing that's both simple and complex – investing in our marriages.
Investing in marriage can help a couple avoid the pain of divorce or the loneliness of separate lives.  But it can do so much more.  Here are four "dividends" that investing in our marriages often allows us to enjoy.
Living joyfully today.  We won't always be happy.  Stress, pain and trouble will touch all of us.  But when we're committed to and invested in our marriages, we can live with joy, knowing that we're facing the trials together and believing we will come out stronger on the other side.
Enjoying good health, good sex and greater financial security.  Married people tend to be healthier, and when they do get sick they fare better than those who are single.  They also tend to have more sex and more satisfying sex lives.  And they're more likely to enjoy financial security than those who are divorced or never married.  Clearly, in most cases, two really is better than one!  ("If either of them falls down, one can help the other up. But pity anyone who falls and has no one to help them up." Ecclesiastes 4:10)
Blessing your children.  Children tend to flourish when they know that their parents love and are committed to each other.  They feel secure and can focus their energy on the things of childhood and adolescence, rather than worrying about their parents and family. And raising children is almost always easier when you're doing it together, instead of doing it alone or separately.
Enjoying growing old together.  Now that our youngest son is in college, I can see more clearly the risks of not investing in marriage from the first day to the last.  If a couple has focused all of its energy on the children or work or church or other interests, saying goodbye as the last child moves out is likely to trigger a cascade of doubts, worries and fears.  Even though my husband and I have made an effort to invest in our marriage and were reasonably prepared for this new phase of our lives, I experienced a few fleeting doubts and fears myself as our son headed off to college – " What?  No more soccer?  No more school activities? What are we going to do with ourselves? What if we don't have anything to talk about?"  So invest in your marriage now so you can enjoy the freedom, relaxation and opportunities that present themselves after that last child moves out.
If you want to start making that investment and are looking for some ideas, check out these 6 ways to invest in your marriage.  In the meantime, I'd love to hear what you and your husband do to invest in your marriage.
Create your best life!
Get health and marriage tips by email + a free marriage resource