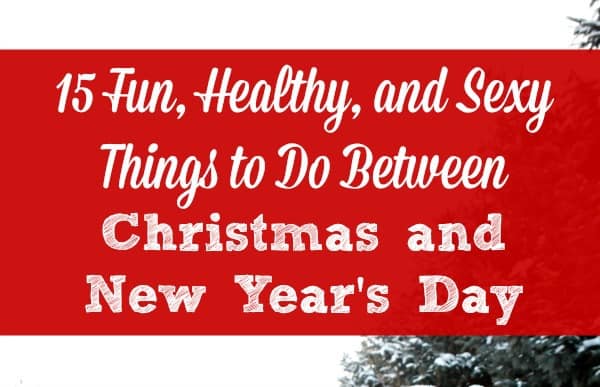 The week between Christmas and New Year's Day always seems a bit strange, doesn't it? It's • • •not a regular week, but it's not exactly a vacation week either.
The kids are out of school, many parents are off work, and normal routines are nowhere to be found. In addition, the excitement of Christmas is over, which can lead to everyone feeling a bit "down."
On the other hand, it can be a great week for getting things organized for the new year and enjoying some relaxed time as a couple and a family.
If you're looking for some ways to make this a great week for yourself, your marriage, and your family, here are 15 fun, healthy and sexy things to do between Christmas and New Year's Day to make this one of the best weeks of the year:
Fun
• See a movie in the theater. If you watch most of your movies at home (we do!), consider seeing a new release in the theater. In order to save money, go to a matinee and plan a special treat at home afterwards, rather than buying expensive movie theater snacks.
• Visit a holiday attraction you didn't have time to see before Christmas.  The holiday lights displays and other attractions at many parks and zoos continue in the week after Christmas. Check out one of them and then head to your favorite coffee shop or make some hot chocolate at home.
• Enjoy an outdoor activity.  As soon as the sun comes out, go outside for some outdoor fun. Being in the sun, even when it's cold, makes everyone feel better. 
My husband and I will be checking the weather forecast to pick the best day of the week to head to a state park for some hiking or bike riding. Based on your climate and local resources, consider ice skating, sledding, biking, walking, hiking, or just visiting a park or playground.
• Try something new.  Variety is the spice of life, so add a little spice to your life this week. Try something new – on your own, with your husband or as a family.
Visit a new restaurant, check out a local attraction, try a new hobby, enjoy a new book, serve others in a new way – anything you've been thinking about but haven't yet had a chance to try.
• Be a "kid" with your kids.  Take some time to enjoy your children on their terms this week. Set aside your adult responsibilities for a little while and do something they want to do.
You may feel like you don't have time to color, build with Legos, throw pitches, enjoy a tea party, style hair (or receive a new hair style!), listen to music, dance or jump rope. Do it anyway, and allow yourself to enjoy it.
Healthy
• Decide when you're going to stop eating holiday food.  Let's admit it – most of us have been eating poorly for the past week or so. That's fine, it's part of celebrating Christmas.
But, very soon, it will be time to cut out the holiday food and get back to (or get started on) a healthy eating plan. So pick a day when you plan to stop eating eating pie, cookies, dressing and gravy and DO IT. (My day is tomorrow.)
• Get rid of the things you don't want to eat.  It's hard to stick with a healthy eating plan when your kitchen is still loaded down with Christmas treats. So when you're ready to stop eating them, get rid of them.
Give them away, freeze them, or (gasp!) throw them away. Seriously, at some point, you just don't need to have them around.
• Move your body every day this week.  Do something every day that gets you up and moving. Walk, dance, hop on the treadmill, dust off the gym membership, play soccer with the kids, stretch, pop in an exercise DVD, or do exercises you can do almost anywhere.
• Catch up on sleep.  Most women don't get enough sleep, and Christmas preparations exacerbate their sleep deficit. I know this first hand – even though I had a lot of help with the Christmas preparations at my house, I'm exhausted today. And you probably are too. So this week, be intentional about sleeping at least 7-8 hours each night. Adequate sleep makes you feel like a new woman. It also boosts your immune system, a big bonus as we head into the winter "sickness season."
• Begin making your healthy living plans for the new year.  What do you want to change or improve in the coming year? Begin the year with one or two changes in mind – then plan how you're going to take specific steps in order to make changes that will make a real difference.
Sexy
•  Play some sexy/romantic Christmas music.  So, you didn't have time to enjoy sexy music while shopping, wrapping, baking and cooking? Me either. Then enjoy it this week. J of Hot, Holy and Humorous has done all the work of creating intimate playlists for us. All we have to do is enjoy!
• Break out the Christmas lingerie.  You know, the Mrs. Santa teddy that's been in the back of your closet since last year? (Wait, you don't have one of those?)  Or just a red bra and panties. Don't have any Christmas lingerie? This is the perfect time to buy some, because it's on sale and stores are eager to get rid of it.
• Try something new.  This week, try something new with your husband. A new location, new position, new activity – it doesn't have to be a dramatic change, just something a little bit different.
Even sex at a different time of day can be fun. For example, if morning sex is out of the question during normal school and work weeks, give it a try this week when you have a bit more time.
• Increase the amount of sex and intimacy.  For this week, consider being intimate with your husband more often. Whatever is typical for the two of you, just crank it up a notch. That doesn't mean you have to make love every day (although you could!), just that you increase the level of intimacy and sexual contact in whatever way works for the two of you.
• Instigate.  I love the word "instigate." (It's one of my "3 words that can transform your sex life.")  It's related to "initiate," which is good too, but it goes a bit further.
When you instigate in your sex life, you celebrate God's gift of sex and intimacy. You show yourself and your husband that you enjoy (or are striving to enjoy) sex. You take charge just a bit, and try something you want to try. So surprise your husband, and maybe yourself, by instigating something sexy at least once this week.
What does the week between Christmas and New Year's Day look like for you? What are your ideas for making it a fun, healthy and sexy week? Please share them in the Comments – I would love to hear from you.