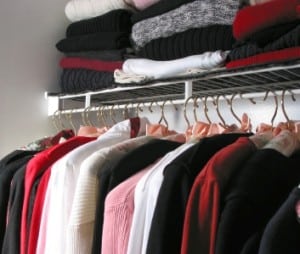 We're more than halfway through 12 Strategies for a CalmHealthySexy 2013.  I hope you've found a couple of tips you can use to be calmer, stay healthier or feel sexier this year.
Today's strategy is "organize something!"  I started to call it "get organized," but realized that sounds too overwhelming.  It seems to imply that, unless we can organize everything in our lives, we shouldn't even bother trying.  Fortunately, that's not the case.  Every little bit of organization (like this beautifully organized closet) can help us feel calmer and less stressed.   It just requires a bit of planning and a small amount of time.
Organization is not my strength, but  clutter, messes and disorganization stress me out.  So I've had to figure out how to bring order to my home and life without the advantage of being an organizing queen.  One thing that helps me is doing a little bit of organizing maintenance every day – hanging up clothes, cleaning up the kitchen, removing clutter from the common areas, taking care of the mail and other paper.  When I don't do these things I regret it, and they end up taking much longer later in the week.
A second small step that pays big dividends is to "containerize" things by putting them in boxes, bins, pails or anything else that will keep them together.  You don't need expensive storage containers to do this – cardboard boxes, cheap plastic pails or boxes, and baskets you already have on hand work great.  Use them to organize first aid supplies, toiletry items, toys, remotes, hats and gloves, anything that tends to "sprawl" and create a mess.  I was surprised by the improved organization in my pots and pans cabinet when I started putting all of the lids in a cheap plastic bin that I slid into the cabinet.
My third, and favorite, organizing strategy, is to tackle one small project at a time.  Pick something that really bothers you and work on it for 30 minutes – a closet, the pantry, the children's toy area, the mail/newspapers/magazines.  You'll be amazed at how much better it looks and how much better you feel.  Many organizing projects can be completed in 30 minutes but if it can't, take 30 minutes tomorrow and finish it.  Then sit back and enjoy it.  In a few days, pick another project and tackle it for 30 minutes.  In a few weeks, a significant portion of your home and life will be organized.
For lots of great organizing tips from a real expert, check out I'm An Organizing Junkie.
P.S.  My friend Dottie shared this great idea with me after she read the post, and I wanted to share it with you – One thing that I started several years ago and try to keep up with is…I take 1 room every month and concentrate on everything to do with that room. For instance, this month is the kitchen. I have the entire month of January to re-organize my cabinets, wipe everything down (including the tops of the cabinets and frig), look for repairs and make a honey-do list for my husband, and clean the light fixtures and ceiling fan. If it needs a paint job (which thankfully this time it doesn't) I will do that too. After I go through every room, I start back over! This has kept me clutter free and not as dusty/dirty as it was in the past!   Isn't that a smart idea?!?!
What is your best organizing tip?  Please share it in the Comments – I would love to hear from you.  I also would love for you to  subscribe to Calm.Healthy.Sexy. by email.  Enter your email address in the sidebar (under Subscribe to Blog Via Email).  You'll receive an email when I publish a new post, nothing else.  And please follow Calm.Healthy.Sexy. on Twitter (@CalmHealthySexy), Facebook, or Pinterest.
Gaye
Linked with the fabulous blogs and blog hops at Ladies Holiday, Oh So Amelia, What Jean Likes, A Mommy's Blog Design, The Grant Life, Blissful and Domestic,  Today With the Tennerys, Live Laugh Rowe, Twinkle in the Eye, Found the Marbles, House of Hepworths, Mom on Timeout, Epic Mom, To Love, Honor and Vacuum, Today with the Tennerys,  Hey Mommy, Chocolate Milk and Salt Tree.
Pin It