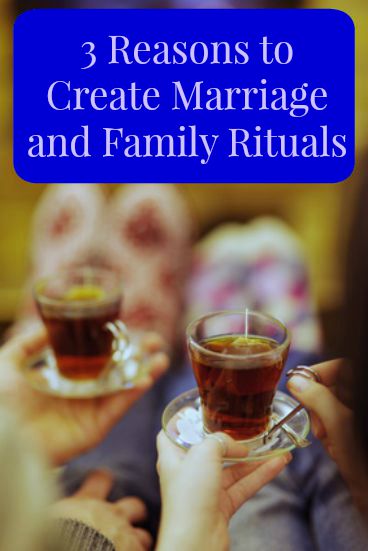 You probably know that rituals can help you, your husband, and your children connect and make memories together. But did you know that marriage and family rituals can help you focus on living the kind of calm, sane and purposeful life you really want? That they can help you slow down, clear out the "clutter," and live a calmer, healthier, and sexier life?
Rituals are activities or behaviors that develop over time and occur regularly. We see them as positive events and look forward to participating in them. They can include everything from small daily activities, such as sharing a cup of coffee in the morning or eating dinner together as a family, to major annual events, such as celebrating Christmas with extended family or taking a yearly trip to a mountain cabin. Rituals create a pleasant kind of structure in our lives and add predictability, meaning and joy. They also build intimacy in a marriage and among family members, help us define our values as a couple or family, and provide a source of strength in tough times.
Here are 3 ways that rituals can help you create the kind of life you really want:
Living Calmer
Rituals can add a distinct layer of calm to our lives. They build the kind of structure we yearn for, especially when we're under stress. We look forward to them, anticipate them, and revel in them. Both small and large rituals can play this calming role. For example, my husband (a morning person) brings me (not a morning person!) a cup of coffee every morning. We sit in bed together and drink our coffee and talk for about 20 minutes. This small act creates a positive starting point for our days, no matter what those days may bring. Large rituals can play a similar role. For example, developing family birthday traditions and creating a celebration for each family member on his or her special day gives everyone something to look forward to and builds a sense of family unity. The net effect of the small and large rituals in our lives is a stronger, calmer base of support from which we can take on the stresses of everyday life.
Living Healthier
In addition to promoting calm and enhancing mental health, rituals can strengthen our physical health. Walking every morning or every evening after dinner, cooking healthy foods at home, teaching children to cook, enjoying family meals together, riding bikes with the children on Saturdays, developing an active family hobby, and going to bed with your spouse at a reasonable hour are all activities that strengthen both our relationships and our bodies. And making time for those rituals helps us keep in perspective the things that are most important to us and to identify the things we may need to let go.
Living Sexier
Last, but definitely not least, we can create rituals that increase intimacy and promote great sex in our marriages. These rituals consist of practices that allow us to slow down, to communicate well, and to insert some space between the busyness of the day and times of intimacy. Relaxing together with a glass of wine at the end of the day, giving each other a back rub or massage once a week, enjoying regular Saturday morning sex, maintaining a regular date night, and planning celebrations for special occasions all build intimacy and create an atmosphere in which sex and intimacy can flourish.
If the pressures of a busy, hectic life are wearing you down, consider establishing some rituals that create fun, joy and intimacy in your life. They don't have to take a lot of time, but they can make a big difference in your health and happiness.
Have you established rituals in your marriage or family that allow you to live a calmer, healthier or sexier life? Please share them in the Comments – I would love to hear from you.