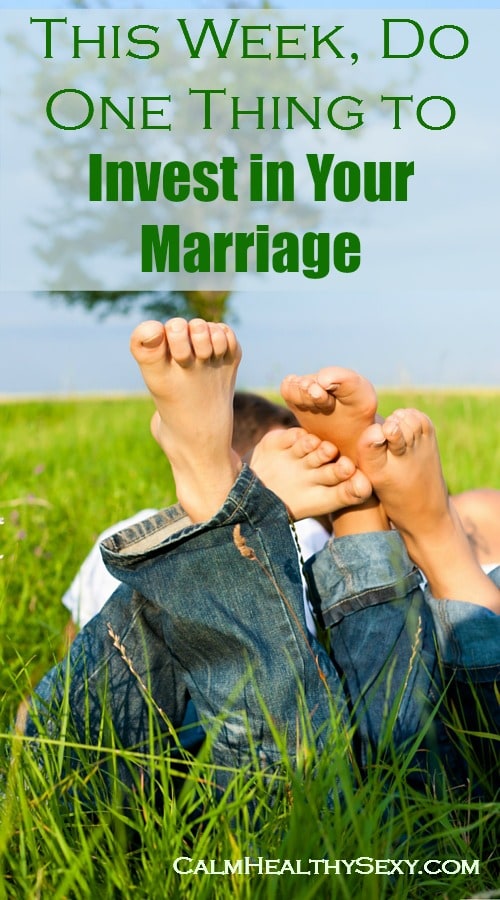 Are you a financial guru? I most definitely am not! But whether you and I know a lot about finances or not very much at all, we both know what it means to invest. When we invest in something, we commit some of our resources to the future. We expend time, energy or money now, in the hope of earning a return on it down the road. We invest money in savings , with the expectation of preparing for emergencies or securing our retirement. We pour time and energy into our children's lives as an investment in helping them become competent, caring people. We invest in our careers or ministries, pouring our efforts into things we believe are valuable.
But do we invest in our marriages?  Do we spend time and energy now building a strong foundation for the future? Or do we expect our husbands and marriages to be "on hold" while we're busy investing in other things? I think we intend to do the former, but often end up doing the latter.  It's just so easy to assume our marriages can be in a "holding pattern" while we're busy making other investments.
The reality, though, is that our marriages can't be on hold while we attend to other things.  They crave an investment of our time, attention and energy. Without it, we'll drift away from our husbands, and they'll drift away from us. We have to commit some of today's resources to tomorrow's marriage.
If your marriage needs more of your time, attention or energy, consider doing one thing this week to invest in it. Over the next 7 days, do something that will strengthen your relationship with your husband. Here are just a few ideas:
Cancel a meeting or obligation, and spend that time with your husband.
Make a plan that allows you to spend time together without your children.
Read a "marriage investment" resource every day. One of my favorites is The Generous Wife.
Take time to listen to him.
Cut down on your use of your phone, tablet or media in order to free up time for your marriage.
Go to bed at the same time most nights.
Pray together briefly every morning or evening.
Do something for your husband that speaks his love language.
Do something with him that he enjoys.
Do something that caters to his preferences rather than the children's.
Make time for sex and take time to really enjoy it.
Start a conversation about something that needs to be resolved between the two of you.
Talk about your plans for the future.
Limit contact with family and friends who bash husbands and marriages.
Let him know that he is more important to you than your job, family, activities – even your children.
This week, I'm going to limit my use of media (especially my phone) at home, in order to free up more time for my marriage. If you're planning to make a small investment in your marriage this week, I'd love to hear what you plan to do.