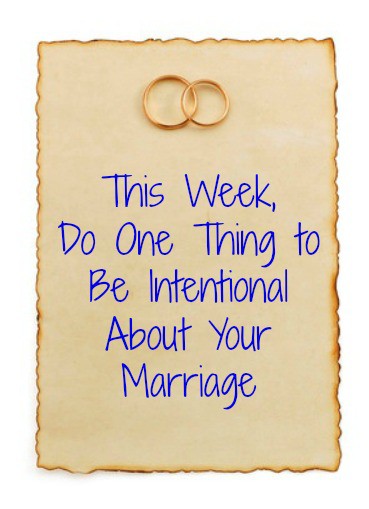 Very soon, fall schedules will be running full speed ahead. For some families, their schedules will run at warp speed – faster than anyone can possibly keep up. Sports, homework, school projects, dance, scouts, committees, jobs, and volunteer work will kick into high gear. And when they do, marriages tend to suffer. It seems easier to put your marriage on hold than to put soccer practice, piano lessons or that church committee on hold. And in the short run, it is easier – and it doesn't seem like much of a problem. After all, you and your husband are adults, so your needs often end up on the back burner.
But in the long run, putting the needs of your marriage on hold turns out to be a bad idea.  Because marriages either move toward communication, connection and intimacy or they move  away from those things – they don't "stand still" for very long.  Putting your marriage on hold frequently, or for an extended period of time, and devoting most of your time and energy to work, your children's activities, and community or church activities inevitably leads to a move away from communication, connection and intimacy. And it's a move that tends to be subtle – often, you don't realize what's happening until a wide gap has opened up between you and your husband.
So what's the solution? Clearly, you can't quit all of your activities and focus solely on your marriage. Life just doesn't work that way. But you can begin to do small things that really make a difference. One simple strategy is to do at least one thing each week to be intentional about your marriage – to focus some of your time and energy on it in a positive way. The options for doing this are almost limitless. You probably know what your marriage needs (which may change from week to week or month to month), so pick something each week that will help meet that need. If you aren't sure where to begin, here are a few ideas to jump-start your creativity:
Turn off your devices in the evening and focus your attention on your husband.
Go to bed at the same time.
Open up a conversation about a topic that needs to be addressed.
Set aside time for sex.
Eat dinner together without the kids.
Cancel one of your activities and spend that time with him.
Take a long walk together.
Set aside time to talk about important things – plans, hope or dreams that are important to both of you.
Do something for your husband that speaks to him in his love language.
Go on a date, even if it's just going out for coffee, a glass of wine or some ice cream.
Do something fun.
Do something that will surprise him.
Do any of these ideas resonate with you? Or would other ideas work better? What could you do over the course of the next week to be intentional about your marriage, to give it a little bit more of your time, attention and energy? Here's what I plan to do. I'm going to turn off all of my devices every night by 9:00. I have a bad habit of checking things on my phone while I'm sitting in bed, which I'm pretty sure is bad for my marriage and my sleep! What about you? Please share your thoughts in the Comments – I would love to hear from you.
(You may also want to set priorities for your marriage and family  or manage your family's schedule.)